Radford Hopes to Avenge Canada's Fifth-Place Global Cup Finish with Strong World Finals
By: Justin Felisko Saturday, March 5, 2022 @ 11:03 PM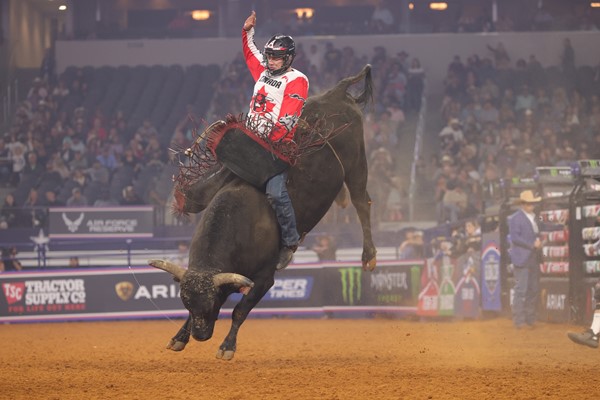 ARLINGTON, Texas – The Great White North may not have been represented at the 2021 PBR World Finals, but Brock Radford hopes to change that this year when the 2022 PBR World Finals shifts to Dickies Arena in Fort Worth, Texas, on May 13-22.
Radford is the last Canadian to qualify for the PBR's season-culminating event, doing so at the 2020 World Finals held inside AT&T Stadium, and the 26-year-old hopes he can make a trip back to Texas in two months.
"I like doing the PBRs," Radford said. "It's just easy for me, bouncing back and forth between the States and Canada. When we get going in Canada, I have kind of thought about really chasing them titles up there because I've always been double-dipping, and it's kind of cost me two titles. So I've thought about just staying up there for a little bit and just hitting what I can down here when I don't have stuff. I'm just playing it by ear, and I'll go to whatever, but definitely pushing for the World Finals.
"I like representing my country. It'd be good to come back to Texas for the World Finals and do that."
Radford was the only member of Team Canada to record a qualified ride at the 2022 PBR Global Cup USA, presented by Monster Energy, on Saturday night. His 84-point ride on Born To Sin helped Team Canada (1-for-7) place fifth at the international bull riding competition.
The Dewinton, Alberta, bull rider had been out of competition for more than a month since last competing at the Pendleton Whisky Velocity Tour's Spokane Classic on Jan. 22. Radford injured his right knee a week earlier at the Portland Classic on Jan. 15 when Kamo jammed his leg against the interior of the bucking chutes.
"I was going a little bit this January, and then I got posted at Portland pretty bad and banged my knee up," Radford said. "I didn't do anything serious, but I just had trouble putting some weight on (my right knee) for a week or two. Not the one I had surgery on. I just iced it, and now it's all good."
Saturday night is the third consecutive Global Cup in which Team Canada failed to place in the Top 3.
"We need a little cloverleaf on our chaps," Radford said. "Just milliseconds costing us big the last two Global Cups, so we're knocking on the door. It's been five times now. We have a good team, and I'm proud of all these guys. They put out their heart and soul tonight, and we tried our asses off, and we'll kick the door down on the sixth one. We were milliseconds away from being in this, so we'll do it next time."
First-time Team Canada head coach Tanner Byrne agreed with Radford.
One more qualified ride and Canada would have posted a third third-place finish in five Global Cups vs. Saturday's fifth-place finish.
"We were .8 seconds away from going from fifth to third," Byrne said. "There was a couple other ones – Jake Gardner rode that bull a long ways. And looking back, with the matchups that we had, with the way things bucked, we could do the exact same thing tomorrow and come away with the win at this thing. So it's part of this game. If bull riding was easy, everybody would be doing it.
"I'm proud of the guys. Nobody jumped off. Everybody rode until their heads hit the ground. It just didn't go our way today, but I don't think that would happen again if we could do this tomorrow. So it was good, and like I say, we were right close from jumping up a few in the standings. I'm proud of the guys, and everybody put out a good effort, so it wasn't the result that we wanted, but that's bull riding."