Journeyman Miller Looks to Combine Grinding Season into Productive 2022 PBR Canada National Finals
By: James Youness Friday, November 11, 2022 @ 8:21 AM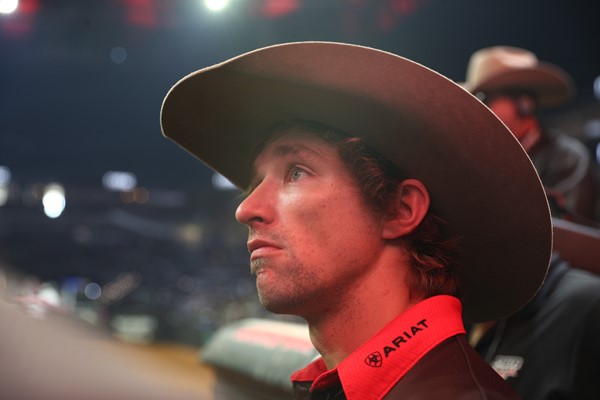 PUEBLO, Colo. – Since signing with the Missouri Thunder June 2, Callum Miller easily could have appeared to be stretched thin. Miller continued to grind out solid performances at PBR Canada Cup events while logging impressive showings at several PBR Challenger Series events this summer in the United States after accepting the responsibility of riding for Thunder coaches Ross Coleman and Luke Snyder.
Miller's whirlwind year continues this weekend at the 2022 PBR Canada National Finals, presented by Command Tubular Products, in Edmonton.
The Warwick, Queensland, native began the PBR Team Series preseason red-hot by logging an 87.5-point ride aboard Space Force in Bismarck, North Dakota.
Doubling down on his success competing alongside first-round draft selections in Dalton Kasel, Eli Vastbinder, Daylon Swearingen and company, the Australian posted a career-best 89.25-point outing against Two Socks in the league's first-ever Bonus Round. 
Kasel may have stolen the show with his 90.75-point effort on Oilfield Outlaw's Yellow Feather, but Miller's ride flashed plenty of potential to Snyder and Coleman.
"It's been good to be able to go back and forth, still do both and make both of them work," Miller said. "No differences, really. Pretty well the same as every weekend; stay on the bull that's underneath you at the time, get that job done and let the chips fall as they may. It's been really good this year up in Canada. We've had a lot of good events."
Four days later, Miller retreated north and placed fifth in the Regina PBR Classic after posting a Round 1-winning, 88-point score aboard Wood Chuck before getting bucked off his second-round matchup (Finning Lil Shorty) in 5.74 seconds.
Quickly regrouping, the 27-year-old found his way to Tryon, North Carolina, just two days later, to again represent his Missouri contingent during another preseason tune-up game. Despite holding on for a majority of the ride, Miller was dispatched by Church Bells in a heartbreaking 7.56 seconds. Following another buckoff the next day, Miller suddenly found himself on the wrong side of momentum.
That wouldn't stop him from training, preparing for his next shot to help his squad. After a rare month without attending any events, Miller resurfaced during the series' first regular-season Bonus Round on July 26 but wasn't able to stay on his bull, resulting in a last-place finish and earning his team one bonus point.
While the Team Series proved difficult, Miller was still able to use some of the ideas, lessons and tips discussed between his Thunder teammates and coaches to fuel some of his success in the PBR Canada circuit. Back and forth, crossing the U.S.-Canada border sometimes three, four times a week depending on where he wanted to compete and when he was needed to support the Thunder, Miller logged endless miles this season.
Fast forward to last weekend, when Miller joined his Missouri teammates at T-Mobile Arena for the PBR Team Series Championship. Despite struggling during limited regular-season action in the U.S. with Missouri, his success up north, paired with the adrenaline of the entertainment capital of the world, was plenty of reason to sport a smile and be present in Vegas to support his team. On the chutes, on a bull, wherever he's needed.
"It's unreal. Everybody is pretty pumped up and having a good time, so it's going to be a good day," Miler shared Nov. 4 ahead of the PBR Team Series Championship in Las Vegas.
After going 0-for-8 for Missouri during the team's regular-season action, Miller wasn't featured in Friday's starting lineup, but he knew he still needed to be prepared. That's part of being a cowboy.
"They told everybody to stay ready, be on your game and be ready for anything," Miller said. "Anybody could be put in at any time, so we'll be ready."
While Miller ultimately didn't get called on during the Championship weekend, his team being eliminated on night one didn't help his odds of logging an attempt.
RELATED: No. 5 Arizona Ridge Riders narrowly beat No. 6 Missouri Thunder to advance to second round of games in first PBR Team Series Championship
Results aside, it's been a great learning experience for the Australian.
"Having these coaches down here and being on the team has helped a lot, especially going back up there and getting on the bigger Canadian bulls," Miller said. "It's been a fun year."
Yet, as helpful as his time spent touring with the Thunder may be beneficial to his riding career, it's this weekend's event in Edmonton, Alberta, that's been in the back of his mind: The 2022 PBR Canada National Finals.
A little wiser, a little older and somewhat rested (considering his normal, relentless schedule) after last competing Oct. 29 at the Saskatoon PBR Classic, Miller now shifts focus.
Not attempting to reinvent the wheel, he hopes to stick to the basics this weekend when tasked with meeting the requisite 8. 
"It's pretty well the same," Miller said. "You take it the same. Just have to do your job and ride the bull that's underneath you, so you don't really change too much. Just get on and ride them jump for jump."
Since making his PBR Canada debut in 2017, Miller has consistently shown improvement while ramping up his event count.
After finishing No. 4 in limited action during the 2020 PBR Canada season, going 7-for-12 (58.3%) in seven events, Miller followed up his career-best finish with a No. 7 ranking during the 2021 campaign – 12-for-37 (32.4%).  
Going 10-for-33 (30.3%) this season in Canadian competitions, the top-ranked Australian in the PBR Canada standings enters this weekend's PBR Canada National Finals sitting No. 14 overall. Miller may be out of contention for the PBR Canada title, he can still make a push for the PBR Canada National Finals event crown.
A lot to balance, but at the end of the day, it's the same goal for Miller.
"The plan is to compete for a Canadian title," he said, "and I think I'm getting closer."