The Morning Line – Edmonton Round 1
By: Tanner Byrne Friday, November 11, 2022 @ 8:52 AM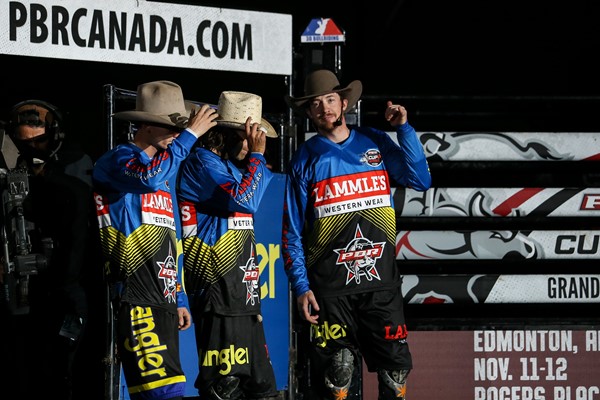 EDMONTON, Alta. – It's the event we've all been waiting for – the 2022 PBR Canada National Finals, presented by Command Tubular Products.
After months on the road that saw the world's finest competing at 40 events totaling near 1,300 outs, two days of competition and four bulls stand between one rider and the title of 2022 PBR Canada Champion.
Will Aaron Roy make history and win an unprecedented fourth national title? Will Dakota Buttar earn some redemption from last season and walk away the 2022 title holder? Or will a competitor make a come-from-behind push like in 2021 and stun the field?
While we may not have the answers now, one thing is for sure, it's going to be an exciting, action-packed competition that will lead us to those answers.
And while he may not be in the running for the title, Zane Lambert will still have all eyes on him. Retiring following the event, no one will want to miss the final rides of this legendary rider's career.
Below are bullfighter Tanner Byrne's bets for Round 1 of the 2022 PBR Canada National Finals. Let us know your thoughts and your picks for the year-end event by tagging @PBRCanada on Twitter.
Tickets for the event are still available and can be purchased online at Ticketmaster.ca.
Dakota Buttar vs. Funkadelic
Dakota Buttar is coming in looking for another Canadian Championship. He didn't have the CFR that he was hoping to, made some good rides, but look for him to bounce back here in the first round with a great ride on Funkadelic. This is a bull that they ride quite a bit. Should be away from Dakota's hand and be anywhere from 84-86 points on to set himself up good for the rest of the weekend.
Lonnie West vs. Positively Bangin
Lonnie has matched up with this bull before for a good score. This is one that all the guys want to get on. Nice black bull with no horns. Fits everyone's style and could go either way. Perfect Round 1 matchup for Lonnie who is riding on fire right now. Look for an 86 for Lonnie in Round 1.
Silvano Alves vs. Sons of Junkie
You can never not bet on Silvano Alves, the three-time World Champion. He's coming in fresh off of a Team Series title as well showed up and showed out in Saskatoon, his third Canadian event. Look for Silvano to just keep the ball rolling. Great bull here that he could get a round win on. He'll go either way, lots of timing, up in the air, perfect for Silvano. Look for an 87-88-point ride.
Brock Radford vs. Irish Rebel
Brock is looking to make a name for himself this weekend and finally get that elusive Canadian Championship that he has been after for so long. And he's got the perfect bull to do it on, one that he has matched up with before and had a good score on. Should be into Brock's hand, lots of timing, really great score, should set Brock up perfectly for a second-round score. Look for an 86-87, if this bull has his day, it could be even more than that.
Nick Tetz vs. Look Alive
Nick Tetz is coming into the PBR Canada Finals for the first time as a Canadian Champion contender. This is a great bull for him to start his week on. Didn't have the CFR that he wanted last weekend, I think Nick was just saving it for the PBR Canada Finals. Nice bull from the Flying Four Bucking Bulls. A lot of action, a lot of timing, could go either way. One that will set Nick up great for the rest of the weekend. Look for an 86-87-point ride.