The Morning Line – Edmonton Round 3
By: Tanner Byrne Saturday, November 12, 2022 @ 11:33 AM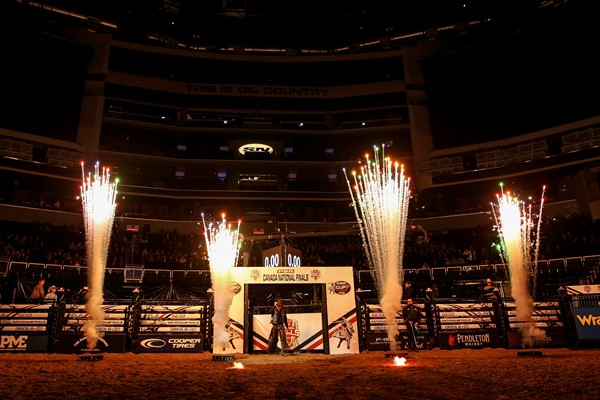 EDMONTON, Alta. – This is it.
It all comes down to tonight's Round 3 and championship round for the 2022 PBR Canada National Finals, presented by Command Tubular Products.
And just when we thought the race to be crowned the 2022 PBR Canada Champion couldn't get any tighter, the nation's finest showed us different.
There was no rider hotter than Brock Radford in the opening two rounds. Going 2-for-2, Radford not only surged to the event lead, but also slashed No. 1 Dakota Buttar's lead to 45 points.
But Radford wasn't the only one that put pressure on Buttar, who retained his No. 1 rank via a 1-or-2 outing.
Coy Robbins went 2-for-2 to keep his title hopes alive, while Nick Tetz and Cody Coverchuk also logged crucial scores to keep their name in contention for the year-end honor and $50,000 bonus.
But tonight won't only culminate the fierce battle amongst the riders.
Tonight, we will also crowned the 2022 Canadian Global PBR Canada Bull of the Year. Be on the lookout for the seven contenders, including No. 1 Happy Camper.
Below are bullfighter Tanner Byrne's bets for Round 3 of the 2022 PBR Canada National Finals. Let us know your thoughts and your picks for the year-end event by tagging @PBRCanada on Twitter.
Tickets for the event are still available and can be purchased online at Ticketmaster.ca.
Coy Robbins vs. Jojo's Mojo
There are a ton of great picks today, the boys got to pick their bulls depending on how they did last night. This was hard to pick five out of, I think there's going to be a lot of good bull rides tonight to vie for the round win. A couple that standout, Coy Robbins on Jojo's Mojo. He is supposed to be right in the door to the right, into Coy's hand. Coy's been riding probably the best of anybody in Canada here the last couple weeks. After his CFR aggregate win, he has just kept things rolling. And this is a bull he can get a really good score on. This bull is a step up from the ones he got on yesterday, look for a 88 for Coy.
Dakota Buttar vs. Wild Time
Dakota has a good pick here in Wild Time. Grey bull, muley, should be right in the gate to the left. He watched his buddy Chad Hartman ride him in Saskatoon for an 88. Look or Buttar to do the same thing. Feed off the momentum from last night of a great bull ride and keep his name in the race for that Canadian Championship. The hardest thing with this one for Buttar will be getting out of the chutes clean and easy, and then it should be pretty fun from there.
Silvano Alves vs. Stay Alert
Silvano is a three-time PBR World Champion, didn't have the day that he wanted to yesterday, but he's not a World Champion for no reason. He always comes back stronger after he doesn't have the best of days. This is a big, stout, strong Canadian bucker from Bobby Stevens and Lazy S Bucking Bulls. But should be into Silvano's had. One that should fit him, big, strong and kinda scary. Look for Silvano to get a really good score on this bull.
Jake Gardner vs. Superstition
They rode this bull earlier in the year for 90 points. He's a great bull from Wilson Rodeo, Slim Wilson. Right in the gate to the right. Up and down. One that fits Jake's style perfectly. Jake has been riding really good, especially into his hand the last couple of weeks. Look for this one to be a walk-off home run for Jake and could be 90 points to win the round.
Jared Parsonage vs. Hard Not To Get
Jared is coming off a Canadian Championship on the rodeo side of things, had a great day yesterday and made two bulls look super easy. This bull's got a lot of kick, a lot of up and down. Could go either way, but the way Jared rode yesterday, it doesn't matter which way they are going to go. He is a big, tall guy, so he probably doesn't usually get the scores that he should, but this one is one that they have been 90 on before. One of our best bulls up here in Canada, could have been in the short round as well. Look for Jared to get an 87-88-point score to set himself up well in the average.