Bubble Riders Shannon and Craig Eager to Make Late-Season Push to Reach PBR Canada National Finals
By: Covy Moore Wednesday, September 21, 2022 @ 10:46 AM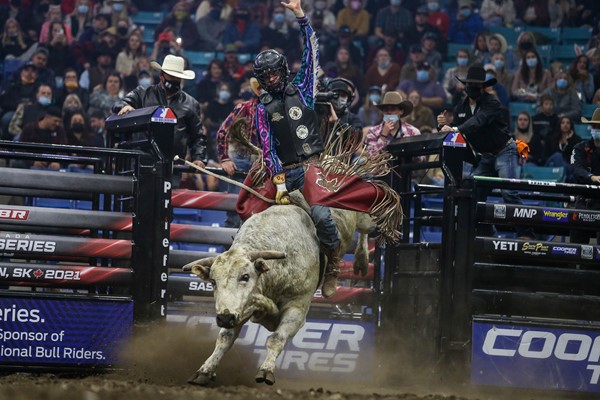 AIRDRIE, Alta. – With the 2022 Touring Pro Division event schedule complete, competitors are looking towards the final four Cup Series, presented by Wrangler, events to clinch a berth to the much-anticipated PBR Canada National Finals, presented by Command Tubular Products, at Rogers Place in Edmonton, Alberta, Nov. 11-12.
With the top of the standings dominated by the likes of Logan Biever, Dakota Buttar and Brock Radford, there are some competitors who are going to be looking to make the most of the Cup Series stops in Lethbridge, Medicine Hat, Grande Prairie and Saskatoon to ensure they are qualified for the prestigious year-end event where more than $175,000 will be on the line.
One of those riders sitting on the bubble is Drayton Valley, Alberta's Dawson Shannon.
With a slightly less than ideal season so far, the sophomore bull rider is sitting No. 17 in the standings. Just three points ahead of the 18th spot, the last position that will be qualified for Finals, Shannon is looking to do some work over the next two months.
"The year hasn't been as good as I would have liked so far," Shannon began. "But there are a few of our big PBR Cup events left so I plan on making good work out of them and make sure I squeeze into the Finals."
"I would like to get a win at one of these events and not just squeeze in in the bottom half too. Go in higher up and have a shot at it. The big goal is the same as everyone else, but we set those small goals too. You have to achieve them, then move on to the next."
When the Canadian Touring Pro Division concluded last weekend in Longview, Alberta, Tyler Craig earned the win, putting himself within striking distance of a berth to the PBR Canada National Finals, but more importantly, some momentum heading to Lethbridge, Alberta this weekend.
Sitting No. 23 in the standings, five spots out of a qualifying position and 34.5 points back, Craig has been spending more time getting on practice bulls, and less time putting too much pressure on himself to get set for this final push.
"My mentality is just trying to be at them all, grab as many points as I can and be close to the top of the standings as I can heading to Edmonton," Craig said.
"Tanner Eno and I have been getting on practice bulls pretty frequently. About a month ago or so I was putting a lot of pressure on myself, trying to make things happen rather than just going out and having fun and getting bulls rode. I have been trying to keep it chill, having fun, get on some practice bulls and letting it happen."
For Shannon, he has adjusted his routine to include more physical fitness work this season, which has paid off for the 23-year-old, as he is qualifying for the CFR this season, and in a decent spot to lock into the PBR Canada Finals.
After an intense, event-packed season, Shannon says the fitness partners of the sport have been pivotal to the success and longevity of many.
"I have been working with Champion Living Fitness, he keeps me busy at home and feeling good and helping me keep in shape. I have been going into Acumen Performance a little bit as well too, getting worked on and keeping my hips feeling good."
"They are the main thing keeping a lot of us going," Shannon added. "This is a rough sport and you have to be able to fight through the beatings we take sometimes. They really keep me feeling good, and in good shape so I can perform at my best."
As for bucking bulls, both Shannon and Craig admit they are willing to take on anything the stock contractors of the PBR have to offer, but for Shannon he says he would love the opportunity at a rematch with late-season standout from Nansen Vold, Up Shift.
"Up Shift, I have been on him before, but he is really bucking lately," Shannon explained. "I want to get on him again with one of these really good trips. I got on him at Ponoka at the rodeo, and I was 86. He was out a couple then to the left. Lately he has been right out there to the left. I really like that."
The riders on the bubble will look to begin their charge up the standings this weekend at the PBR South Country Co-op Showdown, presented by VisitLethbridge.com and Ritchie Bros, September 23-24, and for Craig, he says this final push is going to be the best spectator events of the whole year.
"I think these last few events are going to be really good," Craig concluded. "Everyone is making their finals pushes to make the Finals, there will be a lot of high scores and a ton of rides from everyone."