Nick Tetz is Keeping the "Pedal to the Metal" on His Way to Finals
By: Kacie Albert Wednesday, September 28, 2022 @ 1:42 PM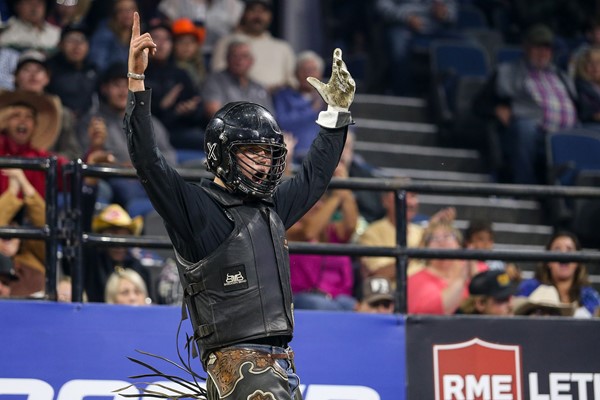 AIRDRIE, Alta. – After a wildly successful outing last weekend in Lethbridge, Alberta, for back-to-back Canadian Cup Series, presented by Wrangler, events, Nick Tetz is sitting a comfortable No. 2 in the heated battle to be crowned the 2022 PBR Canada Champion.
And the Calgary man says there will be no slowing over the next month and a half of bull riding to try and win his first Canadian Championship.
Going a perfect 4-for-4 over the course of the two-event weekend was a shot of confidence for the standout bull rider.
RELATED: Flawless Nick Tetz Wins Career-First PBR Canada Cup Series Event in Lethbridge, Alberta
In what could only have been scripted in Hollywood, Tetz had to wait through a judge's review of his final bull ride on the weekend.
"During that little review time, I was a little upset because I didn't finish better," Tetz began. "I should have finished a lot better.  I feel like I could have scored higher on that bull."
"I had a lot of confidence during that review though, and it going my way because I took the tail of my rope all the way to the ground. I knew I was on the better side of the 8 seconds."
RELATED: Nick Tetz Sweeps PBR Canada Cup Series Competition in Lethbridge, Alberta, Winning Second Iteration of South Country Co-Op Showdown
Tetz says he has been working hard this year on nutrition and physical fitness but has also put increased focus on listening to his body to ensure he comes into this final stretch feeling as good as he possibly can.
"Coming home it is just a bit of a sigh of relief, it just means that all the work I have put in has been worth it," Tetz added. "I have been working hard this year to get healthy and trying to manage a season. It is all coming to fruition now. I know I have been making the right decisions this year. Helps going 4-for-4, but it helps even more when you win it."
"You can't control how everyone else does, you just have to do your best," he continued. "And I was lucky things fell in my favour, cause there were a lot of good guys in Lethbridge with a lot of good draws. They might have messed up and given me a shot, and I was able to capitalize on it."
"The main thing was coming into all these Cup events healthy. I was battling a little bit of a groin and knee problem earlier in the year. I was turning out of a lot to save my body and be able to get to this point of the season feeling good. I didn't just want to show up, I wanted to feel good about coming to these events and not having any doubts that I can go out there, do my job and win."
With four more PBR Canada Cup events remaining this year, including the coveted 2022 PBR Canada National Finals, presented by Command Tubular Products, at Rogers Place in Edmonton, Alberta Tetz also has a stretch of six bulls across 5 days in Red Deer, Alberta for the 2022 Canadian Finals Rodeo.
"It is pedal to the metal right now," Tetz said. "We have been getting on enough bulls this year to not need to get on practice bulls right now. Normally I would get on some practice bulls during the week. This year has been very busy. Practice bulls aren't helping us at this point. Go at each week like you want to win, stay on your bulls. I don't plan on coasting. I don't plan on slowing down rolling into Finals."
"Come home, do your training, ride the Buckrite, maybe the odd horse to work on timing. That is about all you will see during the week. Just need to roll into events feeling good."
As for what it will take to win the 2022 PBR Canada Championship, Tetz says beyond staying on all of his bulls, it's going to come down to staying healthy and keeping a champion's mindset.
"You can take it from other sports. A big thing for me is Kobe Bryant and the mamba mentality. It doesn't matter if you already put six hours of work in, there is someone else putting eight hours of work in."
"It is just about showing up to these events confident knowing that you have put the work in, and as long as you put that work in, the rest takes care of itself."
The 2022 PBR Canada Sup Series, presented by Wrangler, will next travel to Grande Prairie, Alberta, and Bonnetts Energy Centre on Friday, September 30 and Saturday, October 1. Action for the PBR Peace Country Invitational, presented by Ritchie Bros., will get underway nightly at 7:00 p.m. MT.   
Stay tuned in to PBRCanada.com and follow the tour on Facebook (PBR Canada), Twitter (@PBRCanada), and Instagram (@PBRCanada) for the latest results, news, stats and more.