The Morning Line – Grande Prairie Round 1
By: Tanner Byrne Friday, September 30, 2022 @ 11:51 AM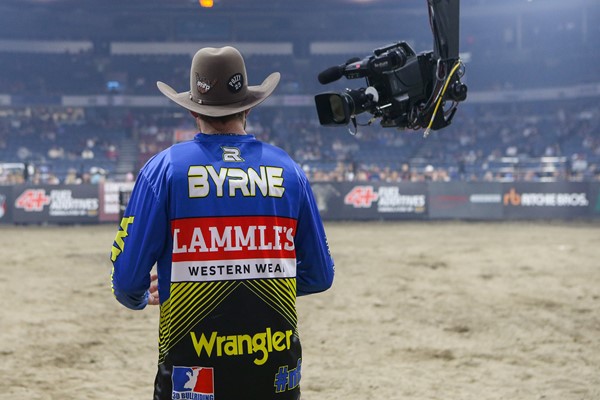 GRANDE PRAIRIE, Alta. – Just three regular-season events remain before the 2022 PBR Canada National Finals, presented by Command Tubular Products, including this weekend's PBR Peace Country Invitational, presented by Ritchie Bros., in Grande Prairie, Alberta.
Not including the tour stop's 5/5 Bucking Battle, one rider has the chance to earn a maximum 105 national points.
And with the Top 5 all within 76 points of one another, and just 214 points separating the Top 10, this weekend's tour stop in Grande Prairie could have a massive impacted on the heated battle to be crowned the 2022 PBR Canada Champion.
RELATED: Click here for the complete daysheet.
Logan Biever will once again begin the Cup Series event No. 1 in the nation, however, after winning both events last weekend in Lethbridge, Alberta, Nick Tetz is the new Canadian No. 2, just 28 points back.
Austin Gamblers' Blake Smith will travel to Grande Prairie ranked No. 3, after delivering back-to-back Top 5 finishes last weekend inside ENMAX Centre. He'll be keen to eras Biever's 33.17-point lead and leave the Alberta event as the Canadian No. 1.
You also can't count out No. 4 Dakota Buttar, just 39.5 points removed from the No. 1 spot. After a less-than-ideal event in Lethbridge, he'll be eager to rebound this weekend.
Below are bullfighter Tanner Byrne's bets for Round 1 of the PBR Peace Country Invitational, presented by Ritchie Bros. Let us know your thoughts and your picks for the Cup Series event by tagging @PBRCanada on Twitter.
Tickets for the event are still available and can be purchased online at BonnettsEnergyCentre.com, and by phone at (780) 538-0387.
Coy Robbins vs. Whiskey Clouds
Coy Robbins has been riding really good this year as we've talked before. He showed it again last weekend in Lethbridge when the Cup Series returned. It looks like he is going to be a force to be reckoned with. The bull he's got, Whiskey Clouds, is a really good one from Skori. He's a young bull that showed up in Lethbridge and was one of the best bulls there. Right in the door to the right. Could be an 88-89 for a round win for Coy.
Jared Parsonage vs Pound Town
Jared is making his return to Canada after a long run in making his first Wrangler National Finals Rodeo. Look for him to keep that momentum going into Grande Prairie and these Cup Series events to make a push near the end of the year to get back in the title race. Pound Town, I'm not sure who that bull is, but he comes from Wild Hoggs, and with that Pond name, he must be related to Pound Sand of some sort, so you know this will be a good matchup to kickoff Jared's Cup Series events.
Lonnie West vs. Brand New Guitar
Lonnie West is back, healthy and ready to rock n roll, he's having fun riding bulls. He's got a bull named Brand New Guitar, who I have seen twice this year and has been phenomenal. Right in the gate to the left. If Lonnie does things right, this could be a round win for him for an 87-88-point score.
Griffin Smeltzer vs. Big Easy
Griffin is back in Canada as well, riding for the Austin Gamblers. Got some confidence, he's stayed on a few bulls down there now. Look for him to roll that confidence into Grande Prairie. This is a nice bull, Big Easy. Right in the gate to the right, one that guys like to get on. He's kind of big and scary, but he just spins it up and one that you want to get on for an 84-85 to set yourself up to get to the short round.
Chad Hartman vs. Jail Bait
Chad made a good ride on this bull last weekend in Lethbridge. He's feeling good and trying to make a push to get into the PBR Canada Finals. He's got the bull to do it on, a rematch from a previous 84-85-point score. Look for a repeat and for Chad to bump his way up in the standings.