Dakota Buttar Turns Average Summer into No. 3 Rank in 2023 National Championship Race
By: Covy Moore Wednesday, August 9, 2023 @ 9:11 AM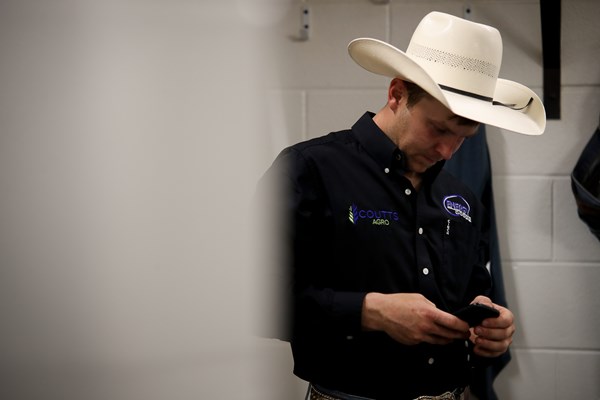 AIRDRIE, Alta. – For 2020 PBR Canada Champion Dakota Buttar, the 2023 season has been filled with highs and lows.
Riding waves of momentum, followed by streaks of tough draws and buck offs, Buttar says that is just a part of bull riding.
But when you look at his year on paper, it is hardly a bad year. Buttar is currently ranked No. 3 in the nation, 59.5 points behind No. 1 Nick Tetz, courtesy of Touring Pro Division wins in Czar Lake and Cluny, Alberta and plenty of podium finishes.
And now the Eatonia, Saskatchewan resident is looking to finish strong ahead of the 2023 PBR Canada National Finals.
"It hasn't been my best year ever," Buttar began. "But I have been plucking away at the ones where you need to do good, so it keeps you up there where you need to be. Czar was one of those important ones with the Tier 1 points and all that money up there. They outdo themselves year-after-year at that event, you show up and there is always something new. So you really want to do good at places like that, and it is one I haven't had a ton of luck with before."
"Drew a good one with Big Easy," Buttar continued. "He bucked a few off recently and is getting really welly. So I just focused on that, and I had been struggling away from my hand a bit. It went my way in the long round. Drew a good one in the short round and it all worked out."
His struggles this year do not go unnoticed by the quiet mannered rider.
During this summer he says he has been looking at older videos to see what sorts of things he can be doing to improve.
"Normally I don't let it bother me as much, this year though things haven't felt as good riding and I have been lacking in a few things, so I have been watching some old videos from 2-3 years ago to see what I have been missing, overlooking or whatever."
"Just working to get back to where I was a couple years ago," Buttar added. "It has been tough away from my hand, but I got a couple rode this weekend away from my hand so that is starting to feel good again."
This season Buttar has been seen with his father, Jim, a fair bit more at events. With his dad having some bull riding experience himself, Buttar says he brings that comfort and appreciation for the sport to him, and a positive mindset that he may have been lacking this season.
"He has helped me my whole career," Buttar said. "That is another thing too, I have been picking him up and bringing him along as much as I can. It is bringing me back to that mindset, just going and riding whatever I draw and making the most of everything."
:I haven't been doing that lately, but he really keeps me in that mind set. Just go and do your best on what you go. It always helps."
"Dad is good company too. It's a comfort thing, something I have always known. Going by myself for a few of them lately, may as well bring him along and be in the right mindset."
For what is remaining of the 2023 PBR Canada Touring Pro Division schedule, there isn't a stop left that Buttar hasn't had success at.
But for Buttar his eyes are set on the Okanagan and one of Canada's most well-known rodeo arenas in Armstrong, British Columbia, on Sept. 3.
"I am looking forward to Armstrong the most. They have had a great rodeo out there, and now the PBR comes to town on the last day. I have always looked forward to heading out there ever since I went pro. It's just a great atmosphere under the lights."
"I have always had good luck there, so the hope is to keep it rolling this year."
As for the premier PBR Canada Cup Series, presented by Wrangler, Buttar says the remainder of the season looks great for him as it's mostly all really close to home.
"Other than Grande Prairie, the rest are all close to home," Buttar explained. "It's nice to not have to travel so far for our big ones. I just want to keep plucking away and riding what I get drawn."
"There are a lot of points in that last month, so if a guy can get riding you can definitely make up a lot of points in that last month or so."