Jared Parsonage Wins 2023 Calgary Stampede
By: Darci Miller Tuesday, July 18, 2023 @ 8:07 AM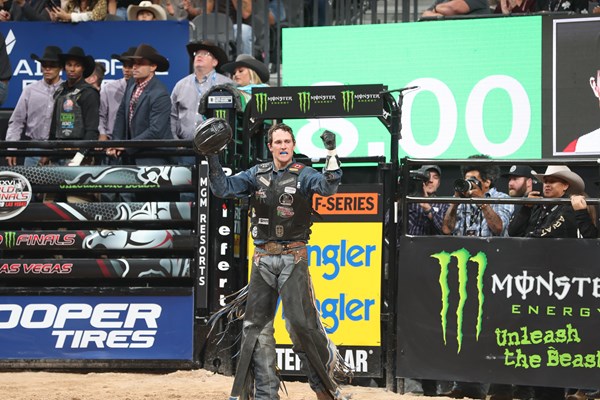 PUEBLO, Colo. – Jared Parsonage may be from Maple Creek, Saskatchewan, but he was right at home in Calgary, Alberta, this past week.
After winning Pool B with a perfect 3-for-3 performance, Parsonage – currently ranked No. 3 in the PBR Canada national standings – swept through the semifinal and final rounds to be named the 2023 Calgary Stampede Champion.
He was one of four Canadians to win their respective events, joining tie-down roper Beau Cooper, saddle bronc rider Dawson Hay and steer wrestler Scott Guenthner.
"That was pretty cool," Parsonage told the Calgary Sun after accepting his bronze statue and $50,000 check. "It was a good day for the Canadians.
"There's a lot of really talented rodeo athletes here. We've got some really special rodeo athletes up here in Canada, and we dang sure showed them today."
The opening days of the Calgary Stampede featured pool play, with 10 riders competing in Pool A, Pool B and Pool C. Based on money earned, the Top 4 riders from each pool automatically advanced to the semifinals on Showdown Sunday. After the 12-man semifinal round, the Top 4 advanced to the final round, where the title of 2023 Calgary Stampede Champion was decided.
Parsonage kicked off Pool B action with 78.5 points on Toothless Smile and followed that up with 83.5 points on Blue Magic. With his final pool play out, he won the day with 85 points on Devils Advocate.
RELATED: Jared Parsonage wins Pool B at Calgary Stampede; Carolina Cowboys' Sage Kimzey places second
In the semifinals, Parsonage finished second behind Stetson Wright thanks to his 88-point ride on Red Rocker, advancing to the final round with Wright, Creek Young of the Texas Rattlers, and Trey Kimzey of the Carolina Cowboys.
The previous day, Wright had tied with Carolina Cowboy Josh Frost for the Pool C win.
In the final, however, it was all Parsonage. As the only man to make the 8-second whistle, Parsonage scored 89 points aboard Wild Time. His winnings for the week totaled $68,233.33.
It was a little bit of vindication for Parsonage, who finished second at the 2019 Calgary Stampede and third last year.
"I got a good bull, and I rode good," Parsonage said. "Third time's a charm. If you keep putting yourself in these positions and you keep riding your bulls, it'll eventually work out."
With their buckoffs, Wright, Young and Kimzey tied for second place, each receiving $12,500.
Eliminated in the semifinals, Kimzey's brother and seven-time PRCA World Champion Sage Kimzey and Jordan Hansen tied for fifth with matching 85.5-point scores. Frost placed seventh with an 85-point ride, while 2022 World Champion Daylon Swearingen finished eighth with a 79-point ride.
Jestyn Woodward, Cody Teel, Ky Hamilton and JC Mortensen each bucked off in the semifinals and tied for ninth place.