Swearingen Advances to Showdown Sunday of 2023 Calgary Stampede; Teel Wins Pool A
By: Darci Miller Monday, July 10, 2023 @ 10:40 AM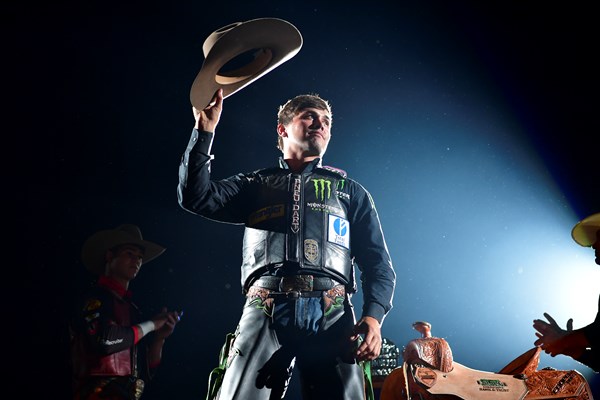 PUEBLO, Colo. – The last time Daylon Swearingen competed at the Calgary Stampede, he was not yet a World Champion.
Back in 2021, Swearingen won Pool B to advance to Showdown Sunday, where he was ultimately bucked off.
"I did alright," Swearingen told the Calgary Sun. "I fell off in the eight-man round, but I look forward to going back this year."
After Pool A action this weekend in Calgary, Swearingen has punched his ticket to Showdown Sunday, where he'll look to avenge his 2021 performance.
The opening days of the Calgary Stampede feature pool play, with 10 riders competing in Pool A, Pool B and Pool C. Based on money earned, the Top 4 riders from each pool automatically advance to the semifinals on Showdown Sunday.
The 2023 Calgary Stampede will finish on Showdown Sunday, featuring a clean slate for all contestants. After the 12-man semifinal round, the Top 4 will advance to the final round, where the title of 2023 Calgary Stampede Champion will be on the line.
Swearingen, the 2022 PBR World Champion and 2019 PBR Canada Champion, finished fourth overall in Pool A, earning $8,000.
He had a rocky start when he was bucked off by Jack the Ripper on the first day of competition but got back into the swing of things quickly, winning Round 2 with an 87.5-point ride on Armed & Dangerous.
"I've got to start capitalizing on the opportunity, and definitely, letting one slip by yesterday, you really have to capitalize," Swearingen told the Cowboy Channel. "There's a great group of guys in this pool, and you've got to stay on to advance.
"I saw Nick Tetz ride (Armed & Dangerous) in Ponoka. I knew he was a really good bull, and I had a really good opportunity to go win here."
The Carolina Cowboy then finished sixth on day three, riding Night Walker for 81 points to move to No. 4 in the pool standings.
Swearingen has had a rocky road in 2023. After winning the 2022 World Championship and finishing runner-up to Jose Vitor Leme in the 2022 PBR Teams MVP race, he injured his groin and missed most of the 2023 Unleash The Beast season. Since returning to action at the 2023 Pendleton Whisky Velocity Tour Finals, he's notched one win at a PBR Canada Cup Series event and two at Challenger Series events.
A few more rides, and he could have a Calgary Stampede title under his belt as well.
Cody Teel, another familiar face to PBR fans, won Pool A with his 3-for-3 performance, earning $14,500.
He first rode Trapped for 82.5 points and followed that up with 84 points on Up Shift and 84 points on Jelly Roll to close out the weekend.
Teel, the 2012 PRCA World Champion and 2016 Calgary Stampede champion, competed primarily in the PBR from 2017-2022, qualifying for the PBR World Finals six times, before returning to his rodeo roots in 2023. He has five wins this season, including at PRCA rodeos in Longview, Texas, and Weatherford, Texas.
Jestyn Woodward finished second behind Teel, going 2-for-3 with rides on Captain Jack for 80.5 points in Round 1 and Red Rocker for 87.5 points in Round 3 to earn $10,250.
"Honestly, I didn't know a single thing about my bull going into it," Woodward told the PRCA of his ride on Red Rocker, the highest score of day three. "All I knew is I bucked off the second day and rode my first one. Today, my back was against the wall, and I had to ride, no matter what he did."
Swearingen's friend and sometimes traveling partner JC Mortensen finished just ahead of him in the Pool A standings in third place, going 2-for-3 and earning $9,625.
Mortensen, who finished second at the Stampede in 2021, won day one with 84.5 points on Jack O Lantern and followed that up with 82 points on Dr. Doolittle on the final day of Pool A action.
After his ride on Jack O Lantern, Mortensen celebrated by throwing his hat toward the fans.
"I try not to throw my hat, but at Calgary, I've thrown it a couple times," Mortensen told the Calgary Sun. "I get too excited with the crowd."
Swearingen's Carolina Cowboys teammate and 2016 World Champion Cooper Davis tied for fifth place in the pool with Jeff Askey of the Arizona Ridge Riders, both earning $5,500. 2020 PBR Canada Champion Dakota Buttar placed eighth with $2,625.
Next up in Calgary is Pool B, which includes three-time PBR World Champion Silvano Alves, seven-time PRCA World Champion and new Carolina Cowboy Sage Kimzey, Jared Parsonage, Coy Robbins, Jordan Hansen, Wyatt Gleeson and Ky Hamilton.