The Morning Line – Kelowna Round 1
By: Tanner Byrne Thursday, July 20, 2023 @ 10:46 AM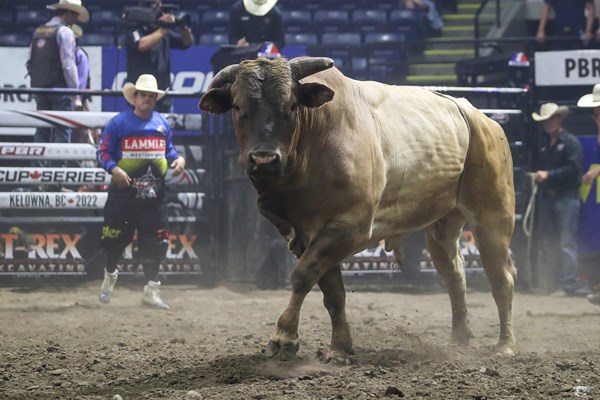 KELOWNA, B.C. – For the second consecutive season, the world's best bull riders and bucking bulls are taking their talents back to Kelowna, British Columbia.
Once again positioned in the middle of the season, the race to be crowned the 2023 PBR Canada Champion is hotter than ever!
Reigning title holder Nick Tetz will travel to Prospera Place ranked No. 1 in the nation, however, Coy Robbins is hot on his spurs.
But you can't count out Brock Radford who will travel to Kelowna not only looking to defend his event win in the British Columbia city from 2022, but also gain ground in the standings.
Below are bullfighter Tanner Byrne's bets for Round 1 of the event from Kelowna. Let us know your thoughts and your picks for the Cup Series event by tagging @PBRCanada on Twitter.
Tickets for the event are still available and can be purchased at the Prospera Place Box Office, online at SelectYourTickets.com and by phone at (250) 762-5050.
Before the bucking begins the PBR Boots N' Brews Pre-Party will be held outside Prospera Place.
From 4:00 p.m. PDT – 6:00 p.m. PDT, those who purchase a pre-party ticket will enjoy live entertainment, southern barbeque, a beer garden and more.  
Tickets for the PBR Boots N' Brews Pre-Party are limited and can be added to any main event ticket purchase for an additional $35. 
Mike Ostashek vs. Irish Rebel
This is a really great matchup for Mike, first matchup of the night to start things off the right way in Kelowna. This is a bull that the guys really like to get on. He has a lot of up and down, a lot of blow. Should be around to the left. Mike likes them away from his hand, just as good as he likes them into his hand. This is going to be a great matchup for Mike. Look for an 86-87-point score to set himself up good for the short round.
Stefan Tonita vs. Wicked Water
Stefan has really come on in the middle part of this season. He's got a few event wins now under his belt at the PBR Canada level. Look for this matchup with Wicked Water to be a possible round win with an 87-88-point score. Stefan has been battling both inside and outside of the arena and that's going to pay off I think here in Kelowna. This bull can go either way but should be right in the gate to the right with a lot of kick, a lot of timing. Stefan's on a mission right now and look for him to keep it rolling in Kelowna.
Griffin Smeltzer vs. Hatrix
I don't know much about this bull, but Griffin is coming off an event win in Kinsella, Alberta, where he took down the infamous Finning Nikki Sixx. Look for him to keep that momentum going into Kelowna. Being able to grit it out and be sticky and ride whatever they run under him. And that's what he'll do here. I think he'll get a good score and set himself up for the short round. And Griffin, watch him now for the second part of the season, he's turning things around and looking at making a run for that Canadian Championship.
Dakota Buttar vs. Sileage Pig
This is a great bull that I have seen at the Ponoka PBR earlier this year. He's got a funny name, but his bucking style is really good. He should be right in the gate to the right, one that Dakota can style up and get himself set up good for the short round, and keep those wins coming this season. Dakota is one of those guys that plucks away at them everywhere that he goes, and this should be the exact same thing. Be 85-86 and set himself up good to get a pick in the championship round. Look for Buttar to get a possible win here in Kelowna.
Garrett Green vs. Trapped
This is a veteran bull from Nansen Vold. A brindle bull that's one that the guys like to get on. He's getting later on in his years, and they seem to be riding him quite a bit more. He can go either way, but should be around to the right, and then go back to the left. But the way that Garrett is riding, like he did at the Cody Snyder Bullbustin' events, when he's on, there is nothing that can buck him off. He won't give this bull any chance to buck him off, and this should be an 85-86-point ride up for Garrett to set himself up for the short round and come back strong.