The Morning Line – Regina Round 1
By: Tanner Byrne Wednesday, June 21, 2023 @ 9:24 AM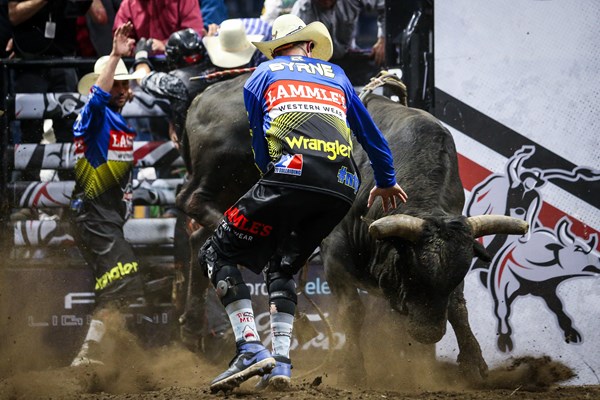 REGINA, Sask. – Today marks the fifth stop of the 2023 PBR Canada Cup Series, presented by Wrangler, as the nation's premier bull riding tour bucks back to Regina, Saskatchewan.
With more than 10 events complete across all levels of competition in Canada, the race to be crowned the 2023 Champion is off to a feverish start.
Jared Parsonage still has the No. 1 rank on lock, however, he is well within the sights of both No. 2 Aaron Roy and No. 3 Nick Tetz, both of whom are chasing history.
Roy, who is within 68 points of the top spot, will travel to Regina fresh off a win in Humbodlt, Saskatchewan, seeking his unprecedented fourth national title. While Tetz, 74 points back, will attempt to become the first back-to-back PBR Canada Champion this November in Edmonton, Alberta.
But you can't count out the remainder of the field.
The current Top 10 is within 170.5 points of one another, and at the PBR Regina Classic, not including ride-score points, one rider has the chance to win 120 points.
Below are bullfighter Tanner Byrne's bets for Round 1 of the event from Regina. Let us know your thoughts and your picks for the Cup Series event by tagging @PBRCanada on Twitter.
Tickets are still available and can be purchased at the Brandt Centre Box Office and online at Ticketmaster.ca.
Nick Tetz vs. Busta Rhymes
This is a rematch for Nick and Busta Rhymes. They matched up once for a good score, and then the bull won the other time. This is a rubber match where I look for Nick to step up and get the job done on Busta Rhymes. This is a little black bull, could spin either way, a lot of action, really gets to whipping and fading and moving. One that Nick could get a round win on. The bull should be around to the left but could go right. Nick has been riding really, really well lately. Look for him to eat this one up. A possible round win for Nick.
Cauy Schmidt vs. Quiet Riot
Cauy Schmidt rode this bull Quiet Riot the other weekend in Elk Ridge at 8 Seconds At The Ridge. Looked like a good bull, into Cauy's hand, right around to the right. One that the guys would love to get on. Cauy made a really good rider on him and look for him to do the exact same thing here, 85-86 points to set himself up really good for the championship round and hopefully get a good pick there. Everyone is going to know Cauy Schmidt's name by the time Regina is finished.
Jared Parsonage vs. Funkadelic
Jared has been down rodeoing in the States and returning to Canada to Regina, a place that he likes to come and ride bulls at, in his home province of Saskatchewan. He has a bull named Funkadelic, who is a big red bull, around to the right, away from Jared's hand. This bull has a lot of action to him. He kind of wants you inside, outside. That won't phase Jared at all. He should sit right in the middle of him for an 84-85-point score to set himself up great for the championship round where he'll probably go 2-for-2 and have a great chance of winning the event. Beating them in the average like Jared does. This bull, on the other side of things, makes sure the bullfighters have a lot of work. He plays rodeo full on. He likes to get the guys into position where he can do some damage and do some hooking. So look for Funkadelic to clear out the arena and do what he's known for best, being half mean. But look for us to step in, and do what we do, and keep everyone safe out there.
Jordan Hansen vs. Irish Rebel
Jordan, Jared Parsonage's travel partner, same thing has been rodeoing heavily down in the States. Riding really well. Returning to Regina to get those Canada Cup points that are well needed to get himself in the race for the Canadian Championship in the PBR. Great bull, Irish Rebel, who I haven't seen a bunch this year. Which will mean he's rested and should be firing on all cylinders. A red and white paint, right in the gate to the left. Really blowing in the air. One that you can sit up there and get all the points on. A possible round win here for Jordan Hansen of an 88 with Irish Rebel.
Aaron Roy vs. Patches O'Houlihan
Aaron's been on this bull, Patches O'Houlihan, in the practice pen this winter. This bull handed it to Aaron, but don't look for that to happen again. Aaron knows what the bull is all about. He is a big strong four-year-old from Flying Four Bucking Bulls. Should have a long leap out there, and then into Aaron's hand. He just gets stronger as he goes. The way Aaron has been riding, fresh off a win in Humboldt, his third win in Canada of the year, he's looking for that fourth title. When the pressure is on, and that money is at the highest peak, look for Aaron to step up. Once again, a possible round win for Aaron on Patches O'Houlihan for an 87-88-point score.