The Morning Line – Edmonton Round 3
By: Tanner Byrne Saturday, November 18, 2023 @ 12:20 PM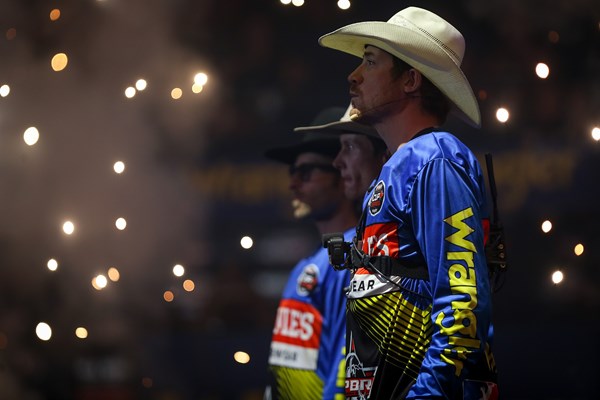 EDMONTON, Alta. –  These are the last picks of the 2023 season and what difficulty it was trying to pick out five out of this group of riders and bulls to stand above the rest. I think just like last night, we're going to have a ton of rides.
These guys got to pick their bulls for this round, and most everyone got one they wanted, and one that will fit their style. Some obvious notables, Garrett Green, Jake Gardner, Lachlan Richardson, Daylon Swearingen, Silvano Alves. They're all going to have rides today. I think we're going to have upwards of 12 rides, 15 rides.
The ones that stand out for me, are the these. Like I said, there were a ton of really good matchups today and it was very hard to try and pick a few out. So look for a very exciting last long round of the 2023 season in Rogers Place.
Let us know your thoughts and your picks for the Cup Series event by tagging @PBRCanada on Twitter.
The bull riding action for 2023 PBR Canada National Finals, presented by Command Tubular Products, begins at 7:00 p.m. MDT on Saturday, November 18 at Rogers Place.
Tickets are still available, and start at $40, standard fees may apply. They can be purchased online at Ticketmaster.ca. 
Tyler Craig vs. Moonwalk
Tyler Craig showed up to Edmonton looking to win. He won both rounds last night, first pick going into today and picked the one he wanted out of all the bulls in the pen. It's a bull named Moonwalk of Jim Thompson's. Should be similar to the bulls that Tyler had yesterday. The bull should be right in the gate to the right, into Tyler's hand. Look for him to keep the momentum going, and bee 87-88 points, set himself up for the short round to get a good pick, and see if he can win the Championship.
Cody Coverchuk vs. Samcro
What a matchup this is. Cody Coverchuk going for his third Canadian title, flipped up in the second round yesterday, but still was fortunate to get a good pick and still be in this race to try and win this thing. And this is what Coverchuk does. He kind of hangs out in the wings and then comes on strong and comes away with titles. Samcro is a big, big, scary looking black bull of Lazy S Bucking Bulls, one that I have seen a lot. Should be right in the gate to the left, right into Coverchuk's hand. Fits his style really well. Look for an 86-87-point ride for Coverchuk here on Samcro.
Dakota Buttar vs. Irish Rebel
Dakota steps up to the plate. No one really knew how that collarbone was going to be feeling yesterday, I am sure it's a little bit sore today. Buttar has let the title slip through his fingers before, and he doesn't want to have that feeling again. He's in perfect shape to win himself another Canadian title. He's got a bull of Slim Wilson's called Irish Rebel, and you couldn't ask for a better one than this. We saw Blake Smith ride him yesterday for a good score. Look for Buttar to do the same thing. Stay calm, stay in the middle. Let the bull pop up underneath him, the bull gets a lot of air. Look for an 87-point ride for Buttar to set himself up good for the short round and make this title race one of the best that we've ever had in Canada.
Macaulie Leather vs. Wild Time
What a matchup this is. This kid impressed me big time yesterday. Had a few different re-rides and it seems like nothing phases this kid. He does his job, doesn't let any outside factors weigh into his riding. He just steps up to the plate and does his job every single time. I have had a lot of guys talking about him and that he is one of the next sensations, and from everything I've seen, this part of the course. This kid is the real deal. Wild Time is a bull that everyone wants to get on. He's a good size, grey bull, muley, should be around to the left blowing and spinning. All of the guys like him, they get along with him, they win a lot of money on him. Jared Parsonage won the Calgary Stampede on this bull. Look for Macaulie to open up with that outside foot and have some fun with this won. Possible round win with an 88-point score.
Ashton Sahli vs. Whiskey Clouds
Great matchup here. Garrett Green rode this bull in Saskatoon in the short round for a good score. This little bull should fit Ashton's style, similar to the bulls he got on yesterday. He flipped up at 7 seconds yesterday, so he's going to be coming back with a vengeance and this is the perfect little bull to do it on. Right in the gate to the right. Look for Ashton to get whipping and pumping and ride that full 8 seconds, ride him through the whistle. Look for an 87-88-point score.