Two-Time PBR Canada Bull of the Year Happy Camper to Make Last Trip Inside Rogers Place
By: Covy Moore Wednesday, November 15, 2023 @ 5:22 PM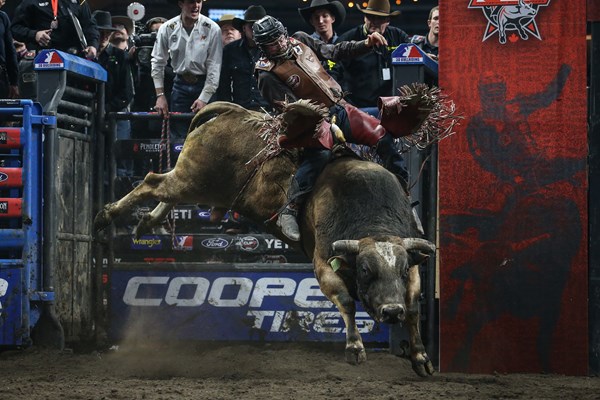 AIRDRIE, Alta. – This weekend's PBR Canada National Finals in Edmonton, Alberta, will mark the final time Two Bit Bucking Bulls' Happy Camper will buck.
The two-time PBR Canada Bull of the Year, seven-time PBR Canada Finals qualifier and five-time PBR World Finals qualifier is 9-years-old, set to turn 10 this Spring.
Happy Camper was born in Magrath, Alberta on the Two Bit Bucking Bulls' ranch, and according to Josh Berezay, you could tell from the first trip he was special.
"The first time we bucked him, you could see he was a step ahead of all the others that were pen mates," Berezay said. 
"We knew we had something there, even though he wasn't the best bull under a dummy. But as soon as we put a rider on him, we knew we had a special guy there."
And that first rider trip was special for the southern Alberta family as close family friend, Dayton Johnston would climb aboard Happy Camper.
"The first rider trip was Dayton Johnston right here in the yard. I think he rode him for about 7 seconds, but he was fixing to be 88 or so," Berezay explained. "Dayton and his whole family are very special to us, we watched him grow up. For him to step onto the bull the first time in the yard here was special."
"Then we took him to Arrowwood, Alberta, Nate Gardner had a Futurity and he whooped all the 4-year-olds. Then he went to Wanham, Saskatchewan, to the PBR, and he was great there. He just kept getting better and better. On seven or eight trips that year he got the call to go to the PBR World Finals."
When asked to describe his bucking abilities through the feedback of riders, Berezay said that because of Happy Camper's style, not every bull rider wanted to get on him.
"I don't know if any of them really liked him, he has some push back to him. He was hard, and never a day off. The better guys always want to get on the good bulls."
"I think Dakota Buttar stands out," Berezay continued. "He didn't stay away from him, but he finally took that shot last year in Brandon and almost got him rode. That was pretty special for me because we have been around Dakota since he was 11 or 12 years old and have watched him grow up into the Champion he is today. That was a special moment. Callum Miller getting on him in Medicine Hat last year was pretty cool too."
And while those two riders never would match with Happy Camper for a score, some standout trips with some great Canadian talents come to mind for the head of the Two Bit Nation.
"Zane [Lambert] rode him for 90 at the Glen Keeley one year, that was pretty big," Berezay recalled. 
"The other one that sticks out is Riley Gagnon riding him in Calgary. I didn't know Riley at that time, I actually called him by someone else's name, and he looked at me and says that's not me, I am Riley Gagnon. I said I will remember that from now on, and I always have."
While Happy Camper has become a bull that is synonymous with PBR Canada, his five trips to the PBR World Finals are fond memories for the Berezay family.
When asked about highlights from those trips stateside, Berezay laughed and said they all are, but being able to go to Texas in the reconfigured PBR schedule for the World Finals in 2022 stands out.
"He got the best of Eli Vastbinder and Kaique Pacheco rode him for a big score," he said of the debut World Finals inside Dickies Arena. 
"When you look at the guys who he has faced in his career, we certainly didn't hide him from anyone, that is for sure."
In 2018, PBR Canada brought its premiere Cup Series to the nation's East coast, holding events across Quebec City, Moncton, Halifax and more.
During that trip, Happy Camper fell ill. Just like their children, the bull community can point out when a bull isn't feeling themselves. For Berezay, that tour out East was not only memorable as his bucking bulls brought him somewhere he wouldn't normally go, but because it was also another demonstration of the love and care these animals receive as the bucker sat out a premiere event.
"Jake [Wilson] had noticed that he wasn't feeling himself," Berezay began. "I landed in Calgary and got back on the next flight back and flew right back out there. We filled him full of electrolytes and treated him for a few days. We held him back from one or two, because that bull means way more to me than any one event."
"To win a buckle, that is always great, but I want to see my bulls happy and healthy out here," Berezay continued. "I want that more than making some bad choice that would shorten his career because I was greedy. That will never happen around here."
"These animals mean everything to us, everyone has a unique relationship with us. You have to be able to recognize when your kids aren't feeling good, and kids can talk. Bulls can't talk. You are around them every day, you know their demeanor. You know when they are feeling froggy, but if they are off, you can tell. That is the deal with Happy."
As for his demeanor at home, Berezay, who was interviewed while sorting his bucking bulls at home prior to the 2023 PBR Canada National Finals, said Happy Camper is a bull that you can love on most of the time.
"He always knows when it's time to go," Berezay said. "I brought in Langham Kid and Sicario, and of course he ran into the other end of the barn because he knew what was happening."
"He lets me love on him. Every day when he goes out to exercise, he will stop for a scratch. Then there are days when he has his head up, you best just let him go and do his thing."
 "He has taken us everywhere we ever dreamed of, taken us places I would never have gone," Berezay added. "That East coast run, going out there and being high marked bull everywhere. He always shows up. I will be sad to see him go, but he doesn't owe us anything. He is a part of our family for sure. He will live here with us until the day he doesn't draw air from this ole world."
As for retirement for Happy Camper, Berezay says there are already some offspring being campaigned by Lindsay Carlier and X6 Ranch, and that he hopes to be able to share the incredible bloodlines within the Canadian bucking bull breeding community in the coming years.
"We have a few people that are interested in him. I won't just send him anywhere, but we are hoping to watch that bloodline carry on a long time. We bred some cows for X6 Ranch a few years ago, they got a bull right now called Unhappy Camper that is doing well in the Futurities. He is bucker."
"We will try to put him on something that will work. We are pretty picky on where he goes and how he is looked after and there are a few people I trust with that. Only time will tell."