Arizona Ridge Riders' Nick Tetz Leading the Way in Two Season-Ending Races as Fall Slate Heats Up
By: James Youness Sunday, October 1, 2023 @ 5:34 PM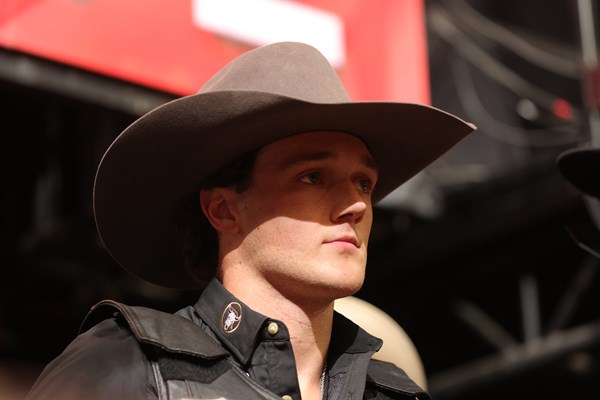 GLENDALE, Ariz. – Not everybody has it figured out at 23.
Between sorting career interests, establishing a home, perhaps even a family, and really exploring the umbrella of life, there's room for a lot of uncertainty and potential worry.
Thankfully for Calgary, Alberta, native Nick Tetz, this weekend's showcase inside Desert Diamond Arena during the Arizona Ridge Riders' homestand PBR Ridge Rider Days is not his first rodeo.
While he continues to display his comfortability within Arizona's locker room, PBR Teams and the United States in general, aren't his first home, either.
Just one conversion behind the organization's current ride leader Vitor Losnake, Tetz has provided some of the biggest rides of the season for Arizona. With another chance to get the crowd involved early Saturday night, he had fans on their feet as he set the tone once again.
"I really like riding in that No. 1 spot. I just think that, me, the type of person that I am, even If I buck off, I'll have my little moment, throw my little fit, but I'll come back and give everyone else energy," Tetz shared.
"But when I ride, it's awesome and everybody seems to keep it rolling. Eduardo (Aparecido) has done a pretty good job, where when I don't ride, he picks it up and gets the ball rolling for us again, so we have a pretty good chemistry thing going on right now."
Now 8-for-22 (36.4%) on the season after besting Crooked Nose for a game-high 89.5 points, his hot start helped will his hometown Arizona squad to a convincing 260.75-0 win over the Missouri Thunder.
The scenario, country, competition format?
It doesn't matter for the budding superstar. He's making it look easy and making it look fun all the same.
Even more importantly, Tetz helped the team improve to 11-13 on the season, thus keeping their hopes of securing a first-round bye at the 2023 PBR Teams Championship alive.
"Yeah, absolutely. It always feels good to get the job done in front of the home crowd," Tetz added.
"(The pressure to perform) doesn't really affect me. Maybe some guys. For me, it kind of fires me up a little more. I don't feel like there are any extra nerves. The crowd does a good job of keeping us fired up and I don't think too much about it."
While the potential pressures associated with putting on for the city and delivering the organization's hard-working fans a thrilling performance inside Desert Diamond Arena haven't phased the young talent, Tetz admitted the electric PBR Canada title race is very much still in the back of his mind.
"A little bit. It's kind of nerve-wrecking when they upped the grand prize to $100,000 to win," he explained.
Especially when PBR used an image of Tetz celebrating with champagne as the associated image, that has to irk the talented rider a bit, right?
"There's actually a better picture out there, with more champagne being sprayed," he joked with a laugh.
After winning it all last season, crowned the 2022 PBR Canada Champion, Tetz is currently defending his No. 1 rank in this year's competition by a mere 18.84 points as of early Sunday morning.
But with competition taking place throughout the weekend in Grand Prairie, there's a decent chance No. 2 Cody Coverchuk, who was recently released by the Oklahoma Freedom, overtakes him.
"I checked the daysheet right before our game to kind of see where everybody was sitting, but there's still two events after this one and then the Touring Pro event that a couple of those guys will have to miss because they'll be at the Canadian Finals Rodeo instead, so I'll be able to hit that one. Then we have Saskatoon, which is a two-day, another big one," Tetz detailed.
"There are so many points available at the Finals, so it's still really anybody's game. I'm just looking forward to getting back in that race. I feel like this is preparing me well for that kind of pressure and everything like that."
As if he didn't have enough on his plate, and in true Canadian fashion, Tetz also served as the team's welcoming party when the Arizona State University men's hockey team was in the building.
To say he's dedicated to winning two championships within 30 days could make it seem like he's distracted in a sense. But it's the complete opposite for Tetz, who's continued to receive support, and pointers, from Head Coach Colby Yates and beyond.
"This was the only event that has really conflicted, thankfully," Tetz concluded.
"My team has been really good about allowing me to miss here and there to stay in the race. If this wasn't our home event, I would probably be in Grande Prairie this weekend, but it's the home event, and we had to show out for the crowd."