Aussie Cody Fraser Battles to Strong Finish, Within Striking Distance of First PBR Canada National Finals Berth
By: Covy Moore Wednesday, October 18, 2023 @ 4:32 AM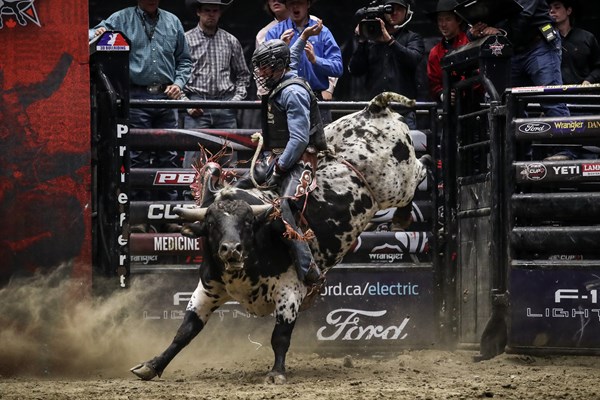 AIRDRIE, Alta. – This past weekend, the PBR Medicine Hat Classic did not result in too much movement at the top of the PBR Canada national standings, but it shifted around for one contender on the bubble.
Australia's Cody Fraser was one of the biggest movers courtesy of his second-place finish inside Co-op Place.
The 77 points he earned shot him into the No. 16 rank, and with Top 17 riders in the standings slated to qualify for the 2023 edition of the PBR Canada National Finals at Rogers Place in Edmonton, Alberta, Nov. 17-18.
"I was nervous because we are getting down to crunch time," Fraser said. "I had to do something. My goal all year has been to make the PBR Canada National Finals and I was right on the edge." 
"Something had to happen, and I put a fair bit of pressure on myself coming into that one."
It wasn't exactly a linear pair of trips inside Co-op Place in Medicine Hat, Alberta this weekend, as both his outs ended up at the challenge button.
"The first one was a re-ride" Fraser explained. "A bunch of people were yelling at me to hit the buzzer and I wasn't sure, then I saw Zane Lambert really screaming at me to hit it, and I thought if he is yelling at me to do it, I had better hit that button."
"My next bull bucked me off at 7.7. I said to the fellas that it was pretty close, maybe I hit it again. It worked out."
And both challenges went Fraser's way.
The first out was in fact determined to be a re-ride for the bull hipping himself, and the second was a qualified ride when the clocks were re-visited.
For Fraser though, he says he has been on both ends now for challenging the judges' decisions, but he is grateful the tool exists.
"I have done it before, and they docked me at 7.97. It is one of those things. I think we are all thankful for this technology to be there for us, it should be there for us."
This season hasn't been without its challenges for the 25-year-old. Earlier this season, at a pro rodeo in Drayton Valley, Alberta, he was injured, hospitalized for 10 days, and then undergoing a long rehab process to return to riding shape.
"I got jumped on, it was a pretty ordinary deal," Fraser said. "It wasn't a mean bull or anything, I just fell underneath him wrong. It broke eight ribs, punctured a lung, dislocated my shoulder, and broke my collarbone."
Hungry to get back at it, Fraser rushed to his own return, but when looking to be cleared by doctors he made the decision to keep the rehab going after getting some bad news.
"Exactly one month from the accident, I had gotten on a bull. I wanted to make it back for the Cody Snyder Bullbustin' deal in Calgary and practice the night before. It went good. PBR said I need to be cleared by a doctor first. The doctors basically said the ribs hadn't healed one bit and were still sharp and there was a risk of puncturing a lung again, and that put me out another month.
"But it was definitely the best thing for me," Fraser continued. "I am good now, I am so happy to be back. For the two busiest months of bull riding I had to watch everyone else go rodeoing. It was frustrating, but I'm happy to be back now."
Fraser said one of the biggest parts of his return to form was not only the people who rallied behind him during his injury but doing right by those people too.
"I didn't expect everyone to be around and to help out as much as they did. It was overwhelming."
"Tanner and Brittney Girletz were just amazing what they did for me when I was down and out, and they are still helping me to this day. I had some insurance things they helped with. Everyone was calling and messaging and I was letting folks know how it was going as much as I could."
"Sitting there watching made me really hungry," Fraser continued. "It was so frustrating watching them go, and watching them win. So that made me want it a lot more. All the people who rallied behind me when I got hurt, I felt like I had to step up to look after those people. Everyone that got behind me, I felt like I owed it to them, to make something happen, make amends on this year."
And make amends on his year he has.
Within striking distance of his first PBR Canada National Finals, Fraser, who leads No. 18 Weston Davidson by 35 points, admits he doesn't normally look at the standings, but with two events left before the cuts are made, he has taken a peek.
"I try not to look at it too much. Everyone behind me is still working hard to get in, and there are some damn good bull riders behind me. I have to keep working and I have a few more bulls to get ridden before it's locked up."
As for bulls that Fraser wants to see next to his name across the next two weeks, there is one Two Bit Bucking Bull bovine that comes to mind.
"I am chasing Langham Kid. I got on him at Lethbridge, my first ever PBR ever here, and he bucked me off both times," Fraser said. "He is a good feeling bull, I know he is rideable, you're going to get a good score because he bucks every time."
When Fraser crosses the stage at the Ty Pozzobon Foundation Banquet at the River Cree in Edmonton, Alberta, to collect his PBR Canada National Finals jacket, he says it will be because of one thing.
"Sheer determination."
"I think that is what is going to get me across the line. How bad do you want it? Keep working at it, if it's meant to be it will happen, but you have to make it happen too."