Dakota Buttar Focusing on National Finals After Bittersweet Trip to Grande Prairie
By: Covy Moore Friday, October 6, 2023 @ 12:04 PM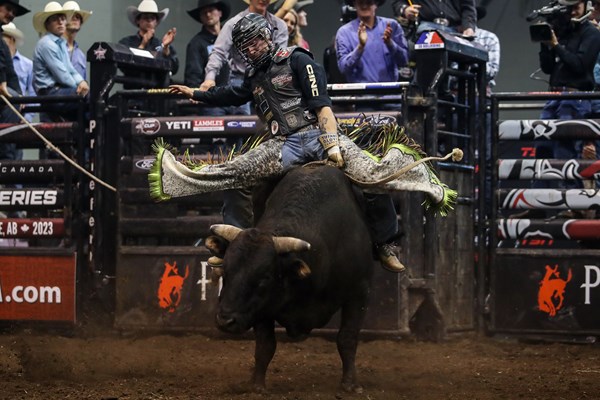 AIRDRIE, Alta. – This past weekend a sizable shift occurred in the PBR Canada national standings as 2020 PBR Canada Champion Dakota Buttar won the event in Grande Prairie, Alberta, to overtake the No.1 rank, while also sustaining a broken collarbone in the process.
As the event begun, Nick Tetz held the No. 1 position, but the reigning Canadian Champion was in Glendale, Arizona riding for the Arizona Ridge Riders in the separate PBR Teams League, opening the door for his rivals to gain points on him.
And gain ground they did, as he was surpassed not only by new No. 1 Buttar, but also Cody Coverchuk, who remained No. 2, to slip to third in the standings.
In Grande Prairie, the weekend went almost perfect for Buttar, who went 3-for-3 in the main event, while also covering his draw in the accompanying 5/5 Bucking Battle.  
But ending with injury wasn't the way Buttar wanted to wrap the weekend.
"As soon as he hit it, I felt it," Buttar recalled of the injury that occurred following his championship round ride atop Chico. "I have never broken my collarbone before, but when I crawled away, I went to sit up, and I couldn't sit up on my own so I knew it had to be that."
"When I saw the x-ray and I saw that it was broken it was shitty cause I don't want to miss these last couple events, they are the closest events to home all year. It's a bad time, but it's a time where I am only missing a couple."
The ever-positive Buttar added that even if it needs the entire six weeks to heal up, that still gives him plenty of opportunity to prepare for the PBR Canada National Finals at Rogers Place in Edmonton, Alberta, on Nov. 17-18, and is willing to turn out of the Canadian Professional Rodeo Associations Finals in Red Deer two weeks earlier if he has to.
"I have already been in touch with the guys who were in my corner with that last injury. I am getting things rolling now, so as soon as I get the go ahead, I will be working on it."
In the out that resulted in injury, Buttar was thrust to the ground at what appeared to be 7.7 seconds by Vold Rodeo's Chico. While injured he wanted to challenge the call, but the button was pressed for him.
Given Buttar never lost a hold of his rope, the officials were able to time the ride 8 seconds, good for an event-winning 89.5 points, A bittersweet moment for the cowboy, seeing the call as he was being carted off to sports medicine.
"There was nothing I could do further to win at that point, I was just dealing with how much it hurt," Buttars said with a laugh. "It sure was nice to see the thumbs up before I got back to the sports med room."
Buttar has had what he referred to as an unremarkable season up until this point, with nothing incredibly noteworthy, but has been consistently plugging away, nothing numerous Top 5s and a pair of event wins. Working on some fine-tuning of his riding this season proved to be perfect, as the Saskatchewan native feels his riding is back at a confident point.
"Riding as long as I have, I have learned to be patient. And this year there is nothing spectacular, no massive moments, it's just been steady plugging away at it."
"It was basic things," Buttar continued. "A lot of it was mental stuff for me. I was having trouble riding away from my hand. At Czar Lake I got that turned around. I had the Skori's Big Easy. And up to that point I had seen he was welling people a lot of times. It was my free arm that was giving me grief away from my hand. I still need to fine tune that, cause that one that went away from my hand this weekend, I wasn't too happy with what I was doing with it. I was letting it get behind me. With Big Easy, I kept it right there. They say you just need one, and that was the one that made me feel what it is supposed to feel like."
For Buttar, the upcoming couple of weeks on the sideline will certainly cost him a few points, but he isn't too concerned, as when he returns, he is always showing up to win, no matter what the yearend prize looks like.
"For me my mentality never changed. I am going to win the year; I am not going to win second."
"It's a great extra bonus," Buttar added of the newly doubled Canadian Champion bonus. "It changes a guy's life, you can do a lot more with $100,000. But for me I am going for it whether it's $50,000 or $100,000,"
"We are going to shuffle a lot yet with these last events coming up, a guy can't stress too much. Finals are what matters, going in there that is where you got to make it count."