Nick Tetz' Teams Season Cut Short, Aims for Saskatoon Return
By: Covy Moore Wednesday, October 11, 2023 @ 10:39 AM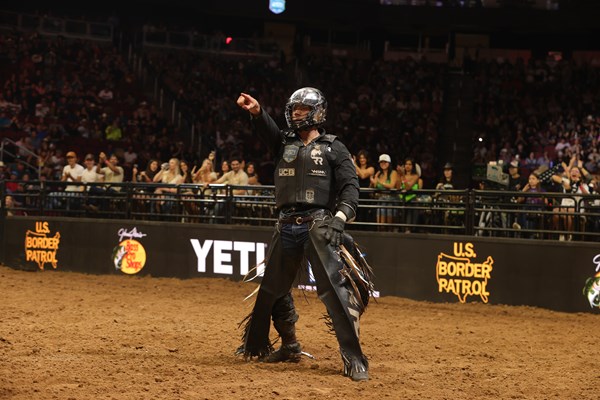 AIRDRIE, Alta. – What began as an opportunity to be a part of the reserve roster for the Arizona Ridge Riders, quickly turned into being the team's biggest and unexpected standout in 2023 for Calgarian Nick Tetz.
Being given the opportunity to focus on both the PBR Camping World Teams Series as well as defending his Canadian title was a selling point for the young bull rider.
"As far as showing up and doing your job, having fun, we just have such a good group of guys," Tetz said. "It's the type of group you want to show up and do good for. Everyone is friends and we all want to do good for each other. That has shown over these last few events. This last half of the year we really built those bonds and it showed in our riding."
Now having ridden at seven Teams events, delivering 10 qualified rides for Arizona, Tetz' Teams season has come to a premature end after taking a shot at the regular-season finale in Fort Worth, Texas.
After coming down in 6.61 seconds atop Flyin Wired, Tetz was thrust to the ground hard.
"He stumbled on his hind end, and it kind of ended up engaging a slingshot you could say," Tetz explained. "It body slammed me into the ground, and something didn't feel right in my shoulder. Turns out I fractured my shoulder blade."
"I just met with a surgeon, where I fractured it there is a ton of muscle around it. He said 4-5 weeks and it should be completely healed. We are going to hit the ground running here. Do everything to be healing as best I can, get PT going."
The injury will sideline the rider for the PBR Teams Championship, Oct. 20-22 in Las Vegas, as well as this weekend's PBR Canada Cup Series, presented by Wrangler, event in Medicine Hat, Alberta, but with a short healing time, Tetz is full steam ahead at being the first ever rider in PBR Canada history to win titles in consecutive seasons.
"It is a bone at the end of the day," Tetz said. "I would like to be back for Calgary and Saskatoon. Unfortunately, that will be my last out for the 2023 Teams Series. Sucks to go out at 6.61 seconds to definitely be 92 maybe 93. But there are still 100,000 reasons to be positive and keep that positive mind set."
"It's just God's way of asking you how bad you really want it. It's not easy to be great in this sport, and this is just him testing me for how bad I really want this."
For the 2023 PBR Canada National Finals in Rogers Place in Edmonton, Alberta, Nov. 17-18, Tetz said he expects to show up with the confidence he built on PBR Teams this season and ride the rankest bulls he can pick.
"I have been getting on some buckers at the Teams deal. I feel more confident than ever picking these ranker ones up here. Come Finals time I have full confidence in myself that I can pick the rankest ones in the pen and get them rode. That is what won me a title last year, picking up some high scores. If I can string together four this year, I think it will be hard to beat."
"Lots can happen though, you need some people to do good, some to maybe draw bad. You never really know till it all shakes out."
This weekend is the PBR Canada Medicine Hat Classic, presented by Art's Excavating, and if last year's event was any indication, it's set to be one of the best bull ridings of the year with the Finals so close.
"That was a great bull riding last year. I went in and rode two and took Coy [Robbins] out of the leader's chair. Suddenly Brock [Radford] knocks me out. Callum [Miller] had a good shot at winning the thing too. At the end of the year everyone is hungry and wanting to get to finals. Those guys in the bottom of the standings for whatever reason are fighting to be at Finals, and the guys up top are riding to win a title."
"It's going to be a great show," Tetz said. "This year is a history-making year for bull riding in Canada. This race this year has been great."