The Morning Line – Saskatoon Round 1
By: Tanner Byrne Saturday, October 28, 2023 @ 8:35 AM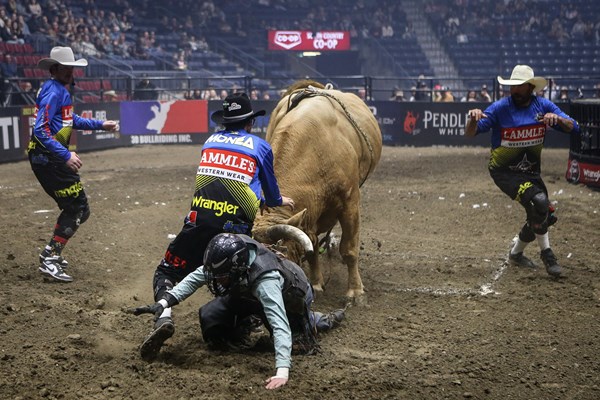 SASKATOON, Sask. – After eight events, travelling coast-to-coast across Canada, the regular season for the elite Cup Series, presented by Wrangler ends this weekend in Saskatoon, Saskatchewan! With that, it means that the pressure is on for the world's finest to gather critical last-minute points to earn a berth to the PBR Canada National Finals, Nov. 17-18 in Edmonton, Alberta.
Inside the SaskTel Centre, two of the nation's Top 5 will be sidelined by injury, No. 1 Dakota Buttar and No. 3 Nick Tetz, opening the door for No. 2 Cody Coverchuk, No. 4 Coy Robbins and No. 5 Aaron Roy to surpass them in the battle for the 2023 PBR Canada Championship and historic $100,000 bonus.
RELATED: Click here for the complete daysheet.
And with just the Top 17 earning a berth to the year-end event, its more intense on the bubble for those riders fighting to stay in contention, or claw their way back into the threshold.
Two of those contenders are 2019 PBR Canada Champion and 2022 World Champion Daylon Swearingen, and 18-year-old bull riding phenom John Crimber, poised to make his Canadian debut at the PBR Saskatoon Classic, presented by Redhead Equipment and CASE IH.
Below are bullfighter Tanner Byrne's bets for Round 1 of the event from Saskatoon. Let us know your thoughts and your picks for the Cup Series event by tagging @PBRCanada on Twitter.
Tickets are still available and can be purchased online at Ticketmaster.ca.
Coy Robbins vs. Black Jack
Coy Robbins, I talk about him quite a bit in these picks, and for good reason. He's always one that you can count on to stay on, and be in that top contention, and this year looking for a Canadian Championship. Big bull by the name of Black Jack from the Skori's. Big brindle, down horn, should be around to the left. A lot of power, really blowing, really showy, but Coy is going to get the lockdown and make a good ride. Look for an 87-88-point ride to kick things off in Saskatoon.
Daylon Swearingen vs. Crazy Little Thing
Daylon makes his return to Canada and draws one of the best ones that I think Daylon could draw. Young bull from the Two Bit Nation. Bull can spin either way, Aaron Roy has been on him a few times, and the last time I saw him, he went left, which it doesn't matter which way they go with Daylon, he's going to sit up there and ride them. Lots of timing, lots of kick. Look for the World Champion to get a possible round win here on Crazy Little Thing.
Garrett Green vs. Mogely
This is a rematch for Garrett, he's been on this bull a few times, he's rode him and one that will be right up his alley. Should be right in the gate to the right, bucking and kicking. One that Garrett is going to get along with really well. Should be a day in the park, a walk in the park for Garrett. Look for an 85-86-point ride to set himself up good for the weekend.
Jordan Hansen vs. Lil' Hooch
Jordan has really come on strong the last part of the season on the PBR side of things. He's been rodeoing all summer, another trip to the NFR. Looks to be riding better than he ever has as a veteran in the sport. And he's looking for that PBR Canada Championship. He's climbed the ranks, he's up in the Top 10, and wants to set himself up for Edmonton for a chance at the Canadian Championship, and he's got the exact bull to do it on with Lil' Hooch. A little black bull really blows in the air, could spin either way, but should be right in the gate to the right. Real showy with a lot of timing, they win a lot of money on him. Jordan could be 87-88 points here.
John Crimber vs. Desperado
John Crimber, the hottest young bull rider in the world right now makes his debut in Canada and look for him to knock one out of the park here on Desperado. A good little bull from Nansen Vold, should start to the left and then be back to the right. Look for John to do what we've all seen him do all over Instagram and all over the internet the last several years, as well as at all of the Challenger events that he's been winning and do the same thing here in Saskatoon. First time to Canada, the bulls are a little bit bigger, a little bit stronger, but I don't think that's going to phase John. This is going to be a great matchup for 86-87 points to set John up great for his first trip to Saskatoon.