The Morning Line – Saskatoon Round 2
By: Tanner Byrne Sunday, October 29, 2023 @ 11:21 AM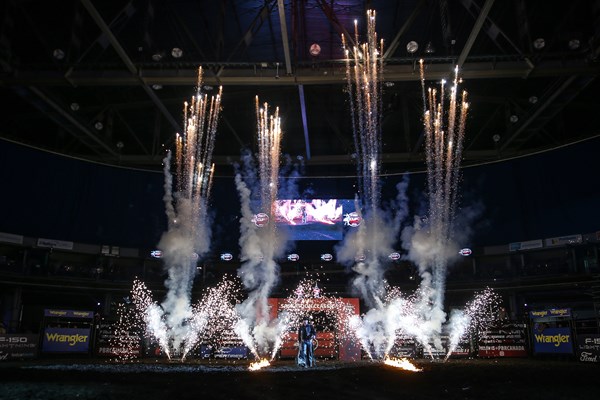 SASKATOON, Sask. – This is the last regular season Cup Series, presented by Wrangler, event of the year, and it all comes down to this.
The riders got to pick their bulls, which made it hard to select five matchups out of all these matchups. I think we're going to have one of the best bull ridings of the year. Everyone is going to be laying it all out on the line.
RELATED: Click here for the complete daysheet.
Below are bullfighter Tanner Byrne's bets for Round 2 of the event from Saskatoon. Let us know your thoughts and your picks for the Cup Series event by tagging @PBRCanada on Twitter.
Tickets are still available and can be purchased online at Ticketmaster.ca.
John Crimber vs. Uncle Rico
This is a black bull, around to the left, really bucks, a lot of action. They haven't really gotten along with him much this season but look for him to fit John's style really well. Look for him to open up, start the night off with a bang, an 87-88-point bull ride.
Chad Hartman vs. Grand Funk
This is a rematch for Chad, he rode him right to the whistle to be a pile of points earlier this season. Look for him to finish it off. Chad needs the points, he wants to jump up there and get in the Canadian title race and this is the exact bull to do it. A lot of timing, a lot of up and down, a little bit underneath himself. Chad just needs to sit up there and finish, keep riding, keep hustling the whole 8 seconds and you could see a round win with this as well, an 86-87-point ride for Chad Hartman.
Daylon Swearingen vs. Hanna Motors Broken Halo
Daylon is looking like the World Champion that he is, got the round win last night. Looking for him to do the exact same thing today. This is one that all the guys want to get on, first pick in the pen today and this is the one that he chose. Really great pick. Should be right in the gate to the left, black-white faced bull from the Skoris, look for Daylon to open up and have some fun with this one, get an 86-87-point ride and get a really good pick in the championship round as he looks to win again in Saskatoon.
Jake Gardner vs. Lil' Hooch
This is another rematch, Jake had a good pick coming into the round and he couldn't pick a better bull than Lil' Hooch. This bull has a couple different trips. If he comes out clean out of the chutes, he will be right there to the right, really blowing in the air and should have a really good trip. Sometimes he comes out backwards and could go to the left, but look for Jake to make sure everything is right before he nods his head, get a clean out on this bull. Bull is going to blow in the air, be really showy. Jake is going to open up with that outside foot and we're going to see an 88-point bull ride.
Jordan Hansen vs. Sellin Dreams
Jordan Hansen is a man on a mission right now within PBR Canada and the rodeo world proving that his veteran style is what is going to push him through to the end as he vies for another Canadian Championship on the PBR side of things. Great bull from Nansen Vold, right in the gate to the left. A good one that the guys like to get on. Jordan made a really good pick with this one. Look for an 85 to set himself up good for the short round to come back and look for another win for Jordan Hansen.