The Morning Line – Grande Prairie Round 1
By: Tanner Byrne Saturday, September 30, 2023 @ 11:26 AM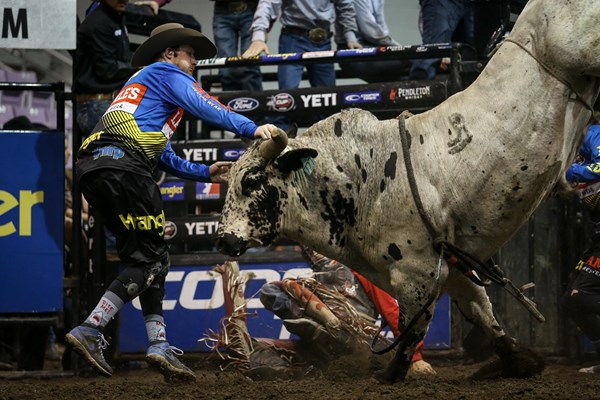 GRANDE PRAIRIE, Alta. – After more than a two-month break, the PBR Canada Cup Series, presented by Wrangler, returns this weekend in Grande Prairie, Alberta, for one of the final three regular-season events before the National Finals in Edmonton, Alberta.
On the spurs of the historic announce that the Canadian Champion prize purse has been double td to $100,000, Canada's finest are ready to take to the dirt this weekend inside Bonnetts Energy Centre to gain crucial ground in the national standings.
With No. 1 Nick Tetz not competing as he is stateside representing the Arizona Ridge Riders in the separate PBR Teams League, the door is open for the remainder of the field to decimate his lead, if not surpass him.
Below are bullfighter Tanner Byrne's bets for Round 1 of the event from Grande Prairie. Let us know your thoughts and your picks for the Cup Series event by tagging @PBRCanada on Twitter.
The PBR Peace Country Invitational inside Bonnetts Energy Centre gets underway Saturday, Sept. 30 at 7:00 p.m. MDT. Tickets for the event are still available and can be purchased at BonnettsEnergyCentre.com, or by phone at (780) 538-0387.
Aaron Roy vs. Crazy Little Thing
Aaron Roy as a veteran rider in his PBR career is having one of his career years to date. Its really good to see Aaron in the running for another Championship. He's a legendary Canadian bull rider and he's got a great bull to keep things rolling in Grande Prairie. Crazy Little Thing of Two Bit Bucking Bulls, one that Aaron has ridden before. The bull has a lot of kick, should fit Aaron's style really well. Go either way. Look for Aaron to set himself up really great with an 85-point ride to kick off his Grande Prairie Canada Cup Series event.
Cauy Schmidt vs. Up Shift
Cauy is really starting to show the full potential that this kid has. This year has been a career year for him, making the Canadian Finals Rodeo on the rodeo side of things, and doing that as well on the PBR side of things. One of our up-and-coming future superstars of the sport. Up Shift, a bull from Nansen Vold, has been around for a long time that all the guys know and like. He really blows in the air, moves out there, fades across the pen, really showy, a lot of action. One that Cauy could get a round win on. Look for an 88-point ride for Cauy in Grande Prairie.
Coy Robbins vs. Jail Break
This is a rematch for Coy. Coy is in the running for the Championship this year. He has been rodeoing quite a bit, and now he's going to be focusing on these PBR Canada Cup Series events to finish off the year to set himself up for a possible Canadian Championship in the PBR. A rematch for Coy and Jail Break, this bull should start to the left and then come back to the right. One that lots of guys don't get along with but fits Coy really well and that is what Coy does, ride the ones that a lot of guys don't get along with. Look for an 86-point ride to set himself up great for the weekend.
Wyatt Gleeson vs. Red Coat
Red Coat is a great bull from the X6 Ranch, should have a look to the left and then spin to the right, move ahead a little bit. Look for Wyatt to open up, and spur this bull like we know how Wyatt does. This one should fit him good and look for Wyatt to get a possible round win as well. Wyatt gets all the points out of the bull with the style that he has, and his no quit, kick loose attitude and mentality. Look for that here with an 86-87-point ride for Wyatt.
Jordan Hansen vs. Black Jack
Jordan Hansen qualifying once again for the NFR in Las Vegas. Same as Coy, Jordan has been rodeoing quite a bit down in the U.S. and now has his sights set on another PBR Canada Finals berth, and to try and jump himself up there to get in the title race in Edmonton. He's got a great bull to do that in Skori's Black Jack. He's a big, huge brindle, a lot of pop in the air. Jordan has ridden this bull before, but I think this bull has stepped up his game quite a lot since the last time Jordan was on him. But Jordan shouldn't have any problem getting the whistle and getting a really good score on him. Should be in to Jordan's hand, really good bull, look for an 86-87-point ride.
Cody Fraser vs. Sure Shot
Cody Fraser is a young Australian that had a very serious injury halfway through the season. He's comeback from that injury really strong, he's getting his momentum back and starting to ride like the Cody that we know. He took a good bull to the whistle in Prince Albert on day one that a lot of guys don't get along with called The Remedey, and it just shows that Cody is the real deal, and he's back, and looking with vengeance to climb back into that top spot to make the PBR Canada Finals. Rematch on a bull called Sure Shot from the Skori Ranch. This bull is going to be in the gate to the left, everyone knows what he's up to, really bucks. He's usually in the short round. He's going to back up underneath himself a little bit, look for Cody to get a good spot right around there, style this up for a possible round win, 87-88 points. Look for a great matchup for Cody to set himself up for a great weekend in Grande Prairie.