Pozzobon and Marchi split Round 2 in Las Vegas
By: Ted Stovin Thursday, November 3, 2016 @ 10:15 PM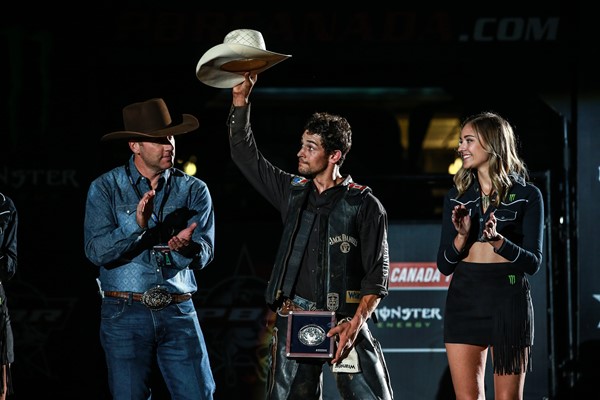 LAS VEGAS, Nevada -- Ty Pozzobon (Merritt, BC) and Guilherme Marchi (Itupeva, SP) split round two of the PBR World Finals at the T-Mobile Arena on Thursday night.
Pozzobon threw down 89.5 points on Big Cat (Dakota Rodeo/Struve/Berger/Heald) while Marchi scores 89.5 points on Smooth Operator (Dakota Rodeo/Julie Rosen/Clay Struve/Chad Berger). Both earned 240 world points and $24,000 for their efforts.
The 2016 PBR Canada Champion, Pozzobon, became the first Canadian to win a round at the world finals since Aaron Roy (Yellow Grass, SK) too Round 7 in 2009 with a score of 91.75 on Top Notch (Martinez Bucking Bulls). Roy broke his femur in Round 1 on Wednesday which required surgery on Thursday morning. 
With tonight's win, Pozzobon leads the event aggregate, despite a broken bone in his hand suffered in ROund 2 of the final Built Ford Tough Series stop of 2016 in Tucson, AZ. He's in at 173.75 points on two bulls and now ranks 25th in the World Standings. 
In the World Champion bull race, Hey Jack (Jane Clark / Gene Owen) scored 44.25 points bucking off Tyler Harr. Seven Dust (J.A.R.S Bucking Bulls / Gene Owen) put up a big 45 against Marco Eguchi to sit second so far. Sweet Pro's Long John leads the pack thanks to a 45.75 in a quick out with Kasey Hayes.
Dakota Buttar and Tanner Byrne were once again bucked off of Slinger Jr. (Rocking I Rodeo Co) and Spotted Demon (Julio Moreno / Dallas Schott) respectively in round two. Cooper's Comet hipped himself on the way out of the chute with Mike Lee but still managed 43.25 points.
Round three of the PBR World Finals at the T-Mobile Arena starts at 6:00pm on Friday November 4th, 2016.