Sims wins stop four of Monster Energy Tour in Calgary
By: Ted Stovin Saturday, September 24, 2016 @ 11:06 PM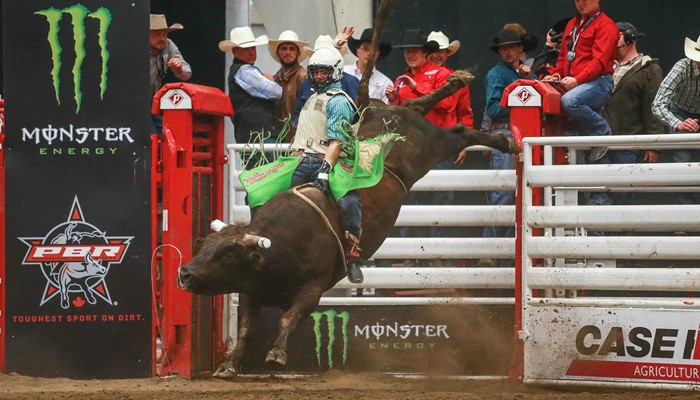 CALGARY, AB — Brady Sims of of Holt, MS earned the victory at stop number four stop of the PBR Monster Energy Canada Tour on Saturday night at the Agrium Western Events Centre at Stampede Park in Calgary. 
Sims put together scores of 86.5 on Shot of Whiskey (Two Bit Bucking Bulls/Pozzobon Cattle Co.) And 89 on Heaven's Basement (Vold Rodeo) to earn over $5,000 and 80 world points to move up to 43rd in the PBR World Standings. In the Monster Energy Champion's Challenge, Sims was bucked off Liquid Fire (Wild Hoggs Bucking Bulls) for $15,000. Liquid Fire put up the top bull score of the night checking in at 45.5 points. 
PBR Canada Standings leader Ty Pozzobon placed second on the evening, earning 50 world points putting him right up into the top 35 in the PBR's World Standings, above the cut again for the Built Ford Tough Series and Built Ford Tough World Finals as this time. Pozzobon put up an 81 on Dog Gonnett (Wild Hoggs Bucking Bulls) in round one and an 83.5 on Sworn Enemy also from the Wild Hoggs.
Pozzobon pocketed another $3,100 pushing his season earnings past the $34,000 mark in Canada alone, increasing his standings lead over number two Dakota Buttar once again. Buttar was bucked off of Feeling Blue (Vold Rodeo) in round one. 
Third on the night was Australia's Justin Paton. Paton came out of Saturday night in Calgary ranked 41st in the world after putting together scores of 78.5 and 85. For his work, Paton takes another $2,000 back to the states, only 77.5 world points back of the 35th and final spot.
Columbia Falls, MT's Matt Triplett got on the board to finish fourth. After a buck off in round one, Triplett put up a big 87 points in the first ride of the final round on Snortin' Whiskey (Vold Rodeo). After Calgary, Triplett ranks 102 in the world, with 100 world points. The number 35 man in the world, Luis Blanco, has 502.5 world points. 
Rounding out the top six in Calgary were Cody Coverchuk, Meadow Lake, SK and Jared Parsonage, Maple Creek, SK. Coverchuk was 86.5 in round one on Monkey Nuts (Skori Bucking Bulls) to finish fifth and remain third in the PBR Canada National Standings. Parsonage put up 83 points on Indian Turtle (Vold Rodeo) but was bucked off Buck Wild (Bailey Pro Rodeo) in the finals. 
After this third stop in Calgary, the tour continues to Abbotsford's, BC's Abbotsford Centre on October 1st and Saskatoon, SK on October 14th and 15th. All roads will then lead to Edmonton as PBR will bring a special global invitational PBR event to Edmonton scheduled for November 2017.
Visit PBRCanada.com for the full PBR Monster Energy Canada Tour schedule and tickets.
Official results from the PBR Monster Energy Canada Tour stop in Calgary, AB at the Agrium Western Events Centre on September 24th, 2016. 
Event Results (Round 1-Round 2-Round 3-Event Aggregate-Event Points) 
1. Brady Sims, 86.5-89-0-175.50-80 Points.
2. Ty Pozzobon, 81-83.5-0-164.50-50 Points.
3. Justin Paton, 78.5-85-0-163.50-30 Points.
4. Matt Triplett, 0-87-0-87.00-20 Points.
5. Cody Coverchuk, 86.5-0-0-86.50-15 Points.
6. Jared Wayne Parsonage, 83-0-0-83.00-10 Points.
7. Garrett Green, 81.5-0-0-81.50
8. Thor Hoefer II, 80.5-0-0-80.50
(tie). Will Purcell, 80.5-0-0-80.50
Dakota Buttar, 0-0-0-0.00
Wacey Finkbeiner, 0-0-0-0.00
Dakota Louis, 0-0-0-0.00
Douglas Duncan, 0-0-0-0.00
Justin Lloyd, 0-0-0-0.00
Tim Lipsett, 0-0-0-0.00
Zane Lambert, 0-0-0-0.00
Scott Schiffner, 0-0-0-0.00
Fabian Dueck, 0-0-0-0.00
Brock Radford, 0-0-0-0.00
Cole Young, 0-0-0-0.00
Kale Marks, 0-0-0-0.00
Jake Wilson, 0-0-0-0.00
Lonnie West, 0-0-0-0.00
Wyatt Laughlin, 0-0-0-0.00
Cooper Zur, 0-0-0-0.00