Casper victorious at season's final Touring Pro Division event in Magrath
By: Kacie Albert Friday, September 22, 2017 @ 4:53 PM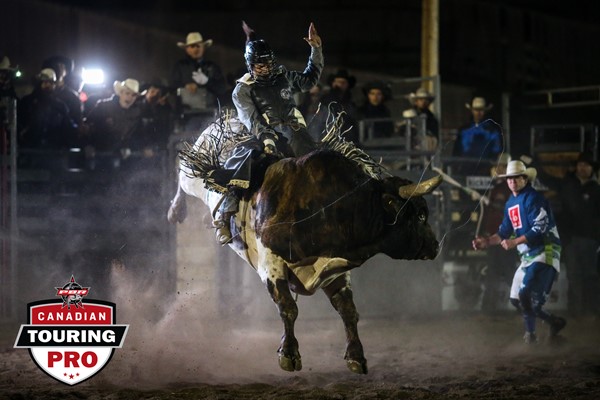 MAGRATH, Alberta – Cody Casper (Pacific, Washington) earned his second career PBR victory Thursday night at PBR Canada's final Touring Pro Division (TPD) event of the season at the Celebration for the Two Bit Nation.
The 24-year-old began the night finishing third in Round 1 after riding Savage Sensation (Foley Bucking Bulls) for 84 points.
In the short go Casper was one of four riders to cover his draw, splitting the round win with Zane Lambert (Ponoka, Alberta) after riding Pound the Alarm (Wild Hoggs) for 89 points.
Casper was one of several riders who opted to double enter. He also finished 11th after covering Big Deal (Cody Strandquist Bucking Bulls) for 76 points in Round 1.
Collectively he earned $3,674.55, 60 world points and 295 points towards the Canadian national standings.
Lambert finished second, logging his eighth Top-5 finish of the season.
In Round 1 the 2013 PBR Canada Champion rode Parachute Pants (Rafter G Cattle Co./Vold Rodeo) for 83.5 points before tying for the round win in the short go when he covered Apollo's Gold (Vold/Prescott) for 89 points.
For the runner-up finish Lambert earned $2,636.70, 30 world points and 207.5 Canadian points.
In the Canadian national standings Lambert rose from No. 4 to No. 2. He now trails No. 1 Brock Radford (De Winton, Alberta) by 694.16 points.
Edgar Durazo (Moctezuma, Mexico) finished third, earning $1,514.70 and 20 world points.
The 26-year-old began the night in the first round covering Plenty Kool (Flying High Rodeo Co.) for 83 points. In the championship round he made the 8 aboard Snortin' Whiskey (Cody Strandquist Bucking Bulls) for 84.5 points.
Fourth place went to Jared Parsonage (Maple Creek, Saskatchewan) as the remaining rider to log a perfect 2-for-2 performance.
Parsonage rode Chaba (Hy-Kik Ranch) in Round 1 for 77.5 points, which he followed with an 81.5-point trip aboard Jersey Dip (Vold/Prescott) in the short go. 
The Saskatchewan rider also notched an additional fifth place finish compliments of his double entry. 
Parsonage tied for the Round 1 win after riding Bad Blood (Shay Marks) for 86.5 points.
Cumulatively he earned $1,935.45, 22.5 world points and 195 points towards the Canadian national standings. The Canadian rider vaulted from No. 11 to No. 7 in the PBR Canada standings.
Tied with Parsonage for fifth was Juan Carlos Contreras (Huichapan, Mexico).
The 26-year-old Mexican rider split the Round 1 win with Parsonage after riding Pop the Latch (Wild Hoggs) for 86.5 points.
Contreras left Magrath with $981.75 and 7.5 world points.
After a nearly three month break, PBR Canada's Monster Energy Tour resumes action Friday, October 6 in Winnipeg, Manitoba at Bell MTS Place. Action gets underway at 8:00 p.m. CT and tickets are available at Ticketmaster.ca.
Be sure to stay tuned to PBRCanada.com and follow the tour on Facebook (PBR Canada), Twitter (@PBRCanada), and Instagram (@PBRCanada) for the latest results.
Celebration for the Two Bit Nation
PBR Canada Touring Pro Division Event Results
Name, Round 1-Round 2-Aggr. Score-Total Points-Money Earned-World Points
1. Cody Casper, 84-89-173-$3,674.55-60
2. Zane Lambert, 83.5-89-172.5-$2,636.70-30
3. Edgar Durazo, 83-84.5-167.5-$1514.70-20
4. Jared Parsonage, 77.5-81.5-159-$953.70-15
5T. Juan Carlos Contreras, 86.5-0-86.5-$981.75-7.5
5T. Jared Parsonage, 86.5-0-86.5-$981.75-7.5
7. Dayton Johnston, 83.5-0-83.5-$319.77
8. Cody Coverchuk, 82-0-82-$157.08
9. Coy Robbins, 81.5-0-81.5
10. Todd Chotowetz, 80.5-0-80.5
11. Cody Casper, 76-0-76