Kolbaba and Outlaw Highlight Field of International Invitees for PBR's Monster Energy Tour Canadian Major in Quebec City
By: Kacie Albert Thursday, May 25, 2017 @ 11:14 AM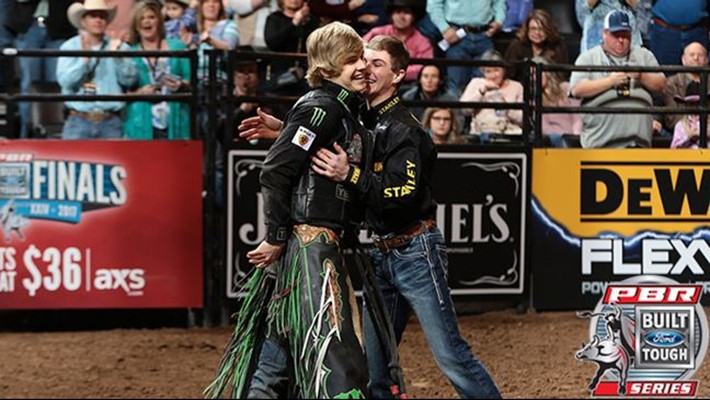 World's Top Bull Riders to Compete at Canadian Tour's Season Launch Event
QUEBEC CITY, Quebec - Four of the world's Top 10 bull riders highlight the field of international invitees from the elite Built Ford Tough Series (BFTS) slated to compete at the Videotron Center when the Professional Bull Riders (PBR) invade Quebec City on June 2-3.
The PBR Canada Major, which marks PBR's first stop in Quebec City, will open the PBR Monster Energy Canadian Tour – a unified, cross-country and nationally-televised series visiting seven cities, which culminates with the Monster Energy Canadian Tour Championship in Saskatoon on Oct. 20-21.
Leading the contingent of riders traveling to Canada from the elite BFTS is world No. 4 Derek Kolbaba. In just his second full season on the BFTS, the 21-year-old has already won two BFTS events (Oklahoma City and Little Rock, Arkansas), and recorded one of the highest-scored rides of the season when he covered 2016 PBR World Champion Bull SweetPro's Bruiser for 92 points en route to his title in Oklahoma City. Kolbaba currently trails world leader Eduardo Aparecido by 1,215 points.
Hamburg, Arkansas, bull rider Chase Outlaw (No.5) leads the BFTS with six round wins at the season's summer break. The 24-year-old cowboy is no stranger to Canadian events. Last year, Outlaw won PBR events in Swift Current, Saskatchewan, and Edgerton, Alberta.
2016 PBR Rookie of the Year, and current world No.6, Jess Lockwood held the No.1 spot in the world standings for the first six weeks of the season. The 19-year-old phenom began his 2017 campaign by winning the PBR Major event at Madison Square Garden in New York, going a perfect 4-for-4. Three weeks later, he bested the world's top cowboys in Sacramento, California.
Rounding out the slate of Top-10 ranked riders competing in Quebec City is world No. 8 Matt Triplett. The Montana cowboy won the BFTS stop in Sioux Falls and recorded two round wins before the tour entered its annual summer break. Triplett holds one of the top riding percentages (44.44 percent) and ranks in the Top 10 for most bulls ridden (20) on tour.
Other notable names from the BFTS scheduled to compete include No. 21 Fabiano Vieira, No. 35 Brennon Eldred, No. 36 Reese Cates and No. 37 Robson Arago.
Leading the Canadian field of riders is Jared Parsonage and Lonnie West, the Top 2 riders in the PBR Canada national standings. Other Canadians anticipated to ride in Quebec City are 2013 PBR Canada Champion and 2016 PBR Canada Finals event winner Zane Lambert, along with Quebec's own Eric Isabelle.
The PBR Monster Energy Canadian Tour will award a total purse of $100,000 in prize money for the Québec City event. PBR Canadian Majors award riders with additional prize money and championship points. Points earned at all PBR Monster Energy Tour events count toward qualifying for the prestigious PBR Built Ford Tough Series and PBR Built Ford Tough World Finals in Las Vegas.
After opening in Québec City, the national series moves on to visit Ottawa on June 9; Toronto, June 24; Calgary, September 23; Winnipeg, October 6; Abbotsford, October 14; and Saskatoon, October 20 and 21, where a PBR Canadian champion will be crowned.
The PBR Monster Energy Tour will be showcased on TSN/RDS, including a post-season highlights show. Fans should check local listings for broadcast event dates and times.
Tickets for the Quebec City event are on sale now and can be purchased online at www.ticketmaster.ca or www.gestev.com, and via telephone a 1-855-790-1245.
About Professional Bull Riders (PBR) Canada:
Professional Bull Riders (PBR), which has events in five countries and is available in more than 400 million homes globally, has competed in Canada since 1996. The Monster Energy Canadian Tour debuted in 2016 as the country's first national series. Points earned at Canadian events count towards qualification to the elite PBR Canadian Championship. Upon the conclusion of the Championship, the bull rider with the most regular season and Championship points is crowned the PBR Canada Champion. Points won at all Canadian events count toward qualifying on the prestigious PBR Built Ford Tough Series and PBR Built Ford Tough World Finals in Las Vegas, Nevada. Rogers Place in Edmonton, AB will be the first-ever Canadian host of the PBR Global Cup on November 9-11, 2017. The three-day event will feature the world's best bull riders from Canada, the United States, Mexico, Brazil and Australia, all competing for their country and a Canadian-record purse of $1,000,000, the second-largest payout in North America next to the PBR World Finals in Las Vegas. For more information on PBR Canada, go to www.pbrcanada.com, or follow on Facebook at www.facebook.com/pbrcanada and Twitter at http://twitter.com/PBRCanada.