Buttar Leads Canadian Contingent in 2018 World Standings
By: Kacie Albert Sunday, November 11, 2018 @ 6:49 PM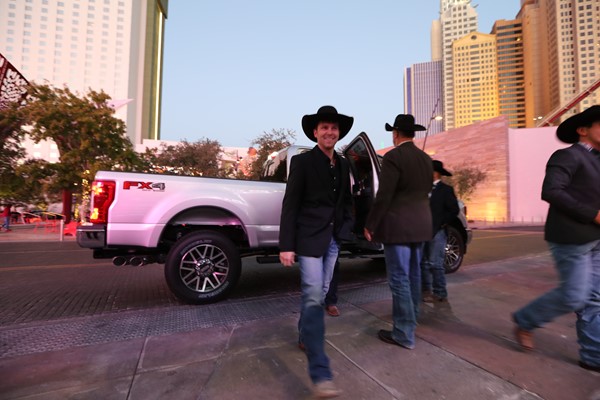 LAS VEGAS, Nevada – After five days and six rounds of electrifying action inside Las Vegas' T-Mobile Arena, Dakota Buttar (Kindersley, Saskatchewan) concluded the season as the top-ranked Canadian in the PBR (Professional Bull Riders) world standings, finishing the season a career-best No. 17.
Receiving the Glen Keeley Award for the second consecutive year, Buttar went 1-for-5 at the 25th PBR: World Finals, with his qualified ride coming aboard Milky Jones (Phenom Genetics/JCL Bucking Bulls/Waller Brothers Cattle Co./Goods Bucking Bulls) for 82.75 points in Round 3.
The 26-year-old fell heartbreakingly close of the whistle in back-to-back trips in Round 4 and Round 5. In the season culminating event's fourth round, Ol' Boy (Dakota Rodeo-Chad Berger/Clay Struve/Ken Barnhard) dispatched Buttar in 7.65 seconds, while he fell just 0.01 seconds short of a qualified ride aboard Jungle Can Do (Owens/Wyatt/Smith) in Round 5.    
Throughout the 2018 season, Buttar reach several career highs, including his first 90-point ride on the elite tour in Columbus aboard Inferno (K-C Bucking Bulls/Spark-lin Acres) and set a new season best for earnings, topping $111,853.78.
Tanner Byrne (Prince Albert, Saskatchewan) ended his 2018 season with a 2-for-6 effort at the PBR World Finals, leading him to finish the year No. 31 in the world.
While both Lonnie West (Cadogan, Alberta) and Brock Radford (De Winton, Alberta) made their World Finals debuts as alternates, they were unable to reach the 8-second mark at the most prestigious event in bull riding. They end 2018 ranked No. 37 and No. 39, respectively.
Battling through torn ligaments in his left knee sustained last weekend, just days prior to the 25th PBR: Unleash The Beast World Finals, Kaique Pacheco (Itatiba, Brazil) went 2-for-5 inside T-Mobile Arena to hold off a surging pair of second-year riders and be crowned the 2018 PBR (Professional Bull Riders) World Champion.
"It wasn't easy this year," Pacheco said. "I got that injury (last weekend) and worked hard this past week, and it's paid off.
"After every round, my knee hurt more and more. I tried to empty my mind and forget everything. I thank God for this win and this big dream come true."
Pacheco's hard-earned title is three years in the making after he finished No. 2 in the world in 2015 and 2016, and No. 5 last season.
The 24-year-old began the 2018 edition of the most prestigious event in bull riding in possession of the No. 1 ranking in the world for six months. Pacheco surged to the top spot in the rankings after earning his historic third consecutive event victory at Last Cowboy Standing, the third PBR Major of the season, prior to the annual summer break.
Pacheco emerged in the second half of the elite tour stronger than ever, winning three additional events, to conclude the regular-season with a league-best five victories. During the 2018 season, Pacheco also won three 15/15 Bucking Battles. 
Just days prior to the World Finals, Pacheco sustained high-grade partial tears to both the MCL and PCL in his left knee while attempting Fly Over (Cantankerous Bucking Bulls/F-F Rodeo) in Round 2 of the Velocity Tour Finals.
Pacheco was advised to stay off the injured knee for 12 weeks, but there was a million dollars and a gold buckle on the line.
Four days later at the World Finals, riding his Round 1 and Round 2 draws, Rugby (LeFlore Bucking Bulls) for 87.25 points and Smooth Wreck (Owens/Wyatt/Smith) for 88.75 points, respectively, Pacheco held off a surging Jose Vitor Leme (Ribas do Rio Pardo, Brazil) and Cody Teel (Kountze, Texas), who concluded the year ranked No. 2 and No. 3 in the world. After leading Leme by 1,262.5 prior to Championship Sunday, he ended the year 422.5 points in front of his countryman.
In the league's 25-year history, Pacheco is the 18th rider – and sixth Brazilian – to claim the PBR World Champion gold buckle. His title is the tenth time a rider from that country has won what's been called the most difficult individual championship in professional sports.
Pacheco earns the PBR's $1 million World Champion bonus and finished 2018 with earnings of $1,535,094.62 and 5,444.16 world points.
After last bucking in July, SweetPro's Bruiser (D&H Cattle Co./Buck Cattle Co.) returned with a vengeance in Las Vegas, recording a 44.75-point bull score in Round 2, and 45.75-point bull score in the championship round, to propel him to his third consecutive PBR YETI World Champion Bull title.
He is now just the second bovine athlete in league history to accomplish the feat, joining Little Yellow Jacket (Joe Berger/Tom Teague/Bernie Taupin) who won the honor from 2002-2004.
D&H Cattle Company earned $100,000 courtesy of Bruiser's world title.
Bruiser was dominant in the first half of the season, earning six YETI "Built for the Wild" Bull of the Event honors, including in Glendale for his league-leading 47.5-point bull score earned after bucking off Ryan Dirteater (Hulbert, Oklahoma) in 6.67 seconds during the 15/15 Bucking Battle.
Wowing the crowds throughout the five days of action in Sin City, Marco Eguchi (Poá, Brazil) concluded his sixth trip to the season-culminating event 5-for-6 to win the 2018 World Finals event title. He earned $372,000 and 2,050 world points.
After beginning the event ranked No.20 in the world, the 29-year-old surged to No. 5 in the world compliments of a victory backed by consecutive wins in Round 2 and Round 3.
Of those round victories, Eguchi's electric 94-point trip in the second round aboard Spotted Demon (Julio Moreno/Dallas Schott) earned the Lane Frost/Brent Thurman Award as the high-marked ride of the event.
He is now the 21st different rider to win the event title.
Hocus Pocus (Barthold/Kuhn/Almand/D&H Cattle Co.) and Legit (Leffew Bucking Bulls/Chad Berger/Clay Struve/Julie Rosen) tied for YETI Bull of the Finals with a combined two-score average of 46.25 points.
Hocus Pocus' scores included the top bull score of the event, 47 points for his buckoff of Matt Triplett (Columbia Falls, Montana) in Round 4, and his 45.5-point score earned after dispatching J.B. Mauney (Statesville, North Carolina) in 1.8 seconds in Round 1.
Legit's scores were 46 points recorded in Round 2 for his 2.36-second buckoff of Luis Blanco (Iacanga, Brazil) and 46.5 points earned in the championship round after becoming the first bovine athlete at the World Finals to buck off Eguchi, accomplished in 4.32 seconds.
The bovine athletes collectively earned a check for $25,000 for their owners.
Keyshawn Whitehorse (McCracken Springs, Utah) was named the 2018 PBR Rookie of the Year, finishing the season No. 19 in the world. Capturing six Top-10 results on the premier series, the 21-year-old capped his season on a high note, riding Wicked Dreams (TNT Bucking Bulls / Hart Cattle Co) for 89.5 points to tie for third in Round 5 of the World Finals.
Announced earlier in the week, Chad Berger and Clay Struve were named the 2018 Stock Contractors of the Year. This is the eighth time Berger has earned top honors and the fifth consecutive season receiving the award.
Fans can watch all the action from Championship Sunday on demand tomorrow morning, Monday, Nov. 12, starting at 8 a.m. ET on RidePass.
The Top 35 bull riders in the world will gather next in New York City's Madison Square Garden for the Monster Energy Buck Off at the Garden Jan. 4-6 to open the gate on the 2018 season.
25th PBR: Unleash The Beast World Finals
T-Mobile Arena – Las Vegas, Nevada
Event Leaders (Round 1-Round 2-Round 3-Round 4-Round 5-Round 6-Event Aggregate-Event Points)
1. Marco Antonio Eguchi, 85.5-94-91-86.25-84.75-0-441.50-2050 Points.
2. Jose Vitor Leme, 88.75-91-89.75-0-0-93.5-363.00-1230 Points.
3. Derek Kolbaba, 0-0-91-0-91.75-91-273.75-845 Points.
(tie). Chase Outlaw, 88-85-86-86-85.75-0-430.75-845 Points.
5. Matt Triplett, 89.25-0-86-88-0-87.5-350.75-787.5 Points.
6. Cody Teel, 0-0-90-90.25-0-86.25-266.50-570 Points.
7. Jess Lockwood, 84.75-0-86.75-89.25-89.5-0-350.25-492.5 Points.
8. Cooper Davis, 0-0-89.75-88.25-90.5-0-268.50-460 Points.
9. Eduardo Aparecido, 89-87-87-0-0-0-263.00-287.5 Points.
10. Claudio Montanha Jr., 0-0-0-89-88.75-0-177.75-187.5 Points.
11. J.B. Mauney, 0-90.5-0-0-0-0-90.50-125 Points.
12. Kaique Pacheco, 87.25-88.75-0-0-0-0-176.00-117.5 Points.
13. Keyshawn Whitehorse, 0-0-0-0-89.5-0-89.50-110 Points.
14. Lachlan Richardson, 87.25-0-0-88-0-0-175.25-105 Points.
15. Cody Nance, 88.5-0-0-86.75-0-0-175.25-100 Points.
16. Paulo Ferreira Lima, 0-89.5-0-0-0-0-89.50-95 Points.
17. Guilherme Marchi, 86.5-86.75-83.5-0-0-0-256.75-85 Points.
18. Cody Jesus, 0-0-87.5-0-88.5-0-176.00-70 Points.
19. Alisson De Souza, 0-0-0-0-88.75-0-88.75-62.5 Points.
20. Juan Carlos Contreras, 0-0-89-0-0-0-89.00-50 Points.
21. Joao Ricardo Vieira, 86.25-0-81.75-87-0-0-255.00-30.83 Points.
22. Dener Barbosa, 0-0-84.75-87-0-0-171.75-23.33 Points.
(tie). Stetson Lawrence, 0-0-0-87-0-0-87.00-23.33 Points.
24. Colten Jesse, 0-0-87-0-0-0-87.00-17.5 Points.
25. Tanner Byrne, 86.25-0-86.75-0-0-0-173.00-10 Points.
26. Luciano De Castro, 0-0-0-0-82.5-0-82.50-5 Points.
27. Silvano Alves, 84.5-0-0-71.5-0-0-156.00
28. Ramon de Lima, 0-0-85.75-0-0-0-85.75
(tie). Luis Blanco, 0-0-85.75-0-0-0-85.75
30. Dakota Buttar, 0-0-82.75-0-0-0-82.75
31. Ryan Dirteater, 0-0-81.75-0-0-0-81.75
(tie). Alex Marcilio, 0-0-81.75-0-0-0-81.75
Fabiano Vieira, 0-0-0-0-0-0-0.00
Valdiron de Oliveira, 0-0-0-0-0-0-0.00
Nathan Burtenshaw, 0-0-0-0-0-0-0.00
Brennon Eldred, 0-0-0-0-0-0-0.00
Koal Livingston, 0-0-0-0-0-0-0.00
Sean Willingham, 0-0-0-0-0-0-0.00
Gage Gay, 0-0-0-0-0-0-0.00
Lonnie West, 0-0-0-0-0-0-0.00
Brock Radford, 0-0-0-0-0-0-0.00
Cannon Cravens, 0-0-0-0-0-0-0.00
Rubens Barbosa, 0-0-0-0-0-0-0.00
Michael Lane, 0-0-0-0-0-0-0.00
Francisco Garcia Torres, 0-0-0-0-0-0-0.00
2018 PBR World Standings
(Place, Rider, Events, Wins, Top 5's, Points, Total Winnings)
Kaique Pacheco, 47, 10, 18, 5,444.16, $1,535,094.62
Jose Vitor Leme, 40, 5, 15, 5,021.66, $535,175.66
Cody Teel, 42, 2, 13, 3,516.66, $413,008.78
Claudio Montanha Jr., 48, 2, 13, 3,500.83, $305,405.51
Marco Antonio Eguchi, 42, 2, 5, 3,230.00, $445,504.50
Luciano De Castro, 38, 3, 11, 3,127.50, $254,230.17
Cooper Davis, 37, 1, 11, 3,062.50, $314,025.17
Ramon de Lima, 45, 3, 9, 2,887.50, $310,865.74
Cody Nance, 42, 3, 7, 2,638.33, $236,817.66
Eduardo Aparecido, 40, 2, 8, 2,559.99, $229,055.89
Derek Kolbaba, 46, 2, 13, 2,525.00, $389,177.39
Jess Lockwood, 33, 4, 9, 2,460.00, $292,301.75
Matt Triplett, 31, 1, 15, 2,267.50, $220,631.32
Fabiano Vieira, 43, 2, 9, 2,100.83, $164,061.00
Dener Barbosa, 41, 1, 14, 1,954.99, $158,863.44
Chase Outlaw, 22, 3, 10, 1,912.50, $161,874.19
Dakota Buttar, 41, 1, 6, 1,592.50, $111,853.78
Ryan Dirteater, 32, 3, 4, 1,552.50, $115,495.00
Keyshawn Whitehorse, 43, 2, 7, 1,308.33, $103,523.15
Valdiron de Oliveira, 39, 0, 6, 1,285.82, $69,020.66
Joao Ricardo Vieira, 42, 3, 10, 1,247.49, $102,493.39
Colten Jesse, 41, 4, 8, 1,180.00, $108,877.87
Guilherme Marchi, 23, 1, 2, 1,095.83, $83,333.98
Lachlan Richardson, 68, 3, 23, 1,032.50, $104,024.88
Alex Marcilio, 29, 1, 4, 1,030.00, $101,974.61
Stetson Lawrence, 44, 1, 7, 1,000.83, $77,659.25
Nathan Burtenshaw, 40, 2, 7, 972.50, $68,128.98
J.B. Mauney, 27, 1, 5, 959.16, $71,420.69
Brennon Eldred, 37, 0, 5, 957.50, $119,461.31
Koal Livingston, 30, 1, 12, 947.50, $93,135.26
Tanner Byrne, 37, 2, 4, 937.50, $76,456.60
Silvano Alves, 38, 2, 5, 893.32, $87,095.24
Sean Willingham, 41, 2, 9, 891.66, $74,536.17
Alisson De Souza, 43, 2, 10, 852.50, $159,113.90
Cody Jesus, 12, 1, 4, 780.00, $50,144.72
Gage Gay, 20, 1, 2, 772.50, $121,368.13
Lonnie West, 47, 4, 10, 752.50, $84,056.29
Marcos Gloria, 26, 2, 5, 700.00, $116,698.43
Brock Radford, 52, 3, 14, 695.00, $81,255.06
Cannon Cravens, 21, 1, 6, 680.00, $42,624.51
Rubens Barbosa, 54, 3, 12, 604.16, $68,362.33
Emilio Resende, 15, 0, 2, 600.00, $37,827.86
Cody Heffernan, 26, 3, 9, 585.00, $29,208.25
Paulo Ferreira Lima, 31, 2, 8, 548.33, $56,925.87