Buttar Second at PBR's Ariat Invitational, Presented by Cooper Tires
By: Kacie Albert Sunday, October 7, 2018 @ 8:14 PM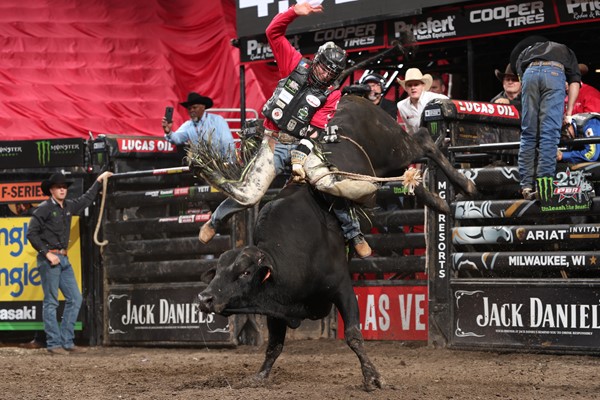 MILWAUKEE, Wis. – Marking his eighth Top-10 finish of the season on the elite 25th PBR: Unleash The Beast, Dakota Buttar (Kindersley, Saskatchewan) finished second at the Ariat Invitational, presented by Cooper Ties in Milwaukee, Wisconsin.
Buttar entered Round 2 of the event second in the aggregate after making the 8 on Handsome Jeff (K-C/JoZ Bucking Bulls) for 87.75 points in Round 1.
Continuing the momentum, he surged to the event lead with an 84.25-point effort on Black Label (C Check Bucking Bulls) in Round 2.  As one of the first riders to leave the chutes on Sunday afternoon, Buttar retained the event lead, caught only by Kaique Pacheco (Itatiba, Brazil) who he split the top spot on the leaderboard with heading into the championship round.
A familiar position for Buttar, holding the top spot earlier this year in both Chicago and Oklahoma City, he selected Rising Sun (Dakota Rodeo/Chad Berger/Clay Struve/Heald Pro Bulls).
Bringing the crowd inside Fiserv Forum to its feet, the 25-year-old made the 8 for a career-high 90.5 points. The 90-point effort on the elite tour is both the second of the season and his career for the 25-year-old, marked 90 points in April after covering Inferno (K-C Bucking Bulls / Spark-lin Acres) during the championship round of the Columbus, Ohio stop.
Click here to see Buttar's championship round ride.
For his efforts, the top-ranked Canadian in the world standings earned 360 world points and a check for $19,373.33. His earnings allowed him to also set a new career-high for season earnings, now tallying $105,553.78 thus far in 2018, after earning $87,055.31 in 2017.
Buttar also gained ground in the world standings, rising from No. 16 to No. 13, where he now trails No. 1 Pacheco by 3,314.16 points.
For the first time in several weeks, Buttar was not the lone Canadian competing in the draw. After being sidelined since August with a torn left ACL, Brock Radford (De Winton, Alberta) returned to action this weekend. Despite going 0-for-2, the young gun retained his No. 36 ranking in the world standings as he looks to qualify for his first-ever PBR World Finals, just five points behind No. 35 Marcos Gloria (Central de Minas, Brazil).
World No. 1 Pacheco punctuated the PBR's first elite tour event in Milwaukee in more than a decade with the fourth 90-point effort of the 25th PBR: Unleash The Beast's Ariat Invitational, presented by Cooper Tires to earn his fifth event title of the season.
Entering the championship round, Pacheco was tied with Buttar atop the leaderboard, previously making the 8 on Get Smoked (Phenom / JCL / Swalin / Goods Bucking Bulls) for 86.25 points in Round 1 and Magic Mike (Phenom / JCL / Swalin / Goods Bucking Bulls) for 85.75 points in Round 2.
The final man to erupt from the chutes inside the home of the NBA's Milwaukee Bucks, the stakes were high for Pacheco, needing a 90.75-point effort to retake the lead from Buttar.
In the draw, he selected a familiar foe, choosing Stunt Man Ray (Broken Arrow Bucking Bulls) who he rode for 88.5 points during Round 5 of the 2017 PBR World Finals.
Seizing the moment, Pacheco recorded his third 90-point ride of the season, conquering the bovine athlete for 91 points.
Uniquely enough, the ride bared its own Canadian connection. While the bull now calls Marshall, Missouri home, Stunt Man Ray originally hailed from Cereal, Alberta's Girletz Rodeo Stock.
For his fifth elite tour event win of the season, Pacheco earned earn 551.66 points along with $37,373.33. Notably, he widened his lead over No. 2 Claudio Montanaha Jr. (Sao Paulo, Brazil) in the world standings to 1,598.33 points.
Three times this season, all during his second-half surge, Pacheco has been shut out and then proceeded to win the next event. Last weekend in Austin, he went 0-for-2 before rebounding in Milwaukee with a 3-for-3 performance to capture the title.
Watch Pacheco's event-winning ride here.
Dener Barbosa (Paulo de Faria, Brazil) was the third-place finisher with his own 3-for-3 effort. Barbosa rode Finish First Equine's S&C (Richard & Teri Braun/Walgren Bucking Bulls) for 84 points in Round 2 before conquering Budakon (Hale/Braun/Grimes/Walgren) in the championship round. His 86.25 points on the bovine marks just the second time that Budakon has been ridden.
Barbosa earned 211.66 points towards the PBR world standings along with a paycheck of $8,673.33. He is currently No. 12 in the world, 3,005 points back from Pacheco.
Fourth place went to Eduardo Aparecido (Gouvelandia, Brazil) who also rode all three of his bulls in Milwaukee. Aparecido started the night out by covering Yosemite Sam (Flying V Bucking Bulls) for 82.25 points before making the whistle aboard Lightning Before Thunder (Jenkins Cattle Co./Emerson Cattle) for 87.75 points in the final round of the weekend.
Aparecido picked up 150 world points, solidifying his No. 9 ranking in the world standings. He also earned $7.200.00
Rounding out the Top 5 was Fabiano Vieira (Perola, Brazil) who went 2-for-3 at the Wisconsin event. He rode his championship round bull, The Don (BMC Bucking Bulls/Jenkins Cattle Co.) for 87.5 points en route to his fifth place on Sunday afternoon. Vieira began the weekend No. 11 in the standings, rising to No. 10 after earning 145 world points. He is now 2,850.83 points behind Pacheco. Vieira also took home a paycheck for $6,775.00
The YETI "Built for the Wild" Bulls of the Event were Smooth Operator (Dakota Rodeo/Julie Rosen/Clay Struve/Chad Berger) and Big Black (K-C Bucking Bulls/Joe & Nina Webb), each recording equal 46-point scores during Saturday night's 15/15 Bucking Battle. The No. 2 bull in the ABBI (American Bucking Bull Inc.) standings Big Black took care of Aparecido in 3.61 seconds, while Smooth Operator handled Ryan Dirteater (Hulbert, Oklahoma) in 2.88 seconds. 
As a result of their impressive performances, the World Champion Bull race heated up, with both bovines narrowing the gap over league-leading Sweet Pro's Bruiser (D&H Cattle Co.) who has a 46.28-point world average. Smooth Operator is rose from No. 4 to No. 3 in the race, with his world average increasing from 44.75 to 45.41 points, while Big Black jumped from No. 6 to No. 5 with his average increasing to 44.91 from 44.66 points.
Action from Sunday will be viewable Monday starting at 8 a.m. ET on RidePass.com or via the RidePass mobile app.
The 25th PBR: Unleash The Beast will next travel to Greensboro, North Carolina, and Greensboro Coliseum for the Cooper Tires Take The Money and Ride. The event will be on Saturday, October 13 at 6:45 p.m. ET and Sunday, October 14 at 1:45 p.m. ET.   
25th PBR: Unleash The Beast
Ariat Invitational presented by Cooper Tires
Fiserv Forum – Milwaukee, Wisconsin
Event Leaders (Round 1-Round 1-Round 2-Round 3-Event Aggregate-Event Points)
1 1. Kaique Pacheco, 86.25-85.75-91-263.00-551.66 Points.
2. Dakota Buttar, 87.75-84.25-90.5-262.50-360 Points.
3. Dener Barbosa, 86.25-84-86.25-256.50-211.66 Points.
4. Eduardo Aparecido, 86-82.25-87.75-256.00-150 Points.
5. Fabiano Vieira, 86.75-0-87.75-174.50-145 Points.
6. Cooper Davis, 88.25-0-0-88.25-110 Points.
7. Alex Marcilio, 0-87.75-0-87.75-105 Points.
8. Joao Ricardo Vieira, 86.25-85.25-0-171.50-76.66 Points.
9. Nathan Burtenshaw, 0-86.25-0-86.25-65 Points.
10. Sean Willingham, 83.5-85.5-0-169.00-60 Points.
11. Chase Outlaw, 87.5-0-0-87.50-55 Points.
12. Guilherme Marchi, 86.75-0-0-86.75-40 Points.
13. Lachlan Richardson, 86.5-0-0-86.50-20 Points.
14. Derek Kolbaba, 85.25-83.25-0-168.50-15 Points.
15. Jose Vitor Leme, 83-84.25-0-167.25-10 Points.
(tie). Cody Nance, 0-85-0-85.00-10 Points.
(tie). Marco Antonio Eguchi, 0-85-0-85.00-10 Points.
18. Colten Jesse, 84.75-0-0-84.75
19. J.B. Mauney, 84.5-0-0-84.50
20. Cody Teel, 0-84.25-0-84.25
21. Ramon de Lima, 0-84-0-84.00
22. Claudio Montanha Jr., 0-83.25-0-83.25
23. Emilio Resende, 82-0-0-82.00
Luciano De Castro, 0-0-0-0.00
Ryan Dirteater, 0-0-0-0.00
Valdiron de Oliveira, 0-0-0-0.00
Keyshawn Whitehorse, 0-0-0-0.00
Stetson Lawrence, 0-0-0-0.00
Matt Triplett, 0-0-0-0.00
Koal Livingston, 0-0-0-0.00
Brennon Eldred, 0-0-0-0.00
Silvano Alves, 0-0-0-0.00
Gage Gay, 0-0-0-0.00
Marcos Gloria, 0-0-0-0.00
Brock Radford, 0-0-0-0.00
Mason Taylor, 0-0-0-0.00

2018 Professional Bull Riders
25th PBR: Unleash the Beast World Standings
1. Kaique Pacheco, 42, 10, 17, 4,906.66, $498,774.62
2. Claudio Montanha Jr., 44, 2, 13, 3,308.33, $259,170.51
3. Jose Vitor Leme, 35, 4, 12, 3,256.66, $257,995.66
4. Luciano De Castro, 34, 3, 11, 3,032.50, $243,805.17
5. Ramon de Lima, 42, 3, 8, 2,722.50, $295,780.74
6. Cooper Davis, 36, 1, 11, 2,602.50, $245,525.17
7. Cody Nance, 39, 3, 7, 2,533.33, $217,192.66
8. Cody Teel, 38, 1, 11, 2,309.16, $248,283.78
9. Eduardo Aparecido, 37, 2, 8, 2,234.99, $183,260.89
10. Fabiano Vieira, 40, 2, 9, 2,055.83, $156,391.00
11. Jess Lockwood, 32, 4, 9, 1,967.50, $224,301.75
12. Dener Barbosa, 36, 1, 13, 1,901.66, $149,580.11
13. Dakota Buttar, 38, 1, 6, 1,592.50, $105,553.78
14. Ryan Dirteater, 29, 3, 4, 1,552.50, $109,195.00
15. Derek Kolbaba, 43, 2, 11, 1,460.00, $220,377.39
16. Valdiron de Oliveira, 36, 0, 6, 1,240.82, $62,820.66
17. Keyshawn Whitehorse, 38, 2, 7, 1,198.33, $82,723.15
18. Marco Antonio Eguchi, 38, 1, 4, 1,180.00, $72,704.50
19. Colten Jesse, 37, 4, 8, 1,152.50, $103,577.87
20. Joao Ricardo Vieira, 36, 2, 8, 1,039.16, $85,983.30
21. Alex Marcilio, 25, 1, 4, 1,025.00, $96,349.61
22. Guilherme Marchi, 22, 1, 2, 1,010.83, $77,833.98
23. Stetson Lawrence, 41, 1, 7, 977.50, $72,025.92
24. Nathan Burtenshaw, 36, 2, 7, 972.50, $62,828.98
25. Lachlan Richardson, 64, 3, 23, 927.50, $89,224.88
25. Tanner Byrne, 34, 2, 4, 927.50, $71,156.60
27. Matt Triplett, 29, 0, 13, 925.00, $76,931.32
28. Koal Livingston, 27, 1, 12, 897.50, $85,685.26
29. Brennon Eldred, 33, 0, 5, 887.50, $109,911.31
30. Silvano Alves, 33, 2, 5, 873.32, $80,945.24
31. Sean Willingham, 38, 2, 9, 866.66, $66,136.17
32. Lonnie West, 46, 4, 10, 752.50, $84,056.29
33. Gage Gay, 14, 1, 1, 750.00, $114,525.50
34. J.B. Mauney, 23, 1, 5, 726.66, $45,295.69
35. Marcos Gloria, 24, 2, 5, 700.00, $116,298.43
36. Brock Radford, 47, 3, 14, 695.00, $80,455.06
37. Emilio Resende, 13, 0, 2, 600.00, $37,027.86
38. Cody Jesus, 7, 1, 3, 590.00, $40,494.72
39. Alisson De Souza, 37, 2, 9, 565.00, $76,951.17
40. Cliff Richardson, 28, 3, 11, 510.00, $47,869.15
41. Cody Heffernan, 25, 2, 8, 465.00, $26,410.23
42. Lucas Divino, 21, 3, 3, 462.50, $31,122.65
43. Cody Campbell, 49, 2, 3, 455.83, $47,555.52
44. Fraser Babbington, 25, 3, 7, 447.50, $23,159.42
45. Tye Chandler, 43, 2, 7, 422.50, $36,484.47