Buttar Second in Round 1 of PBR's Ariat Invitational, Presented by Cooper Tires
By: Cooper Davis Sunday, October 7, 2018 @ 12:26 PM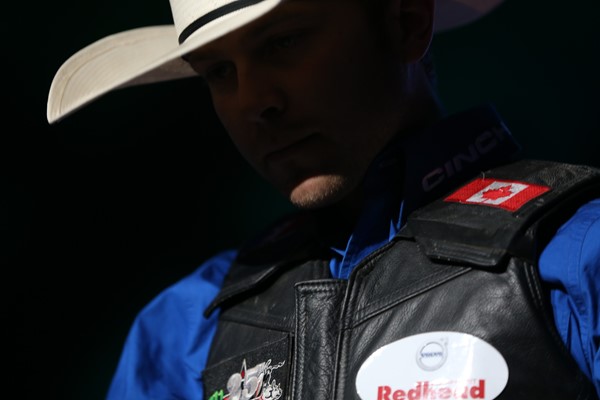 MILWAUKEE, Wis. – After battling a 1-for-10 slump to start the second-half of the 2018 season, Dakota Buttar (Kindersley, Saskatchewan) returned to his winning ways Saturday night inside Fiserv Forum, finishing second in Round 1 of the 25th PBR: Unleash The Beast's Ariat Invitational, presented by Cooper Tires in Milwaukee, Wisconsin.
The 25-year-old initially drew Inferno (K-C Bucking Bulls/Spark-lin Acres), a match-up from Columbus which resulted in Buttar's career-first 90-point effort on the elite tour, however was awarded a re-ride.
Attempting his second bull of the evening, Buttar made the 8 on Handsome Jeff (K-C/JoZ Bucking Bulls) for 87.75 points to collect 60 world points.
For his efforts, he rose one spot in the world standings to No. 15. He now trails No. 1 Kaique Pacheco (Itatiba, Brazil) by 3,064.16 points heading into the final day of action at the home of the NBA's Milwaukee Bucks.
Click here to see Buttar's ride.
Later that evening, Buttar also competed in the final 15/15 Bucking Battle of the season, marking the seventh special round of his career.
Buttar, however, was unable to continue his flawless event, sent to the first in 4.61 seconds by Honey Hush (Swinging C Cattle Co./Hodges Bucking Bulls).
After a numerous event stretch as the lone Canadian competing on the elite tour, Buttar was joined by fellow Canuck Brock Radford (De Winton, Alberta) making his return to competition after tearing his left ACL in August.
Radford, however, was unable to record a qualified ride, bucked off by Tractor Tippin (K-C/Jo-Z Bucking Bulls) in 7.22 seconds. He remains the No. 36 ranked rider in the world as he looks to qualify for his first-ever PBR World Finals, five points behind No. 35 Marcos Gloria (Central de Minas, Brazil).
In Round 2, Buttar will attempt Black Label (C Check Bucking Bulls), while Radford has drawn Element 79 (Dakota Rodeo/Chad Berge/Clay Struve/Heald Pro Bulls).
Jose Vitor Leme (Ribas Do Rio Pardo, Brazil) recorded his second 90-point ride of the season to win the first 15/15 Bucking Battle of his career.
Leme brought the crowd inside the brand-new Fiserv Forum to its feet with his 91.25-point ride aboard Humdinger (Dakota Rodeo/Chad Berger/Clay Struve/Heald Pro Bulls) to earn 150 world points.
Watch Leme's ride here.
Collectively, the tenth and final Bucking Battle of the season saw five qualified rides.
Finishing second was Pacheco who also put up a 90-point score with 90.75 points on Losing My Religion (Broken Arrow Bucking Bulls). He earned 90 world points.
Fabiano Vieira (Perola, Brazil) was third after he made the whistle on Hydrastar Slinger Jr. (K-C/Spark-lin Acres/Jo-Z Bucking Bulls) for 88.75 points, collecting 75 points towards the world standings.
Fourth and fifth were Ramon de Lima (Sao Paulo, Brazil) and Cody Teel (Kuntze, Texas), respectively.
Lima made the 8 aboard Talking Smack (Dakota Rodeo/Chad Berger/Clay Struve/Ken Barnhard) for 87 points, earning 60 world points, while Teel rode Beaver Creek Beau (Chad Berger/Clay Struve/PBR Rock Bar) for 86.75 points to earn 45 points towards the world standings.
Cooper Davis (Buna, Texas), the PBR's leader in round wins, earned his 12th round victory with his 88.25-point ride on Dusty's Revenge (Dakota Rodeo/Chad Berger/Clay Struve/H&C Bucking Bulls). Davis picked up 100 world points.
In his first premier event of the season and first back since breaking 30 bones in his face in June, Chase Outlaw (Hamburg, Arkansas) finished third and earned 50 world points. With his 87.5-point ride aboard Switch Hitter (Halpain & Roth) he jumped eight spots in the standings and is now ranked No.68 in the world.
Vieira and Guilherme Marchi (Tres Lagoas, Brazil) tied for fourth place. Vieira earned a qualified ride on Black Rose (Broken Arrow Bucking Bulls) for 86.75 points while Marchi made the whistle on Blue Stone (Dakota Rodeo/Chad Berger/Clay Struve/Bierema Rodeo Inc.). Each rider earned 35 world points.
Round 2 and the championship round from Milwaukee will begin at 1:45 p.m. CT on Sunday. Fans will be able to watch all the action from the 15/15 Bucking Battle at 3:00 p.m. ET on CBS Sports. Round 2 and the Championship Sunday will air on CBS Sports Network beginning at 6:00 p.m. ET.
Action from Saturday night will also be viewable Sunday starting at 8 a.m. ET on RidePass.com or via the RidePass mobile app.
25th PBR: Unleash The Beast
15/15 Bucking Battle
Event Leaders (Round 1- Event Points)
1. Jose Vitor Leme, 91.25-91.25-150 Points.
2. Kaique Pacheco, 90.75-90.75-90 Points.
3. Fabiano Vieira, 88.75-88.75-75 Points.
4. Ramon de Lima, 87-87.00-60 Points.
5. Cody Teel, 86.75-86.75-45 Points.
Claudio Montanha Jr., 0-0.00
Luciano De Castro, 0-0.00
Cooper Davis, 0-0.00
Cody Nance, 0-0.00
Eduardo Aparecido, 0-0.00
Dener Barbosa, 0-0.00
Ryan Dirteater, 0-0.00
Derek Kolbaba, 0-0.00
Dakota Buttar, 0-0.00
Valdiron de Oliveira, 0-0.00

25th PBR: Unleash The Beast
Ariat Invitational presented by Cooper Tires
Fiserv Forum – Milwaukee, Wisconsin
Event Leaders (Round 1-Round 1-Round 2-Round 3-Event Aggregate-Event Points)
1. Cooper Davis, 88.25-0-0-88.25-100 Points.
2. Dakota Buttar, 87.75-0-0-87.75-60 Points.
3. Chase Outlaw, 87.5-0-0-87.50-50 Points.
4. Fabiano Vieira, 86.75-0-0-86.75-35 Points.
(tie). Guilherme Marchi, 86.75-0-0-86.75-35 Points.
6. Lachlan Richardson, 86.5-0-0-86.50-15 Points.
7. Kaique Pacheco, 86.25-0-0-86.25-1.66 Points.
(tie). Dener Barbosa, 86.25-0-0-86.25-1.66 Points.
(tie). Joao Ricardo Vieira, 86.25-0-0-86.25-1.66 Points.
10. Eduardo Aparecido, 86-0-0-86.00
11. Derek Kolbaba, 85.25-0-0-85.25
12. Colten Jesse, 84.75-0-0-84.75
13. J.B. Mauney, 84.5-0-0-84.50
14. Sean Willingham, 83.5-0-0-83.50
15. Jose Vitor Leme, 83-0-0-83.00
16. Emilio Resende, 82-0-0-82.00
Claudio Montanha Jr., 0-0-0-0.00
Luciano De Castro, 0-0-0-0.00
Ramon de Lima, 0-0-0-0.00
Cody Nance, 0-0-0-0.00
Cody Teel, 0-0-0-0.00
Ryan Dirteater, 0-0-0-0.00
Valdiron de Oliveira, 0-0-0-0.00
Keyshawn Whitehorse, 0-0-0-0.00
Marco Antonio Eguchi, 0-0-0-0.00
Stetson Lawrence, 0-0-0-0.00
Matt Triplett, 0-0-0-0.00
Alex Marcilio, 0-0-0-0.00
Nathan Burtenshaw, 0-0-0-0.00
Koal Livingston, 0-0-0-0.00
Brennon Eldred, 0-0-0-0.00
Silvano Alves, 0-0-0-0.00
Gage Gay, 0-0-0-0.00
Marcos Gloria, 0-0-0-0.00
Brock Radford, 0-0-0-0.00
Mason Taylor, 0-0-0-0.00