Outlaw Wins in Cluny
By: Ted Stovin Monday, July 2, 2018 @ 10:46 PM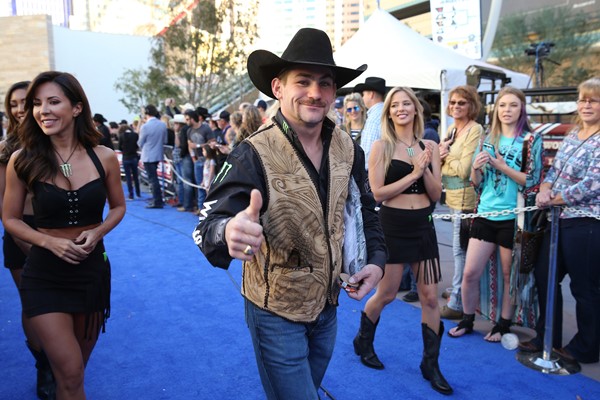 CLUNY, Alberta – Chase Outlaw (Hamburg, Arkansas) won the PBR Canada Touring Pro Division's Cluny Lions Charity Bullarama on Monday night.
The first of six consecutive PBR Canada events to take place over the next six days, fans were left riveted after Round 1, when the entered riders recorded 13 qualified rides. 
Outlaw rode Ripped at the Seams (Vold Rodeo/ Rafter G Cattle Co.) in Round 1 for a second-best 84.5 points. In the Championship Round he faced Throwing Shade (Flying High Rodeo Co.) for another score of 84.5 points.
For his effort, the 26-year-old earned $4,281.88 CAD and 60 world points. Entering Cluny, Outlaw was ranked No. 114 in the PBR's world standings, but is expected to now rise to No. 83 compliments of the victory. Cluny marked Outlaw's second win in the five events he's competed at thus far in 2018 after he was sidelined the entirety of the first half as he recovered from reconstructive shoulder surgery. 
The win is Outlaw's first on Canadian soil since earning two event titles in 2017.
Capping off the incredible night of action in Cluny, Outlaw gave his trophy buckle to a young fan. 
Second in Cluny went to Velva, North Dakota's Zac Peterson, the only other rider to deliver a flawless 2-for-2 performance at Coulee Creek Farms. Peterson rode Weed & Whiskey (Two Bit Bucking Bulls) in Round 1 for 83.5 points, followed by an 84-point trip aboard Pozzy Time (Wild Hoggs Bucking Bulls) in the Championship Round.
Peterson takes home 30 world points and $3,176.87 CAD for the runner-up finish.
Earning $1,284.56 CAD and 20 world points, Koal Livingston (Burleston, Texas) finished third. 
The 20-year-old young gun began the event hot, winning Round 1 after covering Done Talkin' (Eno Bucking Bulls) for 85 points. Livingston, however, was unable to continue his momentum in the final round, bucked off by The Silence (Vold Rodeo).
After each athlete recorded a matching 83.5-point score, fourth was split by Matt Triplett (Columbia Falls, Montana), Thor Hoefer (Priest Falls, Idaho) and Claresholm, Alberta's Logan Biever. Triplett put up his score on Hillbilly Heaven from event hosts Slim and Heather Wilson of Wilson Rodeo. Hoefer, a last-minute alternate, rode Aussie Rules (Wild Hoggs Bucking Bulls), while Biever tamed A$AP Rocky (Foley Bucking Bulls).
Each earned $639.98 and 10 world points. Biever also added $128.92 from a split of seventh on his second entry.
Happy Camper (Two Bit Bucking Bulls) and The Silence were the high-marked bulls of the event, scoring 44.5 points each in their respective outs against Ron Hunt (Nanton, Alberta) and Koal Livingston.
PBR Canada's Touring Pro Division continues Tuesday July 3 through Thursday July 5 in Calgary at the Ranchman's PBR Bullbustin'. Action gets underway nightly at 7:00 p.m. MT.
Be sure to stay tuned to PBRCanada.com and follow the tour on Facebook (PBR Canada), Twitter (@PBRCanada), and Instagram (@PBRCanada) for the latest results.
Cluny Lions Charity Bullarama – July 2, 2018
PBR Canada Touring Pro Division Event Results
Event Leaders (Round 1-Round 2-Aggr. Score-Total Points-Money Earned-World Points)

1. Chase Outlaw, 84.5-84.5-169-$4,281.88-60
2. Zac Peterson, 83.5-84-167.5-$3,176.87-30
3. Koal Livingston, 85-0-85-$1,284.56-20
4T. Matt Triplett, 83.5-0-83.5-$639.98-10
4T. Logan Biever, 83.5-0-83.5-$639.98-10
4T. Thor Hoefer, 83.5-0-83.5-$639.98-10
7T. Logan Biever 2, 83-0-83-$128.92-0
7T. Ron Hunt, 83-0-83-$128.92-0
7T. Daylon Swearingen, 83-0-83-$128.92-0
10T. Lachlan Richardon, 82.5-0-82.5-$0-0
10T. Aaron Roy, 82.5-0-82.5-$0-0
12. Justin Lloyd, 81-0-81-$0-0
13. Edgar Durazo, 79.5-0-79.5-$0-0