Parsonage Wins Career-First Monster Energy Tour Event in Abbotsford
By: Kacie Albert Saturday, October 13, 2018 @ 10:40 PM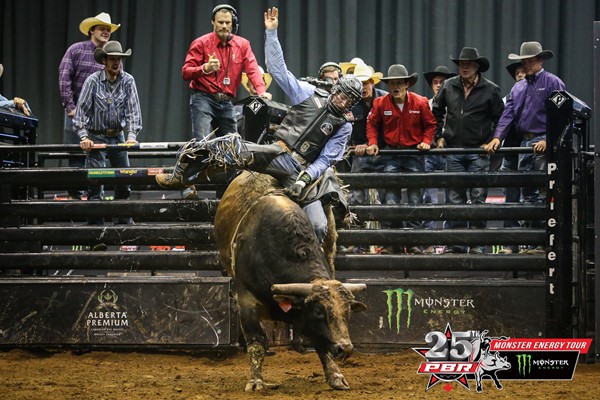 ABBOTSFORD, British Columbia – In front of an electric crowd at the Abbotsford Centre, Jared Parsonage (Maple Creek, Saskatchewan) went a perfect 2-for-2 to capture his first ever victory on the PBR (Professional Bull Riders) Canada Monster Energy Tour, presented locally by Mac's/Circle K.
The 25-year-old surged to the event lead after earning the top marks in Round 1, making the 8 aboard Muddy Water (X6 Ranch Bucking Cattle) for 85.5 points. A re-ride draw, the match-up was one that was familiar for Parsonage, helping him to the event win at his most recent PBR event on the Canadian Touring Pro Division in Magrath, Alberta.
As the final man to explode from the chutes, he recorded the high marked ride of the event in the championship round, bringing the crowd to its feet with an 87.5-point ride on Ripped at the Seams (Vold Rodeo).
Click here to see Parsonage's championship round-winning ride.
For the victory, Parsonage earned a check for $5,533.50, in addition to 550 Canadian and 120 world points. While the win is his first on the elite Monster Energy Tour, the victory is his fifth of the season across all levels of PBR Canada competition.
In the national standings, with just two events remaining prior to the 2018 PBR Canada Finals, Parsonage rose from No. 6 to No. 4 and now trails No. 1 Lachlan Richardson (Gresford, New South Wales, Australia) by 578.33 points.
Jordan Hansen (Okotoks, Alberta) finished second, collecting $3,488.19, 235 Canadian and 70 world points.
After covering Headstruck (Eno Bucking Bulls) for 82.5 points in Round 1, Hansen capped his first event back since the Calgary Stampede with an 87-point trip aboard Darkness (Vold Rodeo/Dynamite Buckers) in the final round.
As the final rider to go a perfect 2-for-2 Logan Biever (Claresholm, Alberta) was third, recording matching 84-point scores on Done Talking (Eno Bucking Bulls) and Corona Light (Vold Rodeo).
He leaves Abbotsford with $2,670.06, 205 Canadian and 40 world points.
Competing at his first Canadian Monster Energy Tour event of 2018, Todd Chotowetz (Major, Saskatchewan) was fourth earning $1,628.81, 115 Canadian and 20 world points.
His third Top-5 finish across all levels of PBR competition was backed by and 84-point trip on Hillbilly Heaven (Wilson Rodeo) in Round 1.
A double entry, Cawl Braithwaite (Bluffton, Alberta) concluded the event both fifth and sixth earning a collective $1,212.31, 115 Canadian and 25 world points.
Recording both of his qualified rides in Round 1, he was marked 82.5 points on Yellow Dog (S&E Bucking Bulls) and 82 points on Friday Night Blues (X6 Ranch Bucking Cattle).
For the first time this season Hookasaurus (Wild Hoggs Bucking Bulls) was named the high-marked bull of the event. The bovine athlete earned a 43-point bull score for his 2.66-second buckoff of Braithwaite in the championship round.
Click here to see Hookasaurus' high-marked out.
The PBR Canada Monster Energy Tour next travels to Edmonton, Alberta and the Edmonton EXPO Centre on Saturday, October 20 for the final regular season event of the year. The Command Tubular Edmonton Classic gets underway at 7:00 p.m. MT.
PBR Canada Monster Energy Tour, presented locally by Mac's/Circle K
Abbotsford Centre – Abbotsford, British Columbia
Event Leaders (Round 1-Round 2-Event Aggregate-Canadian Points-World Points-Payout)
1. Jared Parsonage, 85.5-87.5-173.00-550-120-$5,533.50
2. Jordan Hansen, 82.5-87-169.50-235-70-$3,488.19
3. Logan Biever [2], 84-84-168.00-205-40-$2,670.06
4. Todd Chotowetz, 84-0-84.00-115-20-$1,628.81
5. Cawl Braithwaite [2], 82.5-0-82.50-80-15-$766.06
6. Cawl Braithwaite [1], 82-0-82.00-35-10-$446.25
7. Chase Thielen, 80.5-0-80.50-25-5-$342.13
Cliff Richardson, 0-0-0.00-0-0-$0
Cody Coverchuk, 0-0-0.00-0-0-$0
Nick Tetz, 0-0-0.00-0-0-$0
Dayton Johnston, 0-0-0.00-0-0-$0
Aaron Roy, 0-0-0.00-0-0-$0
Jake Gardner, 0-0-0.00-0-0-$0
Wacey Finkbeiner, 0-0-0.00-0-0-$0
Logan Biever [1], 0-0-0.00-0-0-$0
Tim Lipsett, 0-0-0.00-0-0-$0
Cole Young, 0-0-0.00-0-0-$0
Klayton Lakevold, 0-0-0.00-0-0-$0
Kolton Higginbottom, 0-0-0.00-0-0-$0
Jackson Scott, 0-0-0.00-0-0-$0
Kale Marks, 0-0-0.00-0-0-$0
Denton Spiers, 0-0-0.00-0-0-$0
Lane Goertzen, 0-0-0.00-0-0-$0
Isaac Mack, 0-0-0.00-0-0-$0
Jordan Jenson, 0-0-0.00-0-0-$0
2018 Canada National Standings
(Place, Rider, Events, Wins, Top 5's, Points, Total Winnings)
Lachlan Richardson, 20, 2, 13, 2,392.49, $38,256.62
Brock Radford, 23, 2, 9, 2,297.50, $38,092.85
Cody Coverchuk, 34, 2, 14, 2,254.16, $30,626.20
Jared Parsonage, 17, 5, 6, 1,814.16, $29,583.83
Lonnie West, 20, 2, 6, 1,725.83, $22,222.42
Marcos Gloria, 16, 2, 5, 1,655.00, $142,189.53
Zane Lambert, 19, 1, 7, 1,334.16, $24,229.13
Nick Tetz, 19, 1, 8, 1,222.50, $18,076.45
Daylon Swearingen, 13, 0, 4, 979.99, $12,579.60
Dayton Johnston, 33, 0, 6, 965.00, $14,213.55
Wacey Finkbeiner, 17, 0, 6, 907.50, $13,994.43
Aaron Roy, 19, 2, 4, 902.50, $11,721.75
Koal Livingston, 9, 0, 5, 895.00, $12,810.09
Wyatt Gleeson, 25, 1, 5, 795.00, $12,232.33
Jake Gardner, 24, 1, 3, 695.00, $10,362.78
Logan Biever, 31, 0, 4, 624.99, $7,410.33
Tanner Byrne, 8, 1, 2, 552.50, $7,737.93
Garrett Green, 6, 2, 2, 550.00, $9,039.75
Matt Triplett, 8, 0, 4, 549.16, $7,919.55
Todd Chotowetz, 6, 1, 3, 548.33, $16,039.14
Lachlan Slade, 16, 0, 5, 512.50, $6,827.48
Austin Richardson, 2, 1, 1, 500.00, $6,416.48
Thor Hoefer II, 14, 1, 2, 475.83, $6,743.83
Justin Lloyd, 13, 0, 2, 395.00, $7,448.58
Tim Lipsett, 20, 0, 4, 380.00, $5,462.78
Chase Outlaw, 4, 1, 1, 320.00, $9,616.13
Dakota Buttar, 5, 1, 1, 320.00, $5,185.51
Edgar Durazo, 12, 0, 2, 300.00, $3,511.65
Jordan Hansen, 5, 0, 2, 290.00, $18,102.35
Juan Carlos Contreras, 12, 1, 1, 275.00, $3,489.55
Justin Paton, 4, 1, 1, 275.00, $5,689.33
Cody Casper, 19, 0, 1, 225.00, $4,415.80
Cole Young, 22, 0, 1, 222.50, $3,055.75
Cody Floyd, 14, 0, 2, 220.00, $2,173.07
Stormy Wing, 4, 0, 1, 200.00, $11,757.80
Lawson Nobbs, 6, 0, 1, 195.00, $2,119.05
Andrew Alvidrez, 1, 0, 1, 195.00, $1,879.63
Zac Peterson, 6, 0, 1, 187.50, $2,803.94
Chase Thielen, 18, 0, 1, 175.00, $2,046.89
Stetson Lawrence, 3, 0, 2, 160.00, $1,694.48
Wyatt Covington, 5, 0, 2, 160.00, $2,741.25
Klayton Lakevold, 24, 0, 1, 135.00, $1,197.44
Cawl Braithwaite, 4, 0, 1, 115.00, $1,212.31
Michael Lane, 2, 0, 0, 105.00, $1,095.99
Jess Lockwood, 2, 0, 1, 100.00, $17,557.14