Rookie Tetz Captures First Win of Career in Lloydminster
By: Kacie Albert Saturday, July 14, 2018 @ 11:09 AM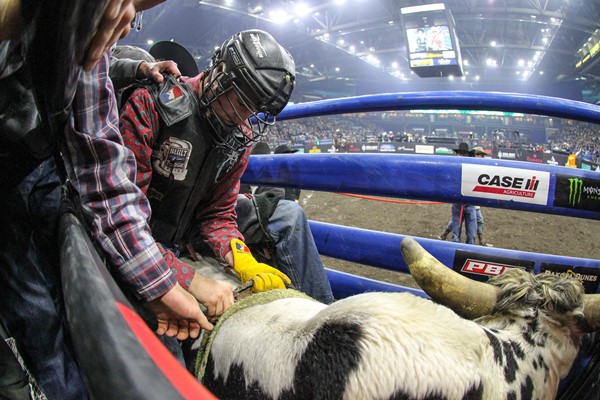 LLOYDMINSTER, Saskatchewan – On Friday night, rookie Nick Tetz (Calgary, Alberta) captured the first event win of his career, victorious at the PBR Canada Touring Pro Division's (TPD) Canadian Extreme Bulls & Bikes in Lloydminster, Saskatchewan.
Fresh off a fourth place effort Wednesday night in Kinsella, Alberta, Tetz climbed to the top of the leaderboard as one of three riders to deliver a flawless 2-for-2 performance.
To begin the night, Tetz was tied for third following Round 1 where he covered Rockstar Wishes (Wild Hoggs Bucking Bulls/D&L Edge) for 79 points. In the Championship Round, he was the top-marked rider, making the 8 on Blockbuster (Wild Hoggs Bucking Bulls/A.T. Hines) for 86 points.
The career-best performance earned the young gun $3,537.27 in addition to 60 world points.
Cody Coverchuk (Meadow Lake, Saskatchewan) and Brock Radford (De Winton, Alberta) tied for second to collect $2,282.67 and $2,361.08, respectively, in addition to 25 world points.
For Coverchuk, the finish is his second consecutive runner-up effort, and sixth Top 10 in the month of July.
In Round 1, he rode Guajillo Bandit (Foley Bucking Bulls) for 79 points, which he followed with an 85.5-point trip on Morning Wish (Wild Hoggs/Trish Streeter) in the Championship Round.
Much the opposite, for Radford, the second place effort was his best since he was runner-up at Australia's Last Cowboy Standing in June.
His perfect outing included an 80-point ride on Power Dozer (Brian Cumming/Mainline Bucking Bulls) and 84.5-point trip on Mighty Moe (Thompson Rodeo Livetsock).
Fourth place went to Lachlan Richardson (Gresford, New South Wales, Australia) who won Round 1 with 84.5 points on Chiseled in Stone (Thompson Rodeo Livestock). The surging Australian collected a check for $1,420.13 in addition to 15 world points.
Rounding out the Top 5 was New Zealand's Paddy Church who earned $500.09 and 10 world points after riding Arnie (Wild Hoggs Bucking Bulls) for 74.5 points in the first round.
PBR Canada's Touring Pro Division next travels to Czar Lake, Alberta on July 20 for the Czar Lake Bullarama. Action begins at 7:00 p.m. MT.
Canadian Extreme Bulls & Bikes – July 13, 2018
Lloydminster, Saskatchewan – Lloydminster Exhibition
PBR Canada Touring Pro Division Event Results
Event Leaders (Round 1- Round 2 -Aggr. Score- Money Earned-World Points)
1. Nick Tetz, 79-86-165-$3,537.27-60
2T. Cody Coverchuk, 79-85.5-164.5-$2,282.67-25
2T. Brock Radford, 80-84.5-164.5-$2,361.08-25
4. Lachlan Richardson, 84.5-0-84.5-$1,420.13-15
5. Paddy Church, 74.5-0-74.5-$500.09-10
6. Klayton Lakevold, 65-0-65-$353.72-5