Dakota Buttar Finishes 17th at PBR Unleash The Beast Event in Billings
By: Kacie Albert Monday, April 15, 2019 @ 3:24 PM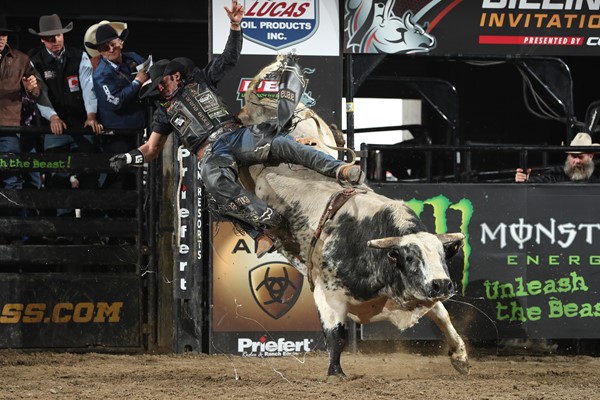 BILLINGS, Montana – As the lone Canadian rider competing in Billings, Montana for the elite PBR (Professional Bull Riders) Unleash The Beast's Billings Invitational, presented by Cooper Tires, Dakota Buttar (Kindersley, Saskatchewan) went 2-for-3 to finish 17th, while the nation's contingent of 14 bovine athletes was led by Vold Rodeo's Timber Jam.
For 26-year-old Buttar his event began strong, covering Must Be Nice (Bird Bucking Bulls) for 84.25 points in Round 1. The 8-second effort propelled the Saskatchewan man to eighth overall in the event aggregate prior to the second round.
Continuing the momentum in Round 2, Buttar made the whistle aboard Newsom (D&H Cattle Co./444 Bucking Bulls) for 85 points. With fans witnessing 14 qualified rides in the round, the score recorded by Buttar tied for the seventh highest marks.
Buttar's march up the standings, however, came to an end in Round 3 when he was injured during his 3.88-second buck off from Talking Smack (Dakota Rodeo-Chad Berger/Clay Struve/Ken Barnhard).
"I think my hand stayed in my rope and I ended up on his head, and when he threw his head up it just pulled on everything," Buttar said, who plans to get x-rays upon arrival back to Saskatchewan.
"(Dr. Tandy Freeman) said it could be a bruise, but when he touched in there I got pretty lightheaded, which is a sign things could be worse in there."
Unable to compete in the championship round, Buttar finished 17th overall to net 7.5 world points. He is now No. 36 in the world, 10 points behind No 35 Daylon Swearingen (Piffard, New York).
For the second time this season, the bull pen for the premier series event featured a Canadian flare with 14 bovine athletes from the nation included in the draw.
The nation's contingent was led by Timber Jam who recorded a 44.25-point bull score, the 11th best of the event, in Round 1 when be sent Bryan Titman (East Bernard, Texas) to the dirt in 4.01 seconds. The bull also bucked in Round 3, marked 41.75 points when event winner Cody Teel (Kountze, Texas) covered him for an 85.75-point score. 
As one of three bulls to return to the United States after also bucking at the premier series event in Tacoma, Washington, Colt .45 (Wild Hoggs/Lou Streeter) again turned heads with his two trips which earned bull scores in excess of 43 points.
Hailing from Nanton, Alberta, the bovine athlete first bested Derek Kolbaba (Walla Walla, Washington) in 2.25 seconds in Round 1 to earn a 43.5 point bull score, which he followed with a 43.25-point bull score in Round 3 for his 3.86-second buckoff of Joe Frost (Randlett, Utah).
Reigning PBR Canada Bull of the Year Happy Camper (Two Bit Bucking Bulls) made his elite tour, regular-season debut in Billings. While Junio Quaresima (Meridiano, Brazil) reached the 8 aboard the Canadian powerhouse for 86.75 points in Round 1 (42.25 points), Happy Camper only improved in Round 3, marked 43.5 points for his 3.32-second buckoff of Cannon Cravens (Porum, Oklahoma).
Also bucking in Billings from Two Bit Bucking Bulls was Catch My Drift (Two Bit Bucking Bulls/K Rose Ranch) who recorded the second-best bull score of the Canadian contingent in Round 1 when he was marked 44 points for his 2.18-second buckoff of Luciano de Castro (Guzolandia, Brazil).
Catch My Drift also bucked in Round 3, ridden by current world No. 1 Jose Vitor Leme (Ribas do Rio Pardo, Brazil) for 86.25 points. For that out, the bovine athlete was marked 42.25 points.
The trio of All Access (Vold Rodeo), Oz (Vold Rodeo) and Homegrown (Eno Bucking Bulls) rounded out the group of bulls that made two appearances in the Magic City.
Notably, All Access was ridden by 2016 PBR World Champion Cooper Davis (Jasper, Texas) for 88 points to win Round 1. In the trip, the bull was marked 43 points. His second out was seen in Round 3, earning a 41.25-point score when he bested Ruger Piva (Challis, Idaho) in 2.99 seconds.
Fellow Vold Rodeo bull Oz also bucked in Round 1 and Round 3, earning 41.5 and 43-point scores, respectively, for sending Alisson de Souza(Taubate, Brazil) and Junio Quaresima (Meridiano, Brazil) to the dirt before the whistle.
Homegrown (Eno Bucking Bulls) was first ridden by Joao Ricardo Vieira (Itatinga, Brazil) for 87 points in Round 1 (42 points), before bestingLindomar Lino (Anapolis, Brazil) in 2.6 seconds in Round 3 for a 41-point score.
The remaining Canadian bulls were:
Big City Nights (Vold Rodeo): 4.86-second buckoff of Taylor Toves (Stephenville, Texas) in Round 1 (42 points)
Uptown Funk (Vold Rodeo): 4.97-second buckoff of Teel in Round 1 (42 points)
Grey Tower III (Vold Rodeo): 7.7-second buckoff of Marco Eguchi (Poa, Brazil) Round 1 (41.5 points)
Morning Wish (Wild Hoggs/Trish Streeter): 5.76-second buckoff of Dalton Krantz (Somers, Iowa) in Round 1 (40.25 points)
Shere Khan (X6 Ranch Bucking Cattle): Covered by Stetson Lawrence (Williston, North Dakota) for 83.5 points in Round 1 (40.75 points)
Muddy Water (X6 Ranch Bucking Cattle): 3.22-second buckoff of Lawson Nobbs (Moura, Queensland, Australia) in Round 1 (41.75 points)
Fans can relive all the action from Billings, on-demand on RidePass.com or via the mobile app.
Following a one week break for the Easter holiday, the PBR Unleash The Beast will next travel to Columbus, Ohio, and the Schottenstein Center for the Wrangler Long Live Cowboys Classic, presented by Cooper Tires. The event will be on Saturday, April 27 at 6:45 p.m. EDT and Sunday, April 28 at 2:45 p.m. EDT.
Professional Bull Riders – Unleash The Beast
Billings Invitational, presented by Cooper Tires
Rimrock Auto Arena – Billings, Montana
Event Leaders (Round 1-Round 2-Round 3-Round 4-Event Aggregate-Event Points)
Cody Teel, 0-83.75-85.75-86.75-256.25-605 Points.
2. Cooper Davis, 88-85.25-81-0-254.25-362.5 Points.
3. João Ricardo Vieira, 87-82-82.25-0-251.25-225 Points.
4. Derek Kolbaba, 0-86.25-88.5-0-174.75-205 Points.
5. Claudio Montanha Jr., 87.25-0-87.25-0-174.50-160 Points.
6. Stetson Lawrence, 83.5-88.25-0-0-171.75-110 Points.
7. Matt Triplett, 0-87.5-86.25-0-173.75-105 Points.
(tie). Kaique Pacheco, 67.5-80-84.5-0-232.00-105 Points.
9. Chase Outlaw, 0-88-0-0-88.00-65 Points.
10. Ezekiel Mitchell, 87-0-85.5-0-172.50-60 Points.
(tie). Rubens Barbosa, 0-0-87.25-0-87.25-60 Points.
12. Alisson De Souza, 0-85.25-86-0-171.25-47.5 Points.
13. Jose Vitor Leme, 0-0-86.25-0-86.25-35 Points.
14. Ryan Dirteater, 86.75-0-0-0-86.75-22.5 Points.
(tie). Junio Quaresima, 86.75-0-0-0-86.75-22.5 Points.
16. Ruger Piva, 85.75-83.5-0-0-169.25-10 Points.
17. Dakota Buttar, 84.25-85-0-0-169.25-7.5 Points.
18. Mason Taylor, 75.5-84-0-0-159.50-5 Points.
19. Cannon Cravens, 0-85-0-0-85.00-2.5 Points.
20. Silvano Alves, 0-0-84.75-0-84.75
21. Danilo Carlos Sobrinho, 0-0-84.5-0-84.50
22. Scottie Knapp, 0-0-83.75-0-83.75
(tie). Luis Blanco, 0-83.75-0-0-83.75
24. Colten Jesse, 0-0-81.25-0-81.25
25. Lindomar Lino, 79-0-0-0-79.00
Luciano De Castro, 0-0-0-0-0.00
Joe Frost, 0-0-0-0-0.00
Taylor Toves, 0-0-0-0-0.00
Keyshawn Whitehorse, 0-0-0-0-0.00
Marco Antônio Eguchi, 0-0-0-0-0.00
Dylan Smith, 0-0-0-0-0.00
Marcus Mast, 0-0-0-0-0.00
Bryan Titman, 0-0-0-0-0.00
Dalton Krantz, 0-0-0-0-0.00
Lawson Nobbs, 0-0-0-0-0.00
Dakota Louis, 0-0-0-0-0.00