PBR Canada Champions Zane Lambert and Tanner Byrne Headline Contingent of Canadian Riders for Québec City International Major
By: Kacie Albert Monday, April 29, 2019 @ 2:00 PM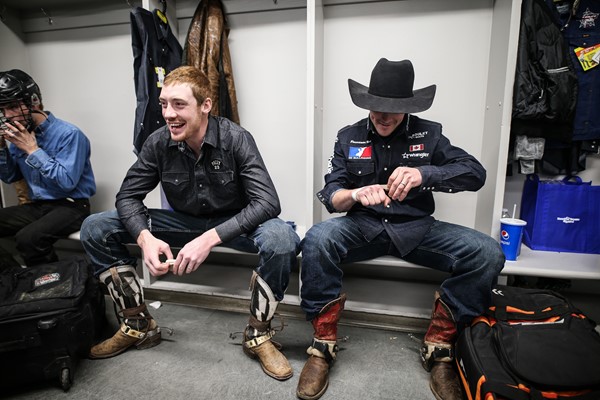 QUÉBEC, Québec – Two PBR (Professional Bull Riders) Canadian Champions, Ponoka, Alberta's Zane Lambert (2013 and 2017) and Prince Albert, Saskatchewan's Tanner Byrne (2015), will headline this year's field of Canadian riders for the Monster Energy Tour Canadian Iron Cowboy, presented by Super Sagamie, on May 4 at the Videotron Centre in Québec, Québec. The annual event is the league's lone international Major event offering riders both an increased payout and world points.
For the second consecutive year, Canadian fans will once again see the thrilling progressive elimination format which debuted last season. After all of the 20 competing riders attempt one bull each in Round 1, the Top 8 will advance to Round 2, followed by the Top 4 moving on to Round 3. The event will conclude in the fourth round when the Top 2 cowboys go head to head. Should fewer 8-second efforts be recorded than riders set to advance, the remaining slots will be filled on buck off time. 
One of the most recognized and accomplished Canadian riders in the PBR, Lambert is one of two multi-time national champions. The 32-year-old is also the only rider in history to qualify for all editions of the PBR Canada Finals, an event which he has won twice (2016 and 2017), yet another milestone that he is the only bull rider to achieve.
Off to a fast start thus far in 2019, Lambert has recorded two Top-5 efforts on the premier Monster Energy Tour, and earned an event win on the Touring Pro Division. He is currently No. 4 in the Canadian national standings, just 389.58 points removed from the top spot.
Lambert is an experienced competitor inside the Videotron Center, riding at the stop in both 2017 and 2018. He recorded his best finish at the inaugural event in 2017 when he finished 11th after riding Devil Dog (Mike Miller Bucking Bulls) for 83.5 points.
He is joined by fellow Canadian champion Byrne in the draw who is set to compete for the second time in Québec. Byrne made his debut in La Vieille Capitale in 2018, but was bested by Punk Gun (Triple R Bull Co.) in 5.76 seconds in the opening round, ending his event early.
This season, Byrne is currently No. 16 in the Canadian national standings and No. 50 in the world. Active on both home soil and stateside, the 26-year-old recorded his season-best finish on the Monster Energy Tour in Lethbridge, Alberta where he was fourth.
In the draw, the duo is joined by the Top 3 riders in the current race for the 2019 PBR Canada Championship – No. 1 Jordan Hansen (Okotoks, Alberta), No. 2 Jared Parsonage (Maple Creek, Saskatchewan) and No. 3 Shay Marks (Sunny Brook, Alberta).
Hansen, who leads Parsonage by 115 points and Marks by 337.5 points, finished fourth at his one previous appearance at the Québec event in 2017. Going 2-for-3, the 25-year-old's 8-second efforts were recorded atop Otis (Mike Miller Bucking Bulls) for 85.5 points and Captain (Mike Miller/Torres Bros) for 87.5 points.
Currently the top-ranked rider in PBR Canada competition, Hansen's 2019 season has included two event wins. After winning the Touring Pro Division stop in Dawson Creek, British Columbia, he captured the first Monster Energy Tour event win of his career in Calgary in late March to surge to the top of the rankings.
In the world standings, Hansen is No. 54.
For Parsonage, he is a two-time competitor in Québec, finishing 10th in 2017 after his event came to an early end when he broke his jaw, and eighth in 2018 when he went 1-for-2.
In addition to making his elite PBR Unleash The Beast debut in January in Glendale, Arizona, Parsonage's 2019 season has been highlighted by an event win and three Top-5 finishes on Canadian soil. The Saskatchewan notably won the first-ever Monster Energy Tour event in Lethbridge, Alberta in March to briefly hold the nation's No. 1 ranking.
Parsonage is currently ranked No. 59 in the world.
As the No. 3-ranked rider in PBR Canada competition, and No. 66 in the world, Marks will be making his Québec debut in 2019. After he was sidelined for nearly two years due to reconstructive shoulder, the 23-year-old emerged victorious at his first event back this January, winning the season-launch Monster Energy Tour event in Winnipeg, Manitoba.
The field will also include two-time Glen Keeley Award winner Dakota Buttar (Kindersley, Saskatchewan) who is currently the top ranked Canuck in the PBR World Standings at No. 38. Buttar made his Québec debut in 2018, but was unable to make the 8, bucked off by Pop The Latch (Wild Hoggs Bucking Bulls) in 7.33 seconds.
For the second-consecutive year the field will also include home province contender Zac Bourgeois (St. Tite, Québec). Last season Bourgeois made his professional debut in Québec, but was bucked off by Darkest Days (Vold Rodeo) in a heartbreaking 7.79 seconds.
The remainder of the field is:
Jackson Scott (Kamloops, British Columbia)
Riley Gagnon (Innisfail, Alberta)
Lonnie West (Cadogan Alberta)
Coy Robbins (Camrose, Albera)
Tickets are on sale now and can be purchased online through PBRCanada.com, Gestev.com or Ticketmaster.ca. Tickets range in price from $34 to $145.50, all taxes and fees included. For $50, ticketholders will have the opportunity to purchase a Corral Pass giving them the opportunity to meet several of the PBR's fearless riders prior to the event while getting an up-close look at the event's animal athletes from atop the bucking chutes.
The Québec event will mark the fourth stop of the 2019 Monster Energy Tour, following the season opener on January 26 in Winnipeg, Manitoba, and subsequent stops in Lethbridge and Calgary, Alberta.