Garrett Green Wins PBR's Elnora Brahma Rama
By: Kacie Albert Monday, August 12, 2019 @ 7:11 AM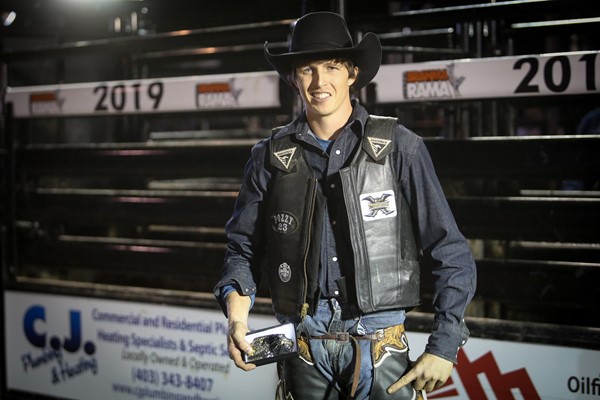 ELNORA, Alberta – As one of three riders to go a perfect 2-for-2 Saturday night at the Elnora Ag Grounds, Garrett Green (Meeting Creek, Alberta) captured his first PBR event win of the season, victorious at the Elnora Brahma Rama.
The home province hopeful began the event on a strong note, recording the third highest marks of the first round after he reached the 8 aboard Preacher Man (X6 Ranch Bucking Cattle) for 83 points.
He then surged to the top of the leaderboard when he covered Rhythm & Blues (Flying High Rodeo Co.) for an event-high 89.5 points in the championship round.
The finished netted Green a check for $3,746.37, in addition to 310 Canadian and 60 world points.
As he looks to qualify for the 2019 PBR Canada Finals in Saskatoon, Saskatchewan on Nov. 22-23, where the Top 20 riders from the national standings will compete for the 2019 PBR Canada Championship and $50,000 bonus, Green gained significant ground courtesy of the win.
Ranked No. 22 in the nation prior to the victory, he is now No. 7 in Canada.
Jared Parsonage (Maple Creek, Saskatchewan) extended his lead atop the national standings courtesy of his runner-up effort.
After riding Speak Easy (X6 Ranch Bucking Cattle) for 84.5 points in Round 1, he remained flawless when he reached the whistle aboard Throwin Shade (Flying High Rodeo Co.) for 86 points in the final round.
He earned $2,843.25, 200 Canadian and 30 world points.
Parsonage now leads No. 2 Shay Marks (Sunnybrook, Alberta) by 314.99 points.
Continuing his return to competition after undergoing knee surgery at the conclusion of the 2018 season, Brock Radford (De Winton, Alberta) concluded the annual event both third and fourth via a double entry.
His third-place result was backed by an 81.5-point ride on Irish Rebel (Wilson Rodeo) in Round 1 and an 87-point ride on Shere Khan (X6 Ranch Bucking Cattle) in the championship round, while his fourth-place finish was headlined by an 85.5-point, Round 1-winning trip on Done Talking (Eno Bucking Bulls).
Collectively he earned $3,355.27, 305 Canadian and 35 world points.
On the hunt for his first national title, Radford is now ranked inside Canada's Top 20 for the first time in 2019. The two Top-5 finishes propelled him from No. 29 to No. 18 in the nation.
Rounding out the Top 5 was Marcos Gloria (Central de Minas, Brazil), netting him $580.13, 75 Canadian and 10 world points.
Gloria's performance in Elnora was backed by an 81-point ride on Razed Country (Flying High Rodeo Co.) in Round 1.
PBR Canada Touring Pro Division action continues on Wednesday, August 21 in Coronation, Alberta at Coronation Arena for the Coronation Royal Rumbull PBR. The event begins at 7:00 p.m. MDT.
Be sure to stay tuned to PBRCanada.com and follow the tour on Facebook (PBR Canada), Twitter (@PBRCanada), and Instagram (@PBRCanada) for the latest results.
PBR Canada Touring Pro Division
Elnora, Alberta – Elnora Ag Grounds
Elnora Brahma Rama
Event Results (Round 1- Round 2 -Aggr. Score- Money Earned-Canadian Points-World Points)
1. Garrett Green, 83-89.5-172.5-$3,746.37-310-60
2. Jared Parsonage, 84.5-86-170.5-$2,843.25-200-30
3. Brock Radford 2, 81.5-87-168.5-$1,940.14-165-20
4. Brock Radford, 85.5-0-85.5-$1,415.13-140-15
5. Marcos Gloria, 81-0-81-$580.13-75-10