Gage Gay Wins Ranchman's PBR Charity Classic
By: Kacie Albert Thursday, July 4, 2019 @ 9:58 AM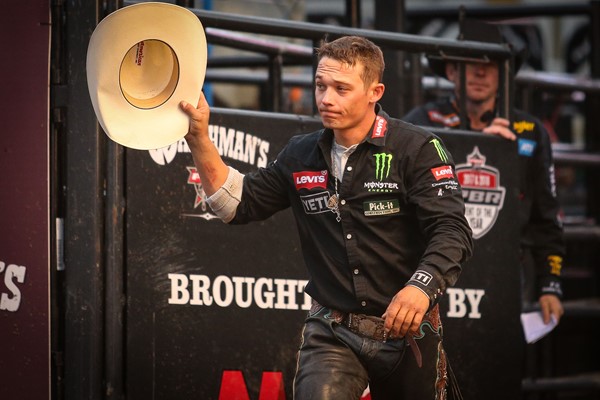 CALGARY, Alberta – Outside the iconic Ranchman's Cookhouse and Dancehall, North Carolina cowboy Gage Gay (Staley, North Carolina) brought the raucous Calgary crowd to its feet, going a perfect 2-for-2 to capture the event win at the Ranchman's PBR Charity Classic.
Recording the fourth best score in the opening round, Gay first rode Snapshot (Skori Bucking Bulls) for 84.5 points. Continuing the momentum in the championship round, Gay punctuated his flawless performance with an 87-point ride aboard Muddy Water (X6 Ranch).
For his efforts, Gay collected $5,644.86, along with 445 Canadian and 170 world points.
Ranked outside of the Top 150 in the world standings prior to the event as he continues to return from knee injury, Gay is now ranked No. 72. He is 322.5 points outside of the Top 35 and a return to the elite PBR Unleash The Beast in time for Last Cowboy Standing, the third Major of the year, on July 22-23 at Cheyenne Frontier Days.
Gay has also made an incredible climb up the Canadian standings. Unranked prior to his second-place finish on Monday night in Cluny, Alberta, Gay is now No. 10 in the nation, 1,309.99 points behind No. 1 Jared Parsonage (Maple Creek, Saskatchewan).
Reigning PBR Australia Champion Aaron Kleier (Clermont, Queensland, Australia) finished second to earn $3,990.33, 240 Canadian and 90 world points.
First making the 8 on Minion Stuart (Skori Bucking Bulls) for 82.5 points in Round 1, Kleier returned with a vengeance in the final round, recording an event-best 88-point trip on Devour (Vold Rodeo).
Kleier, who is looking to qualify for his first PBR World Finals come November in Las Vegas, rose from No. 14 to No. 11 in the world. He is also now ranked in the Canadian national standings, currently No. 29.
Will Purcell (Merrijig, Victoria, Australia) and Joe Frost (Randlett, Utah) tied for third.
Purcell rode Hollywood Undead (Vold Rodeo) for 82.5 points and Kubota's Summer Warrior (Wild Hoggs/Chmelnyk/Bryant) for 86.5 points, while Frost covered Boomerang (Wild Hoggs) for 83 points and Broken Trigger (Skori Bucking Bulls) for 86 points.
Each rider left the Calgary venue with $1,995.16, 130 Canadian and 37.5 world points.
Rounding out the Top 5 was Shay Marks (Sunnybrook, Alberta).
To begin the evening's event, Marks made the 8 aboard Dunt (Skori Bucking Bulls) for 80.5 points.
He was quick to continue the momentum in the championship round, covering Twist of Barbwire (Thompson Rodeo Livestock) for 86 points.
Marks earned $1,620.45, 75 Canadian and 15 world points. He remains No. 4 in Canada, trailing No. 1 Parsonage by 611.66 points.
Action from the Ranchman's PBR Charity Classic will continue on Wednesday, July 3 at 7:00 p.m. MDT in Calgary at Ranchman's Cookhouse and Dancehall.
Fans can watch all the action LIVE on RidePass at RidePass.com or via the mobile app.
Be sure to stay tuned to PBRCanada.com and follow the tour on Facebook (PBR Canada), Twitter (@PBRCanada), and Instagram (@PBRCanada) for the latest results. 
PBR Canada Touring Pro Division
Calgary, Alberta – Ranchman's Cookhouse and Dancehall Inc.
Ranchman's PBR Charity Classic
Event Results (Round 1- Round 2 -Aggr. Score- Money Earned-Canadian Points-World Points)
1. Gage Gay, 84.5-87-171.5-$5,644.86-445-170
2. Aaron Kleier, 82.5-88-170.5-$3,990.33-240-90
3 (tie). Will Purcell, 82.5-86.5-169-$1,995.16-130-37.5
Joe Frost, 83-86-169-$1,995.16-130-37.5
5. Shay Marks, 80.5-86-166.5-$1,620.45-75-15
6. Brady Fielder, 82-84-166-$545.02-30-10
7. Cole Skender, 82-83.5-165.5-$408.77-15-5
8. Marcos Gloria, 77.5-85.5-163-$929.45-25-0
9 (tie). Jake Lockwood, 86-0-86-$583.95-87.5-0
Jared Parsonage, 86-0-86-$583.95-87.5-0
11. Aaron Roy, 85.5-0-85.5-$437.97-50-0
12. Klayton Lakevold, 84.5-0-84.5-$291.98-35-0
13. Kache Moosman, 84-0-84-$291.98-15-0
14. Donovan Rutherfurd, 82.5-0-82.5-$145.99-0-0