Dakota Buttar Wins PBR's Thunderbuck in the Badlands
By: Kacie Albert Monday, June 24, 2019 @ 5:14 AM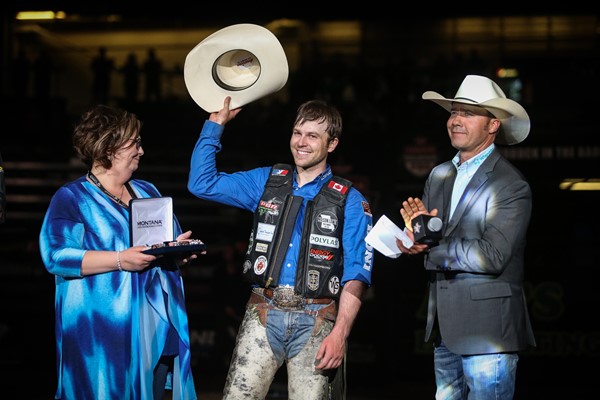 MEDICINE HAT, Alberta – As one of two riders to deliver a perfect performance inside the Canalta Centre, two-time Glen Keeley Award winner Dakota Buttar (Kindersley, Saskatchewan) captured his second PBR Canada event win of the season Saturday night, victorious at the Thunderbuck in the Badlands, part of the Touring Pro Division.
Buttar's evening began strong in Round 1, recording the second highest marks when he reached the 8-second whistle aboard Broken Trigger (Skori Bucking Bulls) for 85 points.
Continuing the momentum, the 26-year-old remained flawless in Medicine Hat when he recorded the high-marked ride of the event, scored 88.5 points on Spooky Lukie (Two Bit Bucking Bulls) in the championship round.
For his efforts, Buttar earned a check for $3,957.820 along with 320 Canadian and 60 world points.
He is now ranked No.5 in the PBR Canada national standings, up from No. 12, and within 1014.16 points of No.1 Jared Parsonage (Maple Creek, Saskatchewan).
In the broader PBR world standings, the win allowed Buttar to crack inside the world's Top 35 as he looks to return to the premier PBR Unleash The Beast for the second Major of the season, Last Cowboy Standing, at the iconic Cheyenne Frontier Days on July 22-23.
Entering the event ranked No. 36, he is now No. 34 in the world, 42.5 points ahead of No. 36 Michael Lane (Tazewell, Virginia).
The win comes amidst a hot streak for Buttar.
Returning from a near season-ending shoulder injury on June 8, Buttar has earned two event wins and two additional Top 5 finishes throughout the three weekends of competition. Cumulatively, the Saskatchewan man has earned 838.33 Canadian and 150 world points, climbing more than 40 positions in the national standings, and seven spots in the world rankings.
As the only other rider to go 2-for-2, Jordan Hansen (Okotoks, Alberta) finished second.
First riding Smash (Skori Bucking Bulls) for 81.5 points in Round 1, the home province hopeful remained perfect when he reached the whistle on Big Deal (C S Bucking Bulls) for 84 points in the final round.
Hansen left the Canalta Centre with $2,576.57, along with 165 Canadian and 30 world points.
Remaining No. 3 in the Canadian standings, now 333.33 points behind the top spot, Hansen gained ground in the world rankings, rising from No. 55 to No. 50. He trails the Top 35 by 202.5 points.
Daylon Swearingen (Piffard, New York) was third netting $1,753.13, 165 Canadian and 20 world points.
The newly minted 2019 CNFR (College National Finals Rodeo) Bull Riding Champion was propelled to the Top 5 finish after covering Hollywood Undead (Vold Rodeo/Dynamite Buckers) for a Round 1-best 87 points.
Still ranked No. 2 in Canada, the young gun closed in on No. 1 Parsonage, now within 253.74 points of the Saskatchewan man.
2017 PBR Canada Rookie of the Year Coy Robbins (Camrose, Alberta) was propelled to a fourth-place finish after he rode Hot Tamale (Two Bit Bucking Bulls) for 84.5 points in the opening round.
Earning $1,062.50, 100 Canadian and 15 world points, Robbins left the Medicine Hat venue ranked No. 20 in the nation, rising from No. 26 at the start of the event.
Rounding out the Top 5 was Parsonage, Cole Young (Fairview, Alberta) and Paraguayan rider Fabian Dueck who each recorded matching 82-point rides in Round 1. The trio covered Hanna Motors Full Throttle (Skori Bucking Bulls), Whiskey Mussels (Vold Rodeo/Rafter G Cattle Co.) and Parachute (Vold/Bergdahl/Halderman), respectively.
Each collected a check for $375.41, and earned 51.66 Canadian and 5 world points.
Young also earned an additional 7.5 Canadian points as a double-entry, tying for eighth with two-time PBR Canada Champion Zane Lambert (Ponoka, Alberta). Young rode Cypress Hills Sinner (X6 Ranch Bucking Cattle), while Lambert covered Preacher Man (X6 Ranch Bucking Cattle), each for 81.5 points in Round 1.
PBR Canada Touring Pro Division action continues on Monday, July 1 in Cluny, Alberta at Coulee Creek Farms for the Cluny Lions PBR. Action begins at 6:00 p.m. MDT.
Be sure to stay tuned to PBRCanada.com and follow the tour on Facebook (PBR Canada), Twitter (@PBRCanada), and Instagram (@PBRCanada) for the latest results. 
PBR Canada Touring Pro Division
Medicine Hat, Alberta – Canalta Centre
Thunderbuck in the Badlands
Event Results (Round 1- Round 2 -Aggr. Score- Money Earned-Canadian Points-World Points)
1. Dakota Buttar, 85-88.5-173.5-$3,957.820-320-60
2. Jordan Hansen, 81.5-84-165.5-$2,576.57-165-30
3. Daylon Swearingen, 87-0-87-$1,753.13-165-20
4. Coy Robbins, 84.5-0-84.5-$1,062.50-100-15
5 (tie). Jared Parsonage, 82-0-82-$375.41-51.66-5
Cole Young 2, 82-0-82-$375.41-51.66-5
Fabien Dueck, 82-0-82-$375.41-51.66-5
8 (tie). Zane Lambert, 81.5-0-81.5-$74.37-7.5-0
Cole Young, 81.5-0-81.5-$74.37-7.5-0
10. Aaron Roy, 80-0-80-$0-0-0
Shay Marks, 0-0-0-$0.00-0-0
Jake Lockwood, 0-0-0-$0.00-0-0
Weston Hartman, 0-0-0-$0.00-0-0
Jacob Breum, 0-0-0-$0.00-0-0
Chase Thielen, 0-0-0-$0.00-0-0
Dayton Johnston 2, 0-0-0-$0.00-0-0
Wyatt Laughlin, 0-0-0-$0.00-0-0