Dakota Buttar wins Night 1 of PBR's Bad Boy Mowdown in Little Rock
By: Heather Croze Saturday, March 2, 2019 @ 1:10 AM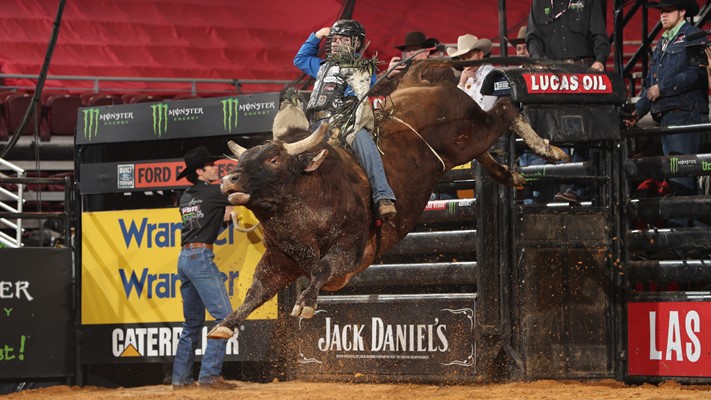 LITTLE ROCK, Ark. – After battling pneumonia the last couple of weeks, Dakota Buttar (Kindersley, Saskatchewan) was healthy enough to win the opening round of the PBR's (Professional Bull Riders) Unleash The Beast Bad Boy Mowdown in Little Rock.
Buttar got the crowd at Verizon Arena on its feet when he took the lead midway through the round, scoring 89.75 points aboard Handsome Jeff (Jo Z Bucking Bulls/K Bar C).
The Canadian cowboy earned 100 points towards the PBR world standings with the round win and moved from 33rd to 21st in the world.
Last year's Little Rock champion, Luciano de Castro (Guzolandia, Brazil), finished in second place after he rode Bulls Eye (Mears/Broken Arrow/Owens) for 88.5 points.
With the finish he picked up 60 points towards the world standings and continues to hold down the No. 5 spot in the world.
In his first event back since Oklahoma City in early February, two-time PBR World Champion J.B. Mauney (Statesville, North Carolina) finished in third place after he conquered Skyfall (Silver Creek/Winston/Melton Bull Co.) for 88.25 points.
Mauney added 50 world points and jumped from 67th to 50th in the world standings.
Oklahoman Colten Jesse (Konawa, Oklahoma) rode Soy El Fuego (Silver Creek/Winston/Melson Bull CO.) for 87.25 points to finish in fourth place.
With the finish, Jesse earned 40 points towards the PBR world standings and moved from 14th to 12th in the world.
Rounding out the Top 5 were Cody Nance (Paris, Tennessee) and Eduardo Aparecido (Gouvelandia, Brazil) as each scored 87.25 points. Nance rode Sun Country (Sirridge/Sun Country/Donaho) while Aparecido covered Invizibull Fire (Cord McCoy/Bruce Wold).
The pair earned 22.5 points towards the world standings.
Friday night in Little Rock also included the American Bucking Bull Inc. (ABBI) Classic event. An ABBI Classic competition is the next step in a young bovine's competitive career with these bulls starting and finishing these Classic events under PBR bull riders.
The Right Stuff (Berger/Struve/Willow/Smith/Nix/Owens) posted a 90.2-point performance to win the ABBI Little Rock Classic event while taking home just shy of $10,000. In second place was Preachers Kid (K Bar C Bucking Bulls/RD Cattle) with 89.6 points and $6,574 in winnings, while Good Night Robicheaux (Dakota Rodeo/Berger/Struve/Willow/Samford) placed third with 89 points to earn a $4,498 payout.
Halpain/Martinelli's Excessive Force landed a fourth-place finish with 88.6 points to pick up $3,806 with Concealed Carry rounding out the Top 5 after his 88.2-point performance for $2,941.
Round 2 and the championship round from Little Rock will air on CBS Sports Network on Sunday, March 3 at 8:00 p.m. ET.
Friday's Round 1 will also be viewable Saturday starting at 8 a.m. ET on RidePass.com or via the RidePass mobile app.
Round 2 and the championship round will begin at 6:45 p.m. CT on Saturday, March 2 at Verizon Arena.
Unleash The Beast Event Results
Bad Boy Mowdown
Verizon Arena – Little Rock, Arkansas
Event Leaders (Round 1-Round 2-Round 3-Round 4-Event Aggregate-Event Points)
Dakota Buttar, 89.75-0-0-89.75-100 Points.
2. Luciano De Castro, 88.5-0-0-88.50-60 Points.
3. J.B. Mauney, 88.25-0-0-88.25-50 Points.
4. Colten Jesse, 87.5-0-0-87.50-40 Points.
5. Cody Nance, 87.25-0-0-87.25-22.5 Points.
(tie). Eduardo Aparecido, 87.25-0-0-87.25-22.5 Points.
7. Derek Kolbaba, 87-0-0-87.00-5 Points.
8. João Ricardo Vieira, 86.25-0-0-86.25
9. Kaique Pacheco, 86-0-0-86.00
10. Alex Marcilio, 84.75-0-0-84.75
11. Cody Teel, 84.25-0-0-84.25
12. Alan de Souza, 83.75-0-0-83.75
13. Stetson Lawrence, 81-0-0-81.00
Chase Outlaw, 0-0-0-0.00
Jose Vitor Leme, 0-0-0-0.00
Ryan Dirteater, 0-0-0-0.00
Cody Jesus, 0-0-0-0.00
Cooper Davis, 0-0-0-0.00
Alisson De Souza, 0-0-0-0.00
Claudio Montanha Jr., 0-0-0-0.00
Cannon Cravens, 0-0-0-0.00
Rubens Barbosa, 0-0-0-0.00
Silvano Alves, 0-0-0-0.00
Lucas Divino, 0-0-0-0.00
Danilo Carlos Sobrinho, 0-0-0-0.00
Daniel Tinsman, 0-0-0-0.00
Brennon Eldred, 0-0-0-0.00
Junio Quaresima, 0-0-0-0.00
Taylor Toves, 0-0-0-0.00
Mason Taylor, 0-0-0-0.00
Sean Willingham, 0-0-0-0.00
Ezekiel Mitchell, 0-0-0-0.00
Marcus Mast, 0-0-0-0.00
Ouncie Mitchell, 0-0-0-0.00
Matt Triplett, 0-0-0-0.00
Koal Livingston, 0-0-0-0.00
Keyshawn Whitehorse, 0-0-0-0.00
Ramon de Lima, 0-0-0-0.00
Marco Antônio Eguchi, 0-0-0-0.00