Garrett Green Wins Round 1 of PBR Canada Monster Energy Tour's Calgary Classic
By: Kacie Albert Friday, January 24, 2020 @ 11:14 PM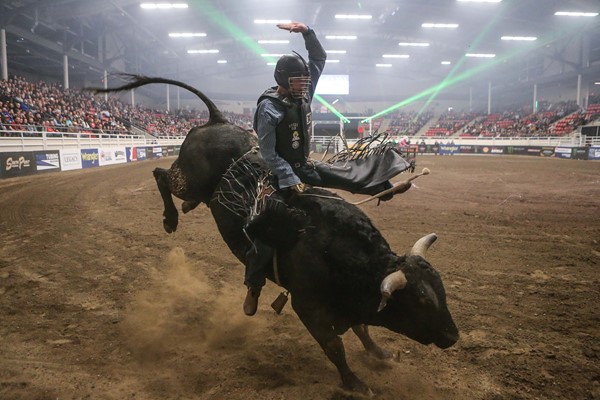 CALGARY, Alberta – On an electric night of competition inside the Nutrien Western Event Centre on Stampede Park, Garret Green (Meeting Creek, Alberta) won Round 1 of the Calgary Classic, the 2020 season-launch event for the elite PBR (Professional Bull Riders) Canada Monster Energy Tour.
The home province favorite brought the raucous Alberta crowd to its feet when he reached the 8-second whistle aboard Dejango (Skori Bucking Bulls) for a massive 86.5 points.
For his efforts, Green collected 100 Canadian points.
He is now ranked No. 9 in the national standings.  
Dayton Johnston (Milk River, Alberta) and Zachary Laney (Ferris, Texas) tied for second, courtesy of their matching 86-point rides.
The duo covered White Tie (Vold Rodeo) and Grey Tower III (Vold Rodeo), respectively, each earning 55 national points.
Johnston and Laney are now tied for No. 14 in the Canadian standings.
In yet another tie, three-time Glen Keeley Award winner Dakota Buttar (Kindersley, Saskatchewan) and Callum Miller (Warwick, Queensland, Australia) split fourth, each netting 35 Canadian points.
Buttar covered Scarecrow (X6 Ranch Bucking Cattle), while Australian Miller rode Grizz (Wild Hoggs/Trish Streeter).
Two other riders also collected national standings points in Round 1, which bore witness to 17 qualified rides in 27 outs.
Tim Lipsett (Lumsden, Saskatchewan) reached the 8 aboard Speak Easy (X6 Ranch Bucking Cattle), and Wyatt Gleeson (Sundre, Alberta) covered Strong Arm (Vold Rodeo), both marked 84.5 points, to tie for seventh and earn 12.5 Canadian points.
Lipsett is now No. 10 in Canada, and Gleeson is No. 19.
The opening night of competition for the 2020 PBR Canada Monster Energy Tour also featured the first-ever 5 vs. 5 Showdown, pitting the Top 5 riders from the national standings, against the Top 5 bucking bulls at the event.
Featuring three members from Team Canada for the upcoming 2020 WinStar World Casino and Resort PBR Global Cup USA, presented by Monster Energy Tour, in addition to three-time PBR Canada Champion Aaron Roy (Yellow Grass, Saskatchewan) and Round 1 winner Green, Brock Radford (De Winton, Alberta) won the inaugural special round.
The winner of the 2018 Calgary Classic, Radford recorded the top score in the 5 vs. 5 Showdown when he covered Cool Bricks (X6 Ranch Bucking Cattle/Rank Pen Cattle Co.) for a monstrous 89 points.
The ride earned him $2,500 and 250 national points, propelling him to No. 2 in the national standings.
Buttar finished second, recording his second qualified ride of the night, when he rode Hanna Motors Homeboy (Skori Bucking Bulls) for 86 points.
The qualified ride, which also propelled him to 150 national points and a $1,500 payday, allowed him to further extend his lead atop the national standings. Remaining No. 1 in Canada, Buttar now leads No. 2 Radford by 97.5 points.
Jared Parsonage (Maple Creek, Saskatchewan) was the final rider to cover his 5 vs. 5 Showdown draw.
He finished third courtesy of his 79-point ride aboard Uptown Funk (Vold Rodeo) to earn 125 Canadian points and $1,000.
The Saskatchewan rider is now No. 5 in Canada.
Fans can relive all the action from the first night of competition at the Calgary Classic, on Saturday, January 25 at 8:00 a.m. ET on RidePass.com or via the RidePass mobile app.
The 2020 season-launch Monster Energy Tour event concludes with Round 2 and the championship round on Saturday, January 25 at 7:30 p.m. MST.
PBR Canada Monster Energy Tour – Calgary Classic
Nutrien Western Event Centre – Calgary, Alberta
Event Leaders (Round 1- Round 2-Round 3-Event Aggregate-Event Points)
1. Garrett Green, 86.5-0-0-86.50-100 Points.
2. Dayton Johnston, 86-0-0-86.00-55 Points.
(tie). Zachary Laney, 86-0-0-86.00-55 Points.
4. Dakota Buttar, 85.5-0-0-85.50-35 Points.
(tie). Callum Miller, 85.5-0-0-85.50-35 Points.
6. Tim Lipsett, 84.5-0-0-84.50-12.5 Points.
(tie). Wyatt Gleeson, 84.5-0-0-84.50-12.5 Points.
8. Zane Lambert, 84-0-0-84.00
(tie). Jared Parsonage, 84-0-0-84.00
10. Austin Richardson, 83.5-0-0-83.50
11. Aaron Roy, 83-0-0-83.00
(tie). Nick Tetz, 83-0-0-83.00
13. Jackson Scott, 82.5-0-0-82.50
14. Wacey Finkbeiner, 82-0-0-82.00
15. Lane Mellers, 81.5-0-0-81.50
(tie). Griffin Smeltzer, 81.5-0-0-81.50
17. Nick Goncalves, 81-0-0-81.00
Brock Radford, 0-0-0-0.00
Rosendo Ramirez, 0-0-0-0.00
Jake Gardner, 0-0-0-0.00
Todd Chotowetz, 0-0-0-0.00
Cole Young, 0-0-0-0.00
Riley Gagnon, 0-0-0-0.00
Italo Aguilar Goncalves, 0-0-0-0.00
Cawl Braithwaite, 0-0-0-0.00
Zachery King, 0-0-0-0.00
Austin Allred, 0-0-0-0.00
PBR Canada Monster Energy Tour – Calgary Classic – 5 vs. 5 Showdown
Nutrien Western Event Centre – Calgary, Alberta
(Round 1-Event Aggregate-Event Points)
1. Brock Radford, 89-89.00-250 Points.
2. Dakota Buttar, 86-86.00-150 Points.
3. Jared Parsonage, 79-79.00-125 Points.
Aaron Roy, 0-0.00
Garrett Green, 0-0.00