British Columbia-Native Jake Gardner Seventh in Round 1 of PBR Pendleton Whisky Velocity Tour's Grand Forks Chute Out
By: Mandi McCary Saturday, April 17, 2021 @ 9:26 AM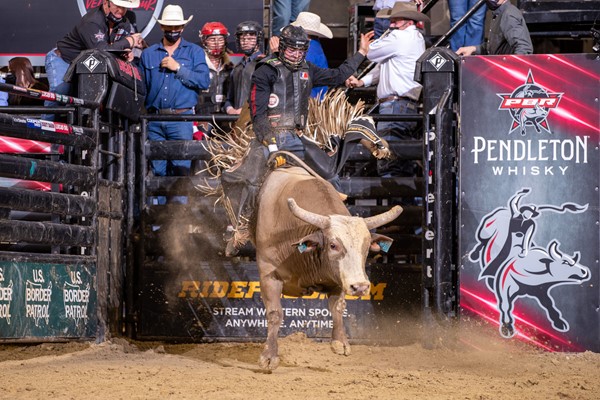 GRAND FORKS, N.D. – The action inside of the Alerus Center during the PBR (Professional Bull Riders) Pendleton Whisky Velocity Tour (PWVT) Grand Forks Chute Out on Friday night was red hot as the bulls prevailed and only 11 of the 45 riders recorded qualified rides.
With two Canadians entered in the first-ever PBR event in Grand Forks, Jake Gardner (Fort St. John, British Columbia) led the contingent, finishing seventh in Round 1 to earn 1 world point.
The 24-year-old logged his qualified ride aboard Law Dog (Cantankerous Bucking Bulls), marked 83.5 points.
As action concludes on Championship Saturday, Gardner will next attempt Snoop Dog (TDS Bucking Bulls) as he looks to capture his career-first Pendleton Whisky Velocity Tour event victory.
Albertan Wyatt Gleeson (Sundre, Alberta, Canada) is also competing at the PBR Grand Forks Chute Out, however was bucked off in Round 1, bested by Stonewall (Rafter JML Cattle) in a closed 6.38 seconds.
Advancing to Round 2 on time, Gleeson will look to record his first qualified ride of the 2021 season on the league's expansion series when he climbs aboard Libby Time (Championship Pro Rodeo/CCC).
Marking his Pendleton Whisky Velocity Tour debut, Hunter Kelly (Santan Valley, Arizona) was one of the 11 men to earn a score, riding his way to the Round 1 win.
The 21-year old Arizonan recorded the highest score of the round when he fired out of the chutes aboard Black Cadillac (Halpain Bucking Bulls) for 88 points. Kelly earned 7 world points for the round victory, and he will enter Saturday night's Round 2 atop the event leaderboard.
Brazil's acrobatic Thiago Salgado (Navirai, Brazil) and Pennsylvania's Joe Hostetler (Homer City, Pennsylvania) tied for second place on Friday evening with matching 86-point rides. Salgado celebrated by doing a backflip onto the dirt after he made the 8 aboard Firecracker (Lee/Praus), while Hostetler successfully rode Cotton Eyed Joe (Lee/Praus) earlier in the round.
Both riders collected 3.5 world points.
Three cowboys rounded out the Top 5, registering identical 85.5-point ride scores to tie for fourth place in Round 1.
Grayson Cole (New Riggold, Pennsylvania) conquered Watch My Walk (Julio Moreno/ Schott Bucking Bulls), while Texas rider Laramie Craigen (Stephenville, Texas) punched his ticket into Round 2 aboard Fat Boy (Okeechobee Bull Co.). Dirlei Bonani (Taubate, Brazil) had the crowd cheering after riding Midnight Mystery (Halpain Bucking Bulls).
All three riders collected 1.33 world points for their efforts.
North Dakota native Weston Hartman's (Mandan, North Dakota) night didn't go as planned when he hit the dirt after just 4.61 seconds after being dispatched by Sin City (Halpain Bucking Bulls).
The Grand Forks weekend is also a stop on the Million Dollar Bull Team Challenge. Halpain Bucking Bulls took home first place in Round 1, scoring 274.61 across three outs. Rafter JML Cattle was second with 271.99 points, while Nothin' But Try Ranch – 'Diggers Bucking Bulls claimed third with 269.61 points.
Fans can relive all the action from Round 1 in North Dakota starting on Saturday, April 17 at 8:00 a.m. ET on RidePass.com or via the RidePass mobile App.
The Grand Forks Chute Out will continue with Round 2 and the championship round on Saturday, April 17 at 7:00 p.m. CDT.
PBR Pendleton Whisky Velocity Tour – Grand Forks Chute Out
Alerus Center – Grand Forks, North Dakota
Event Leaders (Round 1-Round 2-Event Aggregate-Event Points)
1. Hunter Kelly, 88-0-0-88.00-7 Points.
2. Thiago Salgado, 86-0-0-86.00-3.5 Points.
(tie). Joe Hostetler, 86-0-0-86.00-3.5 Points.
4. Grayson Cole, 85.5-0-0-85.50-1.33 Points.
(tie). Laramie Craigen, 85.5-0-0-85.50-1.33 Points.
(tie). Dirlei Bonani, 85.5-0-0-85.50-1.33 Points.
7. Jake Gardner, 83.5-0-0-83.50-1 Points.
8. Austin Richardson, 82-0-0-82.00
9. Conner Halverson, 77.5-0-0-77.50
10. River Stephenson, 75.5-0-0-75.50
11. Bob Mitchell, 64.5-0-0-64.50
Luis Blanco, 0-0-0-0.00
Dakota Louis, 0-0-0-0.00
Michael Lane, 0-0-0-0.00
Wallace Vieira de Oliveira, 0-0-0-0.00
Hunter Ball, 0-0-0-0.00
Seth White, 0-0-0-0.00
Justin Houston, 0-0-0-0.00
Alex Cardozo, 0-0-0-0.00
Cole Skender, 0-0-0-0.00
Keith Hall, 0-0-0-0.00
Manoelito de Souza Junior, 0-0-0-0.00
Rubens Barbosa, 0-0-0-0.00
Caic Cassio Carvalho, 0-0-0-0.00
Alvaro Aguilar Alvarez, 0-0-0-0.00
Jorge Valdiviezo, 0-0-0-0.00
Alex Jenks, 0-0-0-0.00
Jake Lockwood, 0-0-0-0.00
Bradley Brittain, 0-0-0-0.00
Alex Santana, 0-0-0-0.00
Tyler Werner, 0-0-0-0.00
Junio Quaresima, 0-0-0-0.00
Dylan Madsen, 0-0-0-0.00
Wyatt Gleeson, 0-0-0-0.00
Weston Hartman, 0-0-0-0.00
Cory Price, 0-0-0-0.00
Fernando Henrique Novais, 0-0-0-0.00
Ty Shaffer, 0-0-0-0.00
Devin Hutchinson, 0-0-0-0.00
Paulo Souza Rodriguez, 0-0-0-0.00
Cimarron Rucker, 0-0-0-0.00
Christian Melgarejo, 0-0-0-0.00
Cody McCandless, 0-0-0-0.00
Juan Alonzo, 0-0-0-0.00
Jacob Ramirez, 0-0-0-0.00