Logan Biever Overtakes No. 1 Rank in the 2022 PBR Canada Championship Race with Touring Pro Division Event Win in Gleichen, Alberta
By: Kacie Albert Sunday, August 28, 2022 @ 7:58 PM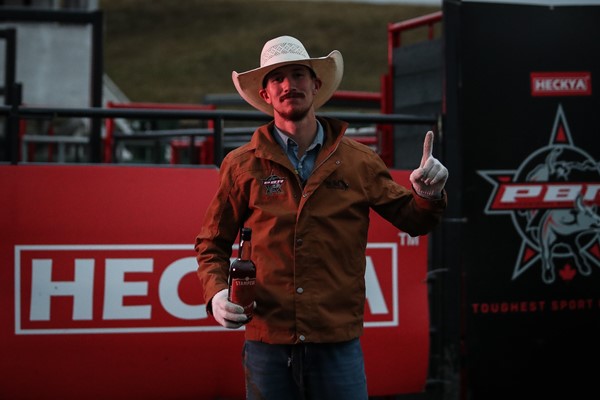 GLEICHEN, Alta. – Compliments of a dominant 2-for-2 performance Saturday evening in Gleichen, Alberta, Logan Biever won his third PBR (Professional Bull Riders) Canada Touring Pro Division event of the season, victorious at the Wheatland Charity PBR, presented by HeckYa.ca, and overtook the No. 1 rank in the heated battle to be crowned the 2022 PBR Canada Champion.
Biever was quick to strike in Round 1, surging to an early event lead when he conquered Peaky Blinder (Kinky Buckers) for a round-winning 83 points.
The reserved Albertan then remained atop the leaderboard when he delivered the high-marked ride of the event in the second round. In perfect time with Get Nic'd (Wild Hoggs Bucking Bulls), Biever reached the requisite 8 for an event-winning 86 points.
For his golden finish, Biever earned a crucial 32 national points.
While he traveled to the Wilson Rodeo Grounds 8.5 points behind No. 1 Dakota Buttar (Eatonia, Saskatchewan), Biever now leads Buttar by 23.5 points.
Second was three-time PBR Canada Champion Aaron Roy (Yellow Grass, Saskatchewan).
As the only other rider to be flawless in Gleichen, Roy first rode Yellow Mot (Vold Rodeo) for 79 points in Round 1, before going the distance atop Lil' Hooch (Vold Rodeo) for 85 points in the second round.
Roy left the Alberta event having earned 18 national points.
Seeking his unprecedented fourth national title in 2022, Roy rose from No. 9 to No. 6 in the Canadian standings. He now trails No. 1 Biever by 123 points.
As the only other rider to deliver a score at the Wheatland Charity PBR, presented by HeckYa.ca, Chad Hartman (Lancer, Saskatchewan) was third.
Hartman covered Allemand Left (Wilson Rodeo) for 81.5 points in the opening round to garner 13 national points.
The 22-year-old remained No. 21 in the national standings.
The 2022 PBR Canada season continues Sunday, September 4 for the Touring Pro Division's Interior Provincial Exhibition & Stampede in Armstrong, British Columbia. Action at the Interior Provincial Exhibition Association gets underway at 8:00 p.m. PDT.
Stay tuned in to PBRCanada.com and follow the tour on Facebook (PBR Canada), Twitter (@PBRCanada), and Instagram (@PBRCanada) for the latest results, news, stats and more.
PBR Canada Touring Pro Division
Wheatland Charity PBR, presented by HeckYa.ca
Wilson Rodeo Grounds – Gleichen, Alberta
(Round 1-Round 2-Event Aggregate-Event Points)
1. Logan Biever, 83-86-169-32
2. Aaron Roy, 79-85-164-18
3. Chad Hartman, 81.5-0-81.5-13
Tehiko Neill, 0-0-0.00-0
Stefan Tonita, 0-0-0.00-0