Brock Radford Wins PBR Canada Touring Pro Division Event in Winnipeg, Manitoba
By: Kacie Albert Saturday, June 25, 2022 @ 4:16 PM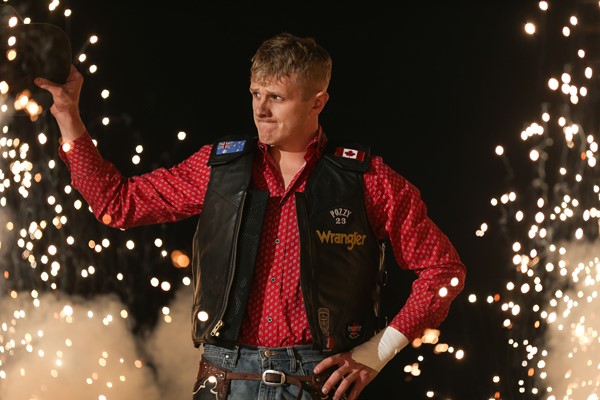 WINNIPEG, Man. – With the busy summer event schedule in full swing, Brock Radford (De Winton, Alberta) began his campaign with a bang, both winning and finishing third at the PBR (Professional Bull Riders) Canada Touring Pro Division's The Red River Ex presents a PBR Friday Night Chute Out to crack the Top 5 in the race for the 2022 PBR Canada Championship and accompanying $50,000 bonus.
Radford's win was highlighted by his unrivaled score in the opening round. Drawing Black Jack (Skori Bucking Bulls), the newlywed reached the requisite 8 for 87 points.
While Radford was bucked off in Round 2, dispatched by Sure Shot (Skori Bucking Bulls) in 5 seconds, his opening-round score was enough to clinch the victory.
Radford also finished third compliments of a double entry.
The 27-year-old delivered his second podium finish courtesy of an 83.5-point score aboard Bobby Boucher (Flying Four Bucking Bulls).
Radford earned a combined 38 national points, cracking the Top 5 in the PBR Canada standings. He is now No. 4 in Canada, 53.5 points behind No. 1 Lonnie West (Cadogan, Alberta).
Second was three-time PBR Canada Champion Aaron Roy (Yellow Grass, Saskatchewan), netting 17 national points.
Roy's silver showing was headlined by a Round 2-best, 86.5-point score aboard Freaked Out (Lazy S Bucking Bulls).
Seeking his unprecedented fourth national title in 2022, Roy is now No. 6 in the heated race to be crowned the year's PBR Canada Champion, 55.5 points behind the top spot.
In the bull pen, Trump Card (Lazy S Bucking Bulls) and Sure Shot tied for the Bull of the Event honor, both scored an unrivaled 44.5 points. Trump Card earned the score in the first round when he dispatched Tyson Thue (Benough, Saskatchewan)  in 1.47 seconds, while Sure Shot posted the points when he bucked off Radford in Round 2.
The 2022 PBR Canada season will continue Thursday, June 30 in Waskesiu Lake, Saskatchewan for 8 Seconds At The Ridge. Action at the Elk Ridge Resort gets underway at 7:00 p.m. CST.
Stay tuned in to PBRCanada.com and follow the tour on Facebook (PBR Canada), Twitter (@PBRCanada), and Instagram (@PBRCanada) for the latest results, news, stats and more.
PBR Canada Touring Pro Division
The Red River Ex presents a PBR Friday Night Chute Out
Red River Exhibition Park – Winnipeg, Manitoba
(Round 1-Round 2-Event Aggregate-Event Points)
1. Brock Radford [2], 87-0-87.00-25 Points.
2. Aaron Roy, 0-86.5-86.50-17 Points.
3. Brock Radford [1], 83.5-0-83.50-13 Points.
Marcos Gloria, 0-0-0.00
Tyson Thue, 0-0-0.00
Tyson Saryylmon, 0-0-0.00
Jake Maher, 0-0-0.00
Karson Turel, 0-0-0.00
Damon Tritthart, 0-0-0.00
Bodee Kalssen, 0-0-0.00
Cody Fitzpatrick, 0-0-0.00