Two-Time PBR Canada Champion Cody Coverchuk Signs with Texas Rattlers Via Free Agency
By: Kacie Albert Friday, June 17, 2022 @ 9:25 AM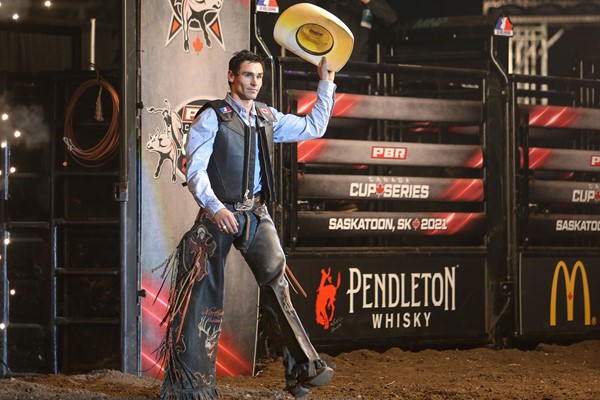 FORT WORTH, Tex. – The Texas Rattlers, Dallas-Fort Worth's newest professional sports team set to compete in the inaugural PBR (Professional Bull Riders) Team Series, has signed two-time and reigning PBR Canada Champion Cody Coverchuk (Meadow Lake, Saskatchewan, Canada) via free agency.
This signing follows the inaugural PBR Team Series Draft, presented by ZipRecruiter, held May 23, in Arlington, Texas, and the Supplemental Draft held in early June.
In 2021, Coverchuk cemented his name in the PBR record books, becoming just the third multi-time PBR Canada Champion in history. After a stellar regular season that included two event wins, and an accompanying eight Top 5 finishes, Coverchuk entered the 2021 PBR Canada National Finals ranked No. 2 in the standings, 53.66 points behind No. 1 Dakota Buttar.
With the title decided on the final outs of the year, Coverchuk mounted an incredible come-from-behind surge, erasing Buttar's lead, to conclude the year No. 1 in the nation, capturing his second career national championship.
The Saskatchewan contender clinched the title, and his share of the record $175,000 purse paid out at the year-end event, with an impressive 89.5-point ride aboard annual PBR Canada Bull of the Year contender Finning Lil Shorty. 
And Coverchuk has continued to excel in 2022. Not only did he return to Team Canada for the 2022 PBR Global Cup USA, but he also earned two berths to ride at the elite PBR Unleash The Beast.
Coverchuk is joined on the Texas Rattlers by Joao Ricardo Vieira (Itatinga, Brazil), Cody Jesus (Window Rock, Arizona), Brady Oleson (Blackfoot, Idaho), Brady Fielder (Clermont, Queensland, Australia), JC Mortensen (Chino Valley, Arizona), Ednelio Almeida (Cacoal, Brazil), Rafael Jose de Brito (Potirendaba, Brazil), Marco Juarez (Anthony, New Mexico), Travis Wimberley (Las Lunas, New Mexico), Ednei Caminhas (Indaiatuba, Brazil) and Jake Morinec (Mokena, Illinois).
When the 2022 PBR Team Series pre-season gets underway this weekend in Bismarck, North Dakota, Coverchuk is one of five riders tapped to compete in the inaugural game against the Carolina Cowboys. He will be joined by Brito, Almeida, Morinec and 2002 PBR World Champion Caminhas.
Their bull matchups are: Brito vs. Crazy Corona, Almeida vs Sam I Am, Morinec vs. Quickfire, Caminhas vs. Red Bones and Coverchuk vs. Oilfield Outlaws Yellow Feather.
The Ariat Texas Rattlers are owned by the Fisher Family, who have extensive experience owning and operating professional sports teams in Major League Baseball and Major League Soccer, as well as owning Ariat, the official boot sponsor of PBR and a longtime sponsor of numerous PBR athletes.
The Ariat Texas Rattlers are led by General Manager Mark George and Head Coach Cody Lambert.
Bringing a wealth of business expertise to the team, George is the founder of Atacama Ventures, an early-stage venture capital fund with investments in financial technology, healthcare, and consumer products. He has worked in areas as divergent as managing the digital business for a luxury retailer in Europe to business development for the Oakland Athletics. He is an alumnus of the Stanford University Graduate School of Business. Prior to business school, he was an early employee at Bizo, an advertising technology company, which was acquired by LinkedIn in 2014.
Also an active philanthropist, in 2012, George founded Friends of the Golden Gate, a non-profit that assists the National Park Foundation and the Golden Gate Parks Conservancy.
A co-founder of the PBR, Lambert is a true rodeo legend. Qualifying to the PBR World Finals from 1994-1996, Lambert remained intimately involved with the PBR following his retirement from competition, becoming the organization's Livestock Director, a role he's held for the past three decades, selecting the bulls that are an essential ingredient for the PBR's explosive growth.
In addition to being one of the inaugural inductees into the prestigious PBR Ring of Honor, Lambert is also a member of the Texas Cowboy Hall of Fame and the National Cowboy & Western Heritage Museum's Rodeo Hall of Fame.
The Texas Rattlers will host its inaugural homestand on Oct. 7-9 at Dickies Arena.
The bull riding action for Rattlers Days at Dickies Arena begins at 7:45 p.m. CDT on Friday, October 7, 6:45 p.m. CDT on Saturday, October 8, and 1:45 p.m. CDT on Sunday, October 9, times subject to change.
Tickets for the three-day event are on-sale now, and start at $20, taxes and fees not included. Tickets can be purchased online at Ticketmaster.com and PBR.com, at the Dickies Arena Box Office, or by calling PBR customer service at 1-800-732-1727.
For more information about Texas Rattlers, visit https://pbr.com/teams/rattlers/, Texas Rattlers on Facebook, or @TexasRattlers_ on Instagram and Twitter.