Saskatchewan Contender Blake Smith Ties for Third at PBR Pendleton Whisky Velocity Tour Event in Oakland, California
By: Cally Anderson Monday, March 28, 2022 @ 4:39 PM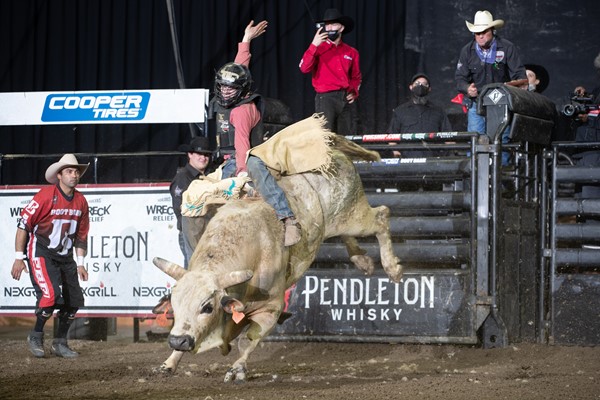 OAKLAND, Calif. – Canadian sensations Blake Smith (Abbey, Saskatchewan) and Nick Tetz (Calgary, Alberta) made their presences known Saturday evening at the PBR (Professional Bull Riders) Pendleton Whisky Velocity Tour event in Oakland, California. Both going 1-for-2, Smith led the duo by tying for third at the PBR TicketSmarter Classic, while Tetz also finished inside the Top 5, finishing fifth inside Oracle Arena.
For Smith, while his outing in California began in less that ideal fashion, bested by Redginator (Diamond Bar Cattle/Premier AG) in 5.42 seconds, he made the most of his second chance when he advanced to the championship round on time.
Drawing Dennis The Menace (Clay Struve/Dakota Rodeo/Chad Berger), Smith matched the animal athlete jump-for-jump en route to a round winning 84-point score.
Finishing third overall, Smith earned a crucial 15 world points. Smith's bronze effort allowed him to gain 12 spots in the world standings, rising from No. 74 to No. 62.
Smith was joined in the draw by fellow Canuck Tetz who was fifth netting six world points.
Tetz covered Spirit Guide (Rodriguez Bucking Bulls) for 83 points in Round 1, but was unseated by Sam I Am (Heald Pro Bulls/Clay Struve/Dakota Rodeo/Chad Berger) at 5.51 seconds in the championship round.
Atop the leaderboard, 28-year-old Taylor Toves (Stephenville, Texas) was unrivaled, crowned the Champion of the PBR TicketSmarter Classic.    
Toves was paired with Regulator (Humpz and Hornz/Frances Dandy) in Round 1, firing out of the chutes for an impressive, round-winning 87 points.
As the exceptional animal athletes of the PBR dominated all but one matchup in the championship round, the Texan paired with Dagger (Dakota Rodeo/Chad Berger) as the night ended.
Despite Toves' best efforts, he was no match for the powerful bovine, being flung to the ground after a mere 2.53 seconds.
The veteran rider left Oakland with 37 world points.
Fellow Texan Daniel Keeping (Gorman, Texas) was hot on Toves' spurs, capturing second-place.
Keeping was paired with War Paint (Humpz and Hornz) in Round 1, reaching the requisite 8 for an 86-point score. 
He then set his sights on the championship round but was tossed to the ground by Twin Buttes (Jeb Fredericks/Dakota Rodeo/Chad Berger) in 6.69 seconds.
Keeping collected 24 world points for his efforts.
Tied for third alongside Smith was Gage Gay (Staley, North Carolina), netting 11 world points.
Gay rode Past Midnight (Humpz and Hornz) for a resounding 84 points in Round 1, but lasted a mere 3.46 seconds against Not Today (Nancy/Clay Struve/Dakota Rodeo/Chad Berger) in the final round.
The talented bull riders of the PBR Pendleton Whisky Velocity Tour next travel to Casper, Wyoming, for the PBR Casper Invitational at Ford Wyoming Center on Saturday, April 2.

PBR Pendleton Whisky Velocity Tour
PBR TicketSmarter Classic
Oracle Arena – Oakland, California
Event Leaders (Round 1-Round 2-Event Aggregate-Event Points)
1. Taylor Toves, 87-0-87.00-37 Points.
2. Daniel Keeping, 86-0-86.00-24 Points.
3. Blake Smith, 0-84-84.00-15 Points.
(tie). Gage Gay, 84-0-84.00-11 Points.
5. Nick Tetz, 83-0-83.00-6 Points.
Dawson Branton, 0-0-0.00
Cladson Rodolfo, 0-0-0.00
Dalton Rudman, 0-0-0.00
Elijah Mora, 0-0-0.00
Josh Frost, 0-0-0.00
Thor Hoefer II, 0-0-0.00
Caden Bunch, 0-0-0.00
Dustin Martinez, 0-0-0.00
Mason Moody, 0-0-0.00
Alvaro Alvarez Aguilar, 0-0-0.00
Colt Robinson, 0-0-0.00
Cody Casper, 0-0-0.00
Justin Houston, 0-0-0.00
Dallee Mason, 0-0-0.00
Zach Miles, 0-0-0.00
Ednélio Almeida, 0-0-0.00
Codrick Murphy, 0-0-0.00
Cody Hudson, 0-0-0.00
Jory Markiss, 0-0-0.00
Bryan Titman, 0-0-0.00
Jake Morinec, 0-0-0.00
Jorge Valdiviezo, 0-0-0.00
Josh Steele, 0-0-0.00
Keith Hall, 0-0-0.00
Andy Guzman, 0-0-0.00
Alex Guzman, 0-0-0.00
Buddy Asher, 0-0-0.00
William Wright, 0-0-0.00
Cody Campbell, 0-0-0.00
Chase Wimer, 0-0-0.00
Brooks Bonde, 0-0-0.00
Kyle Eaton, 0-0-0.00
Isaiah Ortiz, 0-0-0.00
Andy Valdez, 0-0-0.00