Brock Radford, Nick Tetz Log Top 10 Finishes at 2022 PBR Australia Grand Finals
By: Kacie Albert Tuesday, November 29, 2022 @ 9:11 AM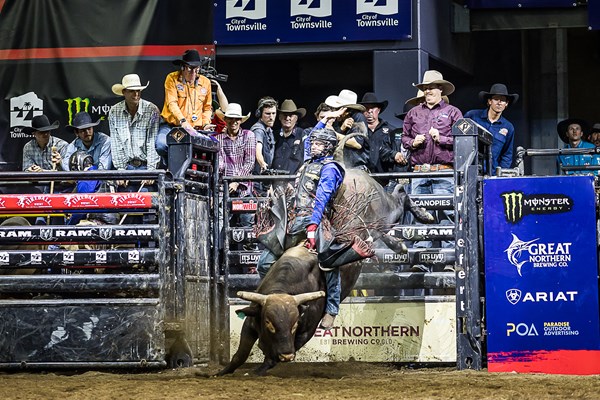 TOWNSVILLE, Qld. – Canadians Brock Radford (De Winton, Alberta) and Nick Tetz (Calgary, Alberta) made the most of their opportunity to compete at the 2022 PBR (Professional Bull Riders) Australia Grand Finals, both delivering Top 10 finishes inside the Townsville Entertainment and Convention Centre.
Competing as part of the transcontinental rider exchange which also afforded the opportunity for two Australians to ride at the 2022 PBR Canada National Finals, Radford parlayed a Round 2 win into a fifth-place finish, while Tetz tied for eighth after leading the field in Round 1.
When competition got underway in Round 1, Radford was narrowly denied a score after being upended by Hollywood (Blackhall Livestock/Work Wide Contracting) in a heart-breaking 7.29 seconds.
Radford, however, was quick to rebound.
Matched with Some Gave All (Dunne Bulls) in Round 2, Radford matched the bull jump-for-jump en route to a commanding 87.5 points score.
Shutout on Championship Saturday, Radford's Round 2 victory was enough to keep him in the event's Top 5.
The fifth-place result garnered him 60 Australian national points and he concluded the season No. 22 in their national standings.
Fresh off winning the 2022 PBR Canada Championship, Tetz continued his red-hot momentum in Round 1 of the year-end event Down Under.
Tetz conquered Cover Up (Colin Fry) for 85 points.
While he was unable to make the 8 in his subsequent trips, including a close 7.7-second buckoff atop Vertical Limits (Blackhall Livestock), Tetz concluded his first Australia event tied for eighth.
Tetz earned 27.5 national points and ended the 2022 season No. 28 in Australia.
Stay tuned in to PBRCanada.com and follow the tour on Facebook (PBR Canada), Twitter (@PBRCanada), and Instagram (@PBRCanada) for the latest results, news, stats and more.
PBR Australia Monster Energy Tour
PBR Monster Energy Tour Grand Finals
Townsville Entertainment and Convention Centre – Townsville, Queensland
Event Leaders (Round 1-Round 2-Round 3-Round 4-Round 5-Event Aggregate-Event Points)
1. Cody Heffernan, 0-0-86.5-87.5-92-266.00-160 Points.
2. Lachlan Richardson, 84-84.25-85.75-0-0-254.00-116 Points.
3. Aaron Kleier, 82-0-0-0-90-172.00-85 Points.
4. Jake Curr, 80.75-86-0-0-0-166.75-67 Points.
5. Brock Radford, 0-87.5-0-0-0-87.50-60 Points.
6. Qynn Andersen, 0-87-0-0-0-87.00-45 Points.
7. Lachlan Slade, 0-86-0-0-86.00-29 Points.
8. Kurt Shephard, 0-0-0-85-0-85.00-22.5 Points.
(tie) Nick Tetz, 85-0-0-0-0-85.00-27.5 Points.
10. Michael Smith, 0-0-83.5-0-83.50-12 Points.
11. Clint Glass, 0-0-0-83-83.00-10 Points.
12. Braith Nock, 0-0-82.75-0-0-82.75-8 Points.
13. Kelsey Pavlou, 0-0-82-0-0-82.00-6 Points.
Thomas Hudson, 0-0-0-0-0-00.00
Trefor Sproule, 0-0-0-0-0-00.00
Jay Borghero, 0-0-0-0-0-00.00
Ben Moran, 0-0-0-0-0-00.00
Jackson Gray, 0-0-0-0-0-00.00
Sam Woodall, 0-0-0-0-0-00.00
Beau Willis, 0-0-0-0-0-00.00
Taran Chirgwin, 0-0-0-0-0-00.00
Jono Couling, 0-0-0-0-0-00.00
Jack Keats, 0-0-0-0-0-00.00
Wyatt Milgrate, 0-0-0-0-0-00.00
Lane Mellers, 0-0-0-0-0-00.00
Cameron Southern, 0-0-0-0-0-00.00