Dakota Buttar Wins First-Ever PBR Canada Touring Pro Division Event in Armstrong, British Columbia to Inch Within 11 Points of No. 1 Rank in 2022 National Title Race
By: Kacie Albert Monday, September 5, 2022 @ 10:37 AM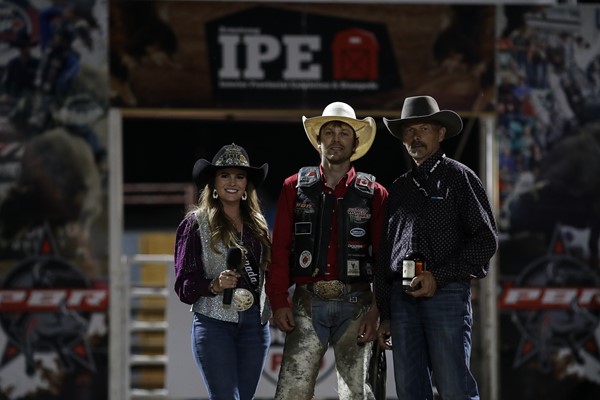 ARMSTRONG, B.C. – At the penultimate PBR (Professional Bull Riders) Canada Touring Pro Division event of the 2022 season Sunday evening in Armstrong, British Columbia, the race to be crowned the year's national Champion reached a new level of intensity. Going a perfect 2-for-2, Dakota Buttar (Eatonia, Saskatchewan) won the first-ever Touring Pro Division event in Armstrong, victorious at the Interior Provincial Exhibition & Stampede, to inch within a mere 10.5 points of the No. 1 rank in the heated battled to be crowned the 2022 PBR Canada Champion.
Buttar travelled to the Interior Provincial Exhibition Association No. 2 in the nation, then trailing No. 1 Logan Biever (Claresholm, Alberta) by 23.5 points.
Eager to reclaim the No. 1 rank in the nation, Buttar got off to a hot start in British Columbia, riding Wolf Bait (Vold Rodeo) for 85 points to tie for the Round 1 win.
Biever, however, was quick to respond, registering his own 85-point effort when he went the distance atop Big Deuce (Vold Rodeo).
As a result, Buttar and Biever advanced to Round 2 tied for the event lead.
In the final round, Buttar readied to take on Up Shift (Vold Rodeo), while Biever found his name across from Back Cracker (Vold Rodeo).
First to leave the chutes, Buttar was a near picture of perfection as he matched Up Shift jump-for-jump en route to an event-best 89.5-point score.
While Biever also made the whistle aboard Back Cracker, his 85 points were not enough to surpass Buttar, delivering him the event win.
Buttar's golden finish earned him a crucial 31 national points, and Biever, who concluded the event second, netted 18 national points.
Seeking his second national title in 2022, 2020 PBR Canada Champion Buttar decimated Biever's lead from 23.5 points to 10.5 points as the season approaches the final weeks, all culminating Nov. 11-12 for the 2022 PBR Canada National Finals, presented by Command Tubular Products, in Edmonton, Alberta at Rogers Place.
Should Buttar continue his come-from-behind push and capture this year's title, he would become just the fourth multi-time Champion in history, joining three-time title holder Aaron Roy (Yellow Grass, Saskatchewan) and two-time Champions Zane Lambert (Ponoka, Alberta) and Cody Coverchuk (Meadow Lake, Saskatchewan).
Third was Roy, garnering 14 national points.
As the only other rider to go a flawless 2-for-2 in Armstrong, Roy rode Struggle Street (Shay Marks) for 80.5 points in Round 1, before besting Razor (Vold Rodeo) for 86 points in Round 2.
Chasing his unprecedented fourth national title at season's end, Roy rose from No. 6 to No. 5 in the PBR Canada national standings. He is now 127 points back of No. 1 Biever.
Brock Radford (De Winton, Alberta) was fourth compliments of his 86-point ride atop Cleat The Village (Vold Rodeo) in Round 2.
Radford left the event having earned 8 national points, remaining No. 3 in the standings. He now trails the No. 1 position by 47 points.
Rounding out the Top 5 in fifth was Lonnie West (Cadogan, Alberta).
West covered Tar Pit (Two Bit Bucking Bulls) for 82.5 points in the opening round to collect 6 national points.
The Albertan gained one position in the national standings, climbing from No. 8 to no. 7.  
The 2022 PBR Canada season continues Saturday, September 17 for the Touring Pro Division's PBR Longview in Longview, Alberta. Action at John Scott Arena gets underway at 2:30 p.m. MDT.
Stay tuned in to PBRCanada.com and follow the tour on Facebook (PBR Canada), Twitter (@PBRCanada), and Instagram (@PBRCanada) for the latest results, news, stats and more.
PBR Canada Touring Pro Division
Interior Provincial Exhibition & Stampede
Interior Provincial Exhibition Association – Armstrong, British Columbia
(Round 1-Round 2-Event Aggregate-Event Points)
1. Dakota Buttar, 85-89.5-174.5-31
2. Logan Biever, 85-85-170-18
3. Aaron Roy, 80.5-86-166.5-14
4. Brock Radford, 0-86-86-8
5. Lonnie West, 82.5-0-82.5-6
Elijah Gordon, 0-0-0.00-0
Chanse Switzer, 0-0-0.00-0
Wyatt Gleeson, 0-0-0.00-0
Weston Davidson, 0-0-0.00-0
Stefan Tonita, 0-0-0.00-0
Chad Hartman, 0-0-0.00-0
Clay Gordon, 0-0-0.00-0
Jake Maher, 0-0-0.00-0
Dawson Shannon, 0-0-0.00-0