Coy Robbins Wins PBR Canada Touring Pro Division Event in Brooks, Alberta to Overtake No. 1 Rank in the Race for the 2023 PBR Canada Championship
By: Kacie Albert Tuesday, May 9, 2023 @ 7:12 AM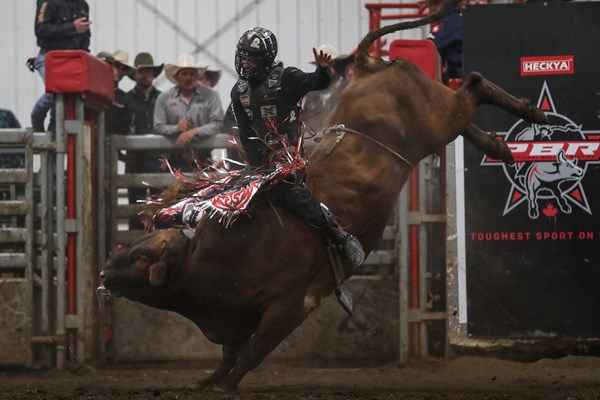 BROOKS, Alta. – As the 2023 PBR (Professional Bull Riders) Canada season continued in Brooks, Alberta, Coy Robbins (Camrose, Alberta) remained red-hot, going a perfect 2-for-2 to win the Touring Pro Division's Koye Larson Memorial PBR and surge to the No. 1 rank in the race for the national championship.
Robbins got off to a quick start in Round 1, delivering the fourth-best score when he rode Sileage Pig (Wilson Rodeo) for 83 points.
The 2017 PBR Canada Rookie of the Year then surged to the top of the event leaderboard when he dominated the championship round, covering OMB Legal Issues (Wilson Rodeo) for 86 points.
Compliments of the win, Robbins earned a crucial 36 national points. He surged from No. 3 to No. 1 in the battle for the 2023 PBR Canada Championship and accompanying $50,000 bonus. He now leads No. 2 Jared Parsonage (Maple Creek, Saskatchewan) by 13 points.
Second was 2020 PBR Canada Champion Dakota Buttar (Kindersley, Saskatchewan).
Buttar was unrivaled in Round 1, delivering the top marks when he outlasted Devils Boy (Two Bit Bucking Bulls) for 86 points.
The Saskatchewan man, however, was unable to conclude the event on a high note, tossed by two-time PBR Canada Bull of the Year Happy Camper (Two Bit Bucking Bulls) in 3.06 seconds.
Garnering 20 national points, Buttar rose from No. 16 to No. 12 in the Canadian standings.
Courtesy of an 84.5-point ride atop Shine Like Justice (Kinky Buckers) in the opening round, Cauy Schmidt (Coronation, Alberta) was third.
The podium finish earned him 18 national points. Schmidt, who was unranked prior to the event, is now No. 21 in the standings.
Two-time PBR Canada Champion Cody Coverchuk (Meadow Lake, Saskatchewan) was fourth, earning 14 national points.
Coverchuk went 1-for-2 at the Sage Community Corral, riding Twisted Mister (Kinky Buckers) for 83.5 points in Round 1.
Rounding out the Top 5 in fifth was Callum Miller (Warwick, Queensland, Australia).
Miller's 78.5-point ride on Revelation (Wilson Rodeo) netted him 11 national points.
PBR Canada's Touring Pro Division next travels to Camrose, Alberta, for the Rose City Invitational on Saturday, May 13. Action at the Camrose Recreation Centre gets underway at 7:00 p.m. MDT.
Stay tuned in to PBRCanada.com and follow the tour on Facebook (PBR Canada), Twitter (@PBRCanada), and Instagram (@PBRCanada) for the latest results, news, stats and more.
PBR Canada Touring Pro Division
Koye Larson Memorial PBR
Silver Sage Community Corral – Brooks, Alberta
Event Leaders (Round 1-Round 2-Event Aggregate-Event Points)
1. Coy Robbins, 83-86-169.00-36 Points.
2. Dakota Buttar, 86-0-86.00-20 Points.
3. Cauy Schmidt, 84.5-0-84.50-18 Points.
4. Cody Coverchuk [1], 83.5-0-83.50-14 Points.
5. Callum Miller, 78.5-0-78.50-11 Points.
6. Weston Davidson, 0-60-60.00-5 Points.
Cody Fraser [1], 0-0-0.00
Cody Fraser [2], 0-0-0.00
Cody Coverchuk [2], 0-0-0.00
Chad Hartman [1], 0-0-0.00
Chad Hartman [2], 0-0-0.00
Tyler Craig, 0-0-0.00
Aaron Roy, 0-0-0.00
Wyatt Gleeson, 0-0-0.00
Jake Maher [1], 0-0-0.00
Jake Maher [2], 0-0-0.00
Tim Lipsett, 0-0-0.00
Carter Sahli, 0-0-0.00
William Barrows, 0-0-0.00
Grady Smeltzer, 0-0-0.00
Micheal Ostashek, 0-0-0.00
Keaton Martz, 0-0-0.00
Wade Marshall [1], 0-0-0.00
Wade Marshall [2], 0-0-0.00
Lane Mellers [1], 0-0-0.00
Lane Mellers [2], 0-0-0.00
Brahmer Gaehring, 0-0-0.00