2024 PBR Canada Cup Series Schedule Announced
By: Kacie Albert Monday, November 20, 2023 @ 11:03 AM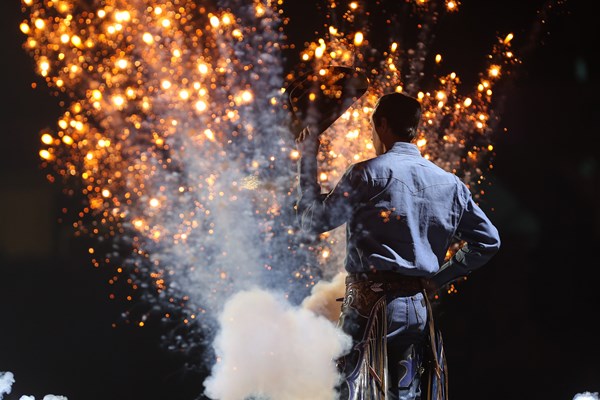 SASKATOON, Sask. – Set to begin its ninth season as the nation's premier bull riding series, PBR (Professional Bull Riders) Canada's nationally-televised Cup Series will hold 10 events throughout 2024, visiting as many cities across Alberta, British Columbia, Manitoba, Ontario and Saskatchewan.
For the fourth consecutive season, the PBR Canada National Finals will be held in Edmonton, Alberta, at the state-of-the-art Rogers Place, again awarding a record-tying $225,000, including a $100,000 bonus to be presented to the 2024 PBR Canada Champion.
The elite Cup Series features Canada's top bull riders, alongside some of the PBR's top international athletes, squaring off against the rankest bucking bulls in North America. Fans will witness exhilarating 8-second rides and wrecks throughout the action-packed event as the PBR's courageous riders face off against their 2,000-pound animal-athlete opponents.
PBR Canada's Cup Series is televised nationally on the TSN family of channels, bringing the heart-pounding action to fans across the nation. The tour is also brought to United States-based fans on the organization's Western lifestyle channel PBR RidePass on PlutoTV.
The 2024 season will launch on February 3 in Red Deer, Alberta, with the PBR Red Deer Classic at Peavey Mart Centrium.
The event will mark the third consecutive year the PBR Canada Cup Series launched a season in Red Deer. In February 2023, Jared Parsonage (Maple Creek, Saskatchewan) got off to a hot start, briefly holding the No. 1 rank in Canada as he went a perfect 2-for-2 to win the PBR Red Deer Classic.
One month later, the Cup Series will return to Lethbridge, Alberta, and ENMAX Centre for the sixth consecutive season, on March 1-2 for the South Country Co-op Showdown, presented by VisitLethbridge.com.
2022 PBR Canada Champion Nick Tetz (Calgary, Alberta) repeated his success from his Championship season, defending his title as South County Co-op Showdown winner by going a flawless 3-fo-3 inside ENMAX Centre.
The Cup Series will then travel to Brandon, Manitoba, for the third time in as many years, holding the PBR Mazergroup Chute Out at Westoba Place at the Keystone Centre on May 25.
As June gets underway, PBR Canada will return to Ontario, with two events. The nation's premier tour will first return to London and Budweiser Gardens on June 1.
This past May, Canada's Cup Series made its triumphant return to London for the first time in four years. In front of a raucous crowd, 2022 PBR World Champion Daylon Swearingen (Piffard, New York) delivered the then high-marked ride of the season to win the event.
Remaining in Ontario, the Cup Series will then buck back to Kingston and Leon's Centre on June 5 for the first time in 16 years. The PBR Kingston Classic will mark the first of two mid-week events.
Nearly one month later, the tour will hold its second mid-week show in Kelowna, British Columbia, on July 18 at Prospera Place. This past season's show was dominated by Wyatt Gleeson (Sundre, Alberta) who narrowly edged defending PBR Okanagan Challenge winner Brock Radford (De Winton, Alberta) to claim the 2023 victory.
Following a two-month break, the Cup Series will resume on Sep. 27-28 in Grande Prairie, Alberta, at Bonnetts Energy Centre.
Making a subsequent stop in Medicine Hat, Alberta, and Co-op Place on October 19, the regular season will conclude in Saskatoon, Saskatchewan at SaskTel Centre for the fourth consecutive season, Oct. 25-26.
For the fourth time in history, the PBR Canada National Finals will be held in Edmonton, Alberta, at Rogers Place. After a season-long battle, the 2024 PBR Canada Champion will be crowned following the two-day, season-culminating event on Nov. 8-9.
The 2023 PBR Canada National Finals concluded one of the nation's most intense seasons, with 12 riders travelling to the event in contention to win the honor and accompanying $100,000 bonus. The event proved to be one of the most successful for the 21 qualifying riders. They covered 58.66% of their draws, going 44-for-75 as all but two contenders made the 8 at least once.
Completing a come-from-behind surge, Dakota Buttar (Eatonia, Saskatchewan) went a perfect 4-for-4 at the year-end event to tie for second and clinch the 2023 PBR Canada Championship. Buttar is now one of just four riders to win the coveted national title multiple times.
After sweeping the first two rounds of the event, Tyler Craig (Crossfield, Alberta) never looked back, going a flawless 4-for-4 to win the 2023 PBR Canada National Finals, presented by Command Tubular Products.
The complete 2024 PBR Canada Cup Series schedule is as follows:
DATE                                 CITY                                                                VENUE
Feb. 3                                Red Deer, AB                                                Peavey Mart Centrium
March 1-2                          Lethbridge, AB                                              ENMAX Centre
May 25                              Brandon, MB                                                 Westoba Place at the Keystone Centre
June 1                               London, ON                                                   Budweiser Gardens
June 5                               Kingston, ON                                                 Leon's Centre
July 18                              Kelowna, BC                                                  Prospera Place
Sept. 27-28                       Grande Prairie, AB                                         Bonnetts Energy Centre
Oct. 19                              Medicine Hat, AB                                           Co-op Place
Oct. 25-26                         Saskatoon, SK                                               SaskTel Centre
*Nov. 8-9                          Edmonton, AB                                                Rogers Place
*Denotes 2024 PBR Canada National Finals.
Fans can check with PBRCanada.com for tickets to all 2024 events as well as the season's PBR Canada National Finals at the Rogers Place in Edmonton Nov. 8=9.
For more information, stay tuned to PBRCanada.com and follow the tour on Facebook (PBR Canada), Twitter (@PBRCanada), and Instagram (@PBRCanada) for the latest results.