Australian Qualifiers Announced for 2023 PBR Canada National Finals Nov. 17-18 in Edmonton, Alberta at Rogers Place
By: Kacie Albert Tuesday, November 7, 2023 @ 11:00 AM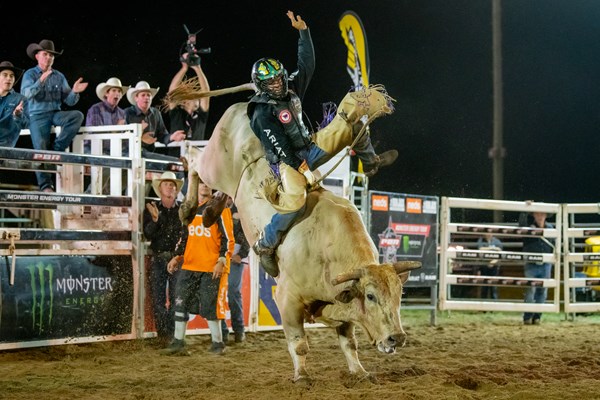 EDMONTON, Alta. – PBR (Professional Bull Riders) Australia and Canada today announce the pair of Australian athletes who will compete at the 2023 Canadian National Finals, presented by Command Tubular Products, as part of the two organizations' transcontinental partnership forged last season.
Reigning PBR Australian Champion Macaulie Leather (Calliope, Queensland, Australia) and seven-time PBR World Finals qualifier Lachlan Richardson (Gresford, New South Wales, Australia) will compete at Canada's year-end event on Nov. 17-18 in Edmonton, Alberta, at Rogers Place.
Canadian athletes did not traverse the globe this season for the Australian Grand Finals, held Nov. 3-4 in Townsville, Queensland, Australia, due to conflicting PBR events on home soil.
The 2023 PBR Canada National Finals will mark the richest iteration of the year-end event ever held. The two-day event inside the home of the NHL's Edmonton Oilers will pay out an unprecedented $225,000, including a historic $100,000 bonus to the 2023 PBR Canada Champion.
"I'm pretty excited for the PBR Canadian Finals," said Leather. "It will be good to see how their Finals run compared to ours and the difference in atmosphere. It will be fun to get on a different caliber of bulls."
"I cannot wait for the PBR Canadian Finals," added Richardson. "I've spent a lot of time in Canada and really like their events. I have a lot of lifelong friends and even family there now so it's going to be good."
Leather will make his Canadian debut fresh off being crowned the 2023 PBR Australian Champion last Saturday night in Townsville, finishing a commanding 334.17 points ahead of four-time Champion Aaron Kleier (Clermont, Queensland, Australia).
The 22-year-old's season was highlighted by an impressive seven event wins across all levels of competition, going a torrid 37-for-65, covering 56.92% of his bovine athlete opponents.
In Townsville for the 2023 PBR Australia Grand Finals, Leather went 2-for-5 en route to a fourth-place finish. Throughout the season, Leather's successes earned him a historic $171,000 in prize money.
Richardson will return to Canadian soil for the first time since 2018 when he nearly became the first Australian to be crowned PBR Canada Champion, finishing the year No. 3 in the nation. His appearance will mark the second time the New South Wales native has ridden at the Canadian National Finals.
In 2023, Richardson logged two event wins and an accompanying nine Top 5 finishes before concluding the campaign No. 6 in the Australian national standings. He went 20-for-46, riding 43.48% of his draws.
The Australian invites will join the remainder of the to-be-announced 20-rider field for the 2023 PBR Canada National Finals, including the Top 17 in the Canadian standings.
The bull riding action for 2023 PBR Canada National Finals, presented by Command Tubular Products, begins at 7:00 p.m. MDT on Friday, November 17 and Saturday, November 18 at Rogers Place.
The 2023 PBR Canada National Finals, presented by Command Tubular Products, will feature four rounds of bull riding. Each rider will get on one bull in Round 1 and Round 2 on Friday and Round 3 on Saturday.
The 12 bull riders with the top combined ride scores will then advance to the championship round on Saturday where they will attempt one final bull in an effort to win the PBR Canada National Finals event and earn crucial points to be crowned the 2023 PBR Canada Champion. During the event Round 2 and Round 3 will feature a rider drafted draw, while Round 1 and the championship round will be pre-determined.
Tickets are still available, and start at $40, standard fees may apply. They can be purchased online at Ticketmaster.ca. 
Stay tuned in to PBRCanada.com and follow the tour on Facebook (PBR Canada), Twitter (@PBRCanada), and Instagram (@PBRCanada) for the latest results, news, stats and more.