Professional Bull Riders Canada's Elite Cup Series Returns to Lethbridge for Sixth Consecutive Season on March 1-2, 2024
By: Kacie Albert Monday, November 20, 2023 @ 12:00 PM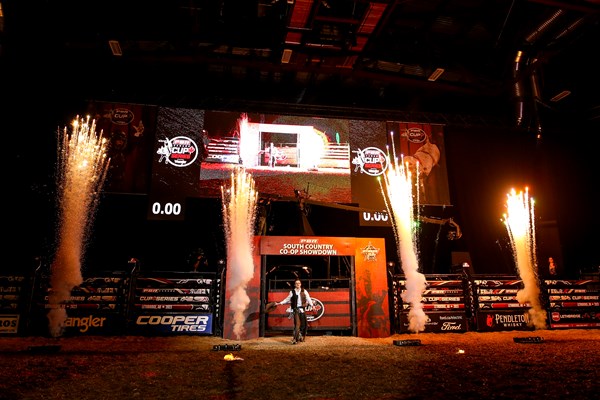 LETHBRIDGE, Alta. (November 20, 2023) – For the sixth consecutive season, PBR (Professional Bull Riders) Canada's elite Cup Series will travel to Lethbridge, Alberta, taking over ENMAX Centre on Friday, March 1 and Saturday, March 2 for the PBR South Country Co-op Showdown, presented by VisitLethbridge.com.
PBR Canada's Cup Series regularly features Canada's best riders alongside some of the organization's top international athletes, squaring off against the rankest bucking bulls from across the nation.
For two nights only, fans will witness exhilarating 8-second rides and wrecks throughout the unpredictable, action-packed event as the PBR's courageous bull-riding athletes face off against their 2,000-pound opponents born to buck.
The PBR South Country Co-op Showdown will mark the second event of the nine-event regular season for PBR Canada's premier Cup Series in 2024.
When the Cup Series last travelled to Lethbridge in March 2023, then reigning PBR Canada Champion Nick Tetz (Calgary, Alberta) delivered a perfect 3-for-3 effort to defend his event victories in the city from the year prior.
Tetz got off to a quick start, winning Round 1 courtesy of an 86.5-point ride atop Sure Shot (Skori Bucking Bulls).
The reserved Albertan continued his momentum in Round 2, recording his second score when he covered Tractorlands Freakshow (Wild Hoggs Bucking Bulls) for 83.5 points.
With the first pick in the championship round bull draft, Tetz renewed his rivalry with Sure Shot from Round 1, electing to go head-to-head with the bovine athlete for the second time that weekend. Replicating his earlier success, Tetz matched the powerful bull jump-for-jump en route to the 8-second whistle for 86 points to clinch the victory.
The golden finish garnered Tetz 140 national points. Unranked prior to the tour stop, Tetz vaulted to No. 2 in the national standings.
Other past PBR Canada Cup Series event winners in Lethbridge are: Zane Lambert (2021 – Ponoka, Alberta); Garret Green (2020 – Meeting Creek, Alberta); Brock Radford (2020 – De Winton, Alberta); Ty Ellis (2020 – Sonningdale, Saskatchewan); Dakota Buttar (2020 – Eatonia, Saskatchewan) and Jared Parsonage (2019 – Maple Creek, Saskatchewan).
The bull riding action for PBR Canada Cup Series' South Country Co-op Showdown, presented by Visit Lethbridge.com, begins at 7:00 p.m. MT on Friday, March 1 and Saturday, March 2.
Tickets for the event go on sale Friday, November 24 at 10:00 a.m. MT, and start at $40.50, standard ticketing fees may apply, and can be purchased online at ENMAXCentre.ca, or charge by phone at (403) 329-7328.
For more information, stay tuned to PBRCanada.com and follow the tour on Facebook (PBR Canada), Twitter (@PBRCanada), and Instagram (@PBRCanada) for the latest results.