2022 PBR World Champion Daylon Swearingen Wins Round 1 of PBR Canada Cup Series Event in Saskatoon, Saskatchewan
By: Kacie Albert Saturday, October 28, 2023 @ 10:47 PM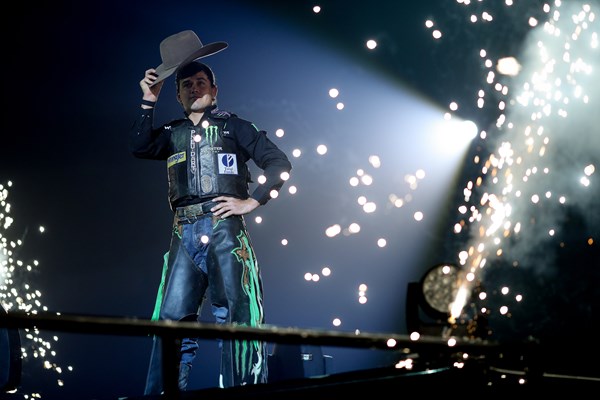 SASKATOON, Sask. – As the final event of the regular season for the 2023 PBR (Professional Bull Riders) Canada Cup Series, presented by Wrangler, event got underway in Saskatoon, Saskatchewan, 2022 World Champion Daylon Swearingen (Piffard, New York) dominated, winning Round 1 of the Saskatoon Classic, presented by Redhead Equipment and CASE IH.
Swearingen was tasked with Crazy Little Thing (Two Bit Bucking Bulls) in the opening round inside SaskTel Centre. In what proved to be a perfect pairing, Swearingen rode the powerful animal athlete for 85.5 points to surge to an early event lead.
Garnering 28 national points, Swearingen rose from No. 24 to No. 20 in the national standings. Attempting to make a come-from-behind push to qualify for the 2023 PBR Canada National Finals in Edmonton, Alberta, on Nov. 17-18, Swearingen is now 56.5 points outside of the Top 17 threshold to earn a berth to the year-end event.
Jordan Hansen (Okotoks, Alberta) continued to ride red hot, converting in Round 1 and winning the tour stop's accompanying 5/5 Bucking Battle to collect a combined 35.5 national points.
Hansen punched his ticket to the final special round of the season compliments of an 83.5-point ride aboard Lil' Hooch (Two Bit Bucking Bulls).
Continuing to dominate in Saskatchewan, the Albertan delivered the high-marked ride of the night to win the 5/5 Bucking Battle when he reached the requisite 8 atop Edge of Tomorrow (Lazy S Bucking Bulls) for 87 points.
Hansen remained No. 7 in the race for the 2023 PBR Canada Championship and accompanying historic $100,000 bonus but inched within 218.66 points of No. 1 Cody Coverchuk (Meadow Lake, Saskatchewan).
Coverchuk extended his lead atop the standings after he tied for third in Round 1.
His 84.5-point score on Red October (Vold Rodeo/Bow River Buckers) garnered the two-time PBR Canada Champion a crucial 16 national points.
Coverchuk now leads an injured No. 2 Dakota Buttar (Eatonia, Saskatchewan) by 18.16 points.
Callum Miller (Warwick, Queensland, Australia) and Garret Green (Meeting Creek, Alberta) tied for third alongside Coverchuk in Round 1, while also converting in the 5/5 Bucking Battle.
Miller's 84.5-point score in Round 1 was earned aboard Hanna Motors Winston Bruce (Skori Bucking Bulls). He then delivered the second-best score of the 5/5 Bucking Battle when he bested Easy E (X6 Ranch Bucking Cattle/Legend Rodeo Stock) for 86 points.
Earning 32 national points Saturday night inside SaskTel Centre, Miller climbed from No. 20 to No. 19 in the nation. He now trails the Top 17 and a berth to the 2023 PBR Canada National Finals by a slim 45.5 points.
Green's effort in Saskatchewan began with an 84.5-point ride on Mogely (Lazy S Bucking Bulls). The Albertan then punctuated his evening with a third-place, matching 84.5-point ride in the 5/5 Bucking Battle on Disco Daze (X6 Ranch Bucking Cattle/Legend Rodeo Stock).
The 31-year-old left having netted 31 national points, propelling him from No. 10 to No. 9 in the standings, now 273.66 points behind No. 1 Coverchuk.
Returning to the top of the Round 1 leaderboard, Gage Gay (Staley, North Carolina) was second.
Gay rode Get Ugly (CS Bucking Bulls) for 85 points to collect 18 national points.
The PBR Saskatoon Classic, presented by Redhead Equipment and CASE IH, concludes Sunday, October 29 with Round 2 and the championship round. Action will get underway at 2:00 p.m. CST.
Stay tuned in to PBRCanada.com and follow the tour on Facebook (PBR Canada), Twitter (@PBRCanada), and Instagram (@PBRCanada) for the latest results, news, stats and more.
PBR Canada Cup Series, presented by Wrangler
PBR Saskatoon Classic, presented by Redhead Equipment and CASE IH
SaskTel Centre – Saskatoon, Saskatchewan
(Round 1-Round 2-Round 3-Event Aggregate-Event Points)
1. Daylon Swearingen, 85.5-0-0-85.50-28 Points.
2. Gage Gay, 85-0-0-85.00-18 Points.
3. Cody Coverchuk, 84.5-0-0-84.50-16 Points.
(tie). Garrett Green, 84.5-0-0-84.50-16 Points.
(tie). Callum Miller, 84.5-0-0-84.50-16 Points.
6. Jordan Hansen, 83.5-0-0-83.50-12.5 Points.
(tie). Chad Hartman, 83.5-0-0-83.50-12.5 Points.
(tie). Marcos Gloria, 83.5-0-0-83.50-12.5 Points.
(tie). John Crimber, 83.5-0-0-83.50-12.5 Points.
10. Blake Smith, 81.5-0-0-81.50-10 Points.
11. Cody Fitzpatrick, 81-0-0-81.00-9 Points.
12. Weston Davidson, 71-0-0-71.00
Coy Robbins, 0-0-0-0.00
Aaron Roy, 0-0-0-0.00
Wyatt Gleeson, 0-0-0-0.00
Jared Parsonage, 0-0-0-0.00
Ashton Sahli, 0-0-0-0.00
Stefan Tonita, 0-0-0-0.00
Jake Gardner, 0-0-0-0.00
Cody Fraser, 0-0-0-0.00
Brock Radford, 0-0-0-0.00
Conner Halverson, 0-0-0-0.00
Jake Dunham, 0-0-0-0.00
Cauy Schmidt, 0-0-0-0.00
Jake Maher, 0-0-0-0.00
Micheal Ostashek, 0-0-0-0.00
Orrin Marshall, 0-0-0-0.00
Kade McDonald, 0-0-0-0.00
Chance Switzer, 0-0-0-0.00
PBR Canada Cup Series, presented by Wrangler
PBR Saskatoon Classic, presented by Redhead Equipment and CASE IH – 5/5 Bucking Battle
SaskTel Centre – Saskatoon, Saskatchewan
(Round 1- Event Aggregate-Event Points)
1. Jordan Hansen, 87-87-23
2. Callum Miller, 86-86-16
3. Garrett Green, 84.5-84.5-15
Daylon Swearingen, 0-0.00-0
Cody Coverchuck, 0-0.00-0